Mercury News
22 Nov 2019
Toughest challenge yet! 2019 Mercury Technician Of The Year wins $10,000 prize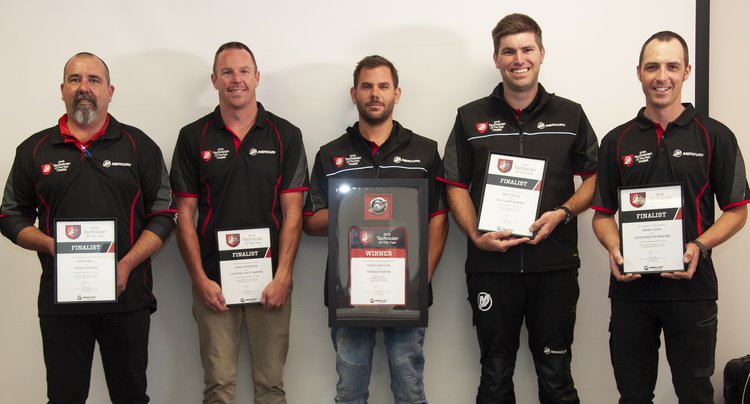 Mercury Marine's annual Technician Of The Year contest has hit new heights, with the 2019 challenge the toughest yet and prizes worth almost $20,000 up for grabs.
Mercury started the Technician Of The Year competition to identify and celebrate the very best marine technicians in its extensive dealer network across Australian and New Zealand.  The award is an opportunity for technicians to showcase the knowledge and skills gained through hard work and dedicated training on the full range of Mercury Marine engines.
When the tools were finally put down after a hotly-fought final, Garry Watson from Midway Marine in W.A. was standing alone in first place, having out-performed a field of fellow experts.
For the win, Garry took home a brand-new Mercury 60hp EFI FourStroke and rigging, valued at $10,000.
"It really was a surprise to win. The other guys in the final five were very knowledgeable and the contest was pretty tough but I'm really happy with the way I went," Garry said.
David Voorden from Leisure Coast Marine in NSW, who took our last year's Technician Of The Year award, finished a close second and collected a Mercury 20hp EFI FourStroke worth some $4,500.
A finalist for the second year in a row, Craig Bell from Hodge Marine in South Australia, took out third place and a 6hp FourStroke valued at $2,000.
Mark Cook, representing Leigh Martin Marine in Victoria claimed fourth while Ben Castle, from Gulfland Marine, Whangaparaoa N.Z. was fifth. All finalists also took home a $250 Tool Voucher and Certificate.
"The prize – the engine – is amazing, but I don't know what I'm going to do with it," Garry said. "I really have no idea. I don't even own a boat. Maybe I should buy an old hull and do it up!"
Nicholas Webb, Mercury Marine's Senior Director of Engine Products - Australia, New Zealand & South Pacific (ANZP) said this year's final was the toughest and best yet.
"We deliberately made the practical test harder than in previous years but these blokes didn't skip a beat, trouble-shooting a number of tricky problems we created in a range of engines, including our new V-6 and V-8 outboards and MerCruiser motors.
"It was very impressive and while there has to be a winner, each of the five technicians who made the final are outstanding and I congratulate them all.
"But the Technician Of The Year is more than just a great contest – it's about Mercury Marine recognising the knowledge and skills of all the marine technicians in our dealer network, and rewarding them for their ongoing commitment to training and staying up to date on our entire range of products," he said.
Mercury Marine is dedicated to having the most knowledgeable technicians in the industry so they can deliver the industry's best product and field technical support.
To that end, 2019 was a record year for participation in Mercury Marine's ANZP technician training – with more technicians than ever before participating in both distance learning courses and classroom-based practical training.