Mercury News
26 Nov 2019
"Stoked – and then some" with new Mercury 115hp Pro XS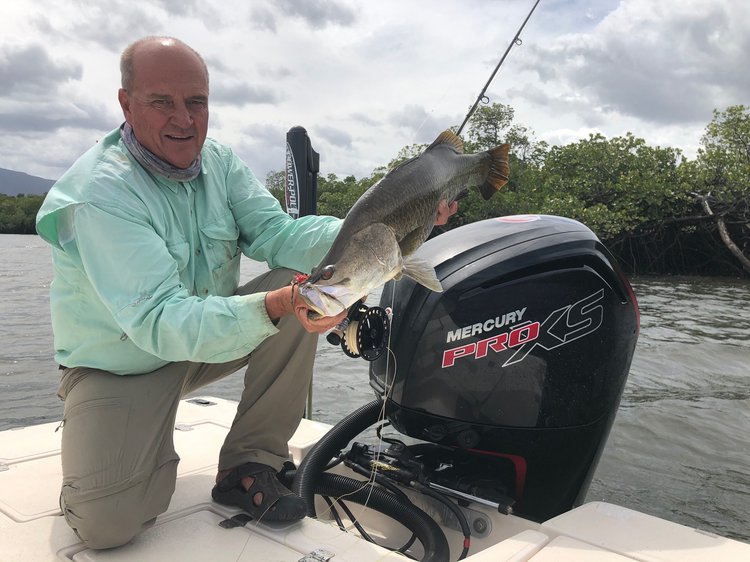 A professional guide who knows the areas around Cairns and Hinchinbrook, Queensland, like the back of his hand, Jon Snell often needs speed.
"When you have a client and you're chasing tides or changing fishing spots, getting there quickly is important so that's just one reason I'm so happy with this new FourStroke Pro XS outboard," he said.
"I was getting 70 km/h (38 knots) out of my previous engine, which was also a 115hp, but I've had the Mercury up to 80 (43 knots) and there's still some fine tuning to go," he said.
Jon has recently repowered his Hewes Redfisher 18 with a new Mercury FourStroke 115hp Pro XS and – in his own words – he's "stoked and then some" with the results.
"It's totally changed the boat for the better. The handling is phenomenal especially in rough water conditions. If you see some of the seas I have to go through, you'd know how important that is.
"The boat's sitting at least 20mm higher in the water because of how light the engine is.
"The 115 Pro XS is the lightest in its class (163 kgs) and that was a crucial factor for me, along with the bigger 2.1 litre displacement.  You know what they say – 'There's no replacement for displacement'!"
As a professional, who often covers 90 kilometres or more a day, reliability was also a crucial factor in Jon's decision to change brands to Mercury.
"I read everything I could about the different brands and different engines before deciding, and I even spoke to a couple of independent outboard mechanics who told me just how good Mercury are," Jon said. "In the end, Mercury came out the winner on so many fronts.
"Now when I take the cowl off this engine, I'm just super impressed with how simple and strong the motor is, and to me that means reliability and longevity."
Another big plus; the engine's large 35 amp alternator keeps the batteries for Jon's MotorGuide trolling engine topped up via the onboard DC-to-DC charger when he's running between spots.
Born and raised in Hervey Bay, but now living in Cairns, Jon has fished most of the Queensland coast all the way up to Thursday Island. An expert in saltwater fly fishing, he's already taken his reborn boat on a three-day tour of the Great Barrier Reef.
"I don't have any precise figures yet but I know the fuel consumption is certainly better," he said.
"On the way to the reef the weather was pretty rough and I used 55 litres for 65 miles (104 kms) which I was happy with given the conditions."
Cruising at 30 knots, Jon's Pro XS is burning 20 l/hr.
"I've already clocked up 21 hours but I'm still getting used to the engine's noise – or lack of it," he said.
"I read about how unbelievably quiet these engines are and now I believe it; never has a truer word been written. It's such a huge change."
Jon is also full of praise for the expert assistance provided by Joel Solinas and his team at Coastal Marine and Outdoors at Innisfail who handled the repower.
"They went out of their way to help. They knew I had charters booked so they worked late to get me back on the water in time. Joel even drove up to Cairns at 8-30 at night to drop off a propeller I want to test. That's service."
If Jon has one regret about his repower it's that he couldn't step up to the 150hp Pro XS!
"You always want more speed, but the boat's in survey and I'm limited to 115hp," he laughed.
"But this 115hp Pro XS is just amazing. You can call me a very happy camper."
Jon can be contacted on 0417 642 630 or Facebook 'Jon Snell Fishing Charters'