Mercury News
4 May 2015
Mercury Marine 4.5L 200hp sterndrive named Top Product by Boating Industry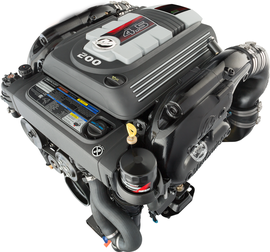 The Mercury Marine 4.5L 200hp sterndrive is a 2015 Boating Industry Top Product of the year, Boating Industry magazine announced Friday.
The winning products were selected based on many factors, including innovation, impact on the industry, and how they advanced their category or created a new category.  
The Mercury MerCruiser 4.5L 200hp sterndrive, based on the 4.5L 250hp sterndrive introduced by Mercury in 2014, is purposely designed for marine environments. The 4.5L 200hp sterndrive was designed and is manufactured at Mercury Marine's world headquarters in Fond du Lac, Wisconsin. The 4.5L is the first of its kind, creating new standards for acceleration and overall performance with design innovations such as a long runner scrolled intake manifold and high displacement, which produces an outstanding power-to-weight ratio.
"We are proud to introduce the next generation of sterndrive technology with this ground-breaking new engine," said Mercury Marine President John Pfeifer. "This is a great power source that provides features, benefits and technology that make boating more enjoyable and worry-free. This engine was purpose-built for marine use and it delivers Mercury's proven performance, durability and ease of service." 
The 4.5L delivers maximum fuel efficiency and exceptionally quiet operation. Its newly designed rear-facing throttle body, anti-whistle throttle plate, engine cover and mounts, lightweight flywheel, fuel supply module, and structural oil pan work together to deliver superior sound quality and smoothness from idle all the way through the power band for a better boating experience.
The 4.5L V-6 also offers Adaptive Speed Control (ASC), which automatically maintains the set rpm point regardless of load or condition changes, such as tight turns, tow sports and lower speeds on plane. 
Mercury Marine built the ultimate anti-corrosion protection system into the 4.5L V-6, using durable cast-iron componentry wherever the engine encounters seawater, and corrosion-resistant aluminium and composites everywhere else. Digital rather than analogue sensors are used throughout.