Mercury® MerCruiser®
8.2L
Simple. Easy. Powerful.
Built for ease – from maintenance to maneuvering.
HP / kW 430 / 321
Maximum RPM (WOT) 4600 - 5000
Engine type V8
Displacement (L) 8.2
Fuel delivery system Multi-point Electronic Fuel Injection (MPI)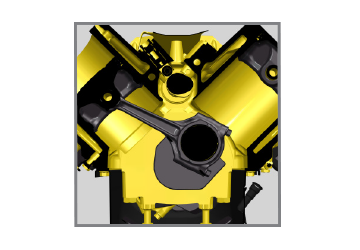 Durable.
A high-displacement footprint allows the V-8s to work smarter – not harder – with lower max rpm to ensure longer engine life. Engine Guardian is standard and averts potential problems with timely intervention, while the Cool Fuel Module prevents vapor lock.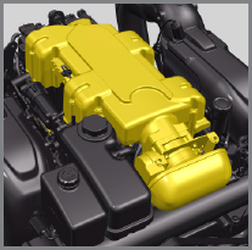 High Technology.
Long runner intakes pack more air into the chamber, while the advanced MPI system fine-tunes the fuel-to-air mix, producing more power on combustion. High performance aluminium cylinder heads improve mid-range acceleration. SmartCraft® Digital Throttle & Shift provides silky-smooth operation.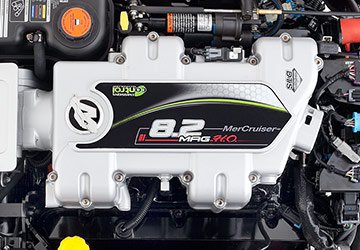 Big on power, not on fuel.
These big blocks put all the power you want on the line when you need it – just the ticket for larger cruisers. The high-output alternator generates 65 percent more power than previous models. Yet the MPI and ECT systems also ensure maximum fuel economy from regular unleaded.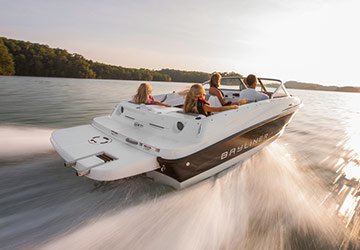 Corrosion Protection.
The MercFusion Paint System creates an outer seal against the elements, while MerCathode® provides automatic protection against galvanic corrosion. For maximum defense against saltwater effects, the SeaCore® industrial hardcoat anodising system and closed-cooling circuit is available.
Specifications
Mercury® MerCruiser®: 8.2L
HP / kW
Maximum RPM (WOT)
Engine type
Displacement (L)
Bore and stroke

4.47 x 4.00" / 113.5 x 101.6 mm

Compression ratio
Recommended fuel

Unleaded Regular 87 Octane Minimum (R+M/2) or 90 RON 10% Ethanol Maximum

Engine control system

PCM 09 with SmartCraft CAN capability OBD-M diagnostics Dual oxygen sensors

Fuel delivery system

Multi-point Electronic Fuel Injection (MPI)

Air induction

High inertia induction system

Ignition

Distributorless ignition with knock control

Alternator amp / Watt
Water drain system

Single point air actuated

Exhaust system

Tuned runner exhaust manifolds with 316 stainless steel tubular dry joint elbows

Cooling system

Brass sea water pump
Closed cooling
Long life 5-year antifreeze

Accessory drive system

Auto-tensioner
Serpentine belt

Recommended oil

NMMA Certified FCW 25W-40 Synthetic Blend

Engine guardian system

SmartCraft Engine Guardian

Dimensions (L x W x H)

35 x 33 x 24" / 878 x 838 x 610 mm

Weight (engine only)
Compatible drives

Bravo One X
Bravo One XR
Bravo Three X
Bravo Three XR
Bravo Two X

Print Compare With Other Products

HP / kW
Maximum RPM (WOT)
Engine type
Displacement (L)
Bore and stroke

4.47 x 4.00" / 113.5 x 101.6 mm

Compression ratio
Recommended fuel

Unleaded Regular 87 Octane Minimum (R+M/2) or 90 RON 10% Ethanol Maximum

Engine control system

PCM 09 with SmartCraft CAN capability OBD-M diagnostics Dual oxygen sensors

Fuel delivery system

Multi-point Electronic Fuel Injection (MPI)

Air induction

High inertia induction system

Ignition

Distributorless ignition with knock control

Alternator amp / Watt
Water drain system

Single point air actuated

Exhaust system

Tuned runner exhaust manifolds with 316 stainless steel tubular dry joint elbows

Cooling system

Brass sea water pump
Closed cooling
Long life 5-year antifreeze

Accessory drive system

Auto-tensioner
Serpentine belt

Recommended oil

NMMA Certified FCW 25W-40 Synthetic Blend

Engine guardian system

SmartCraft Engine Guardian

Dimensions (L x W x H)

35 x 33 x 24" / 878 x 838 x 610 mm

Weight (engine only)
Compatible drives

Bravo One X
Bravo One XR
Bravo Three X
Bravo Three XR
Bravo Two X

Print Compare With Other Products

HP / kW
Maximum RPM (WOT)
Engine type
Displacement (L)
Bore and stroke

4.47 x 4.00" / 113.5 x 101.6 mm

Compression ratio
Recommended fuel

Unleaded Regular 87 Octane Minimum (R+M/2) or 90 RON 10% Ethanol Maximum

Engine control system

PCM 09 with SmartCraft CAN capability OBD-M diagnostics Dual oxygen sensors

Fuel delivery system

Multi-point Electronic Fuel Injection (MPI)

Air induction

High inertia induction system

Ignition

Distributorless ignition with knock control

Alternator amp / Watt
Water drain system

Single point air actuated

Exhaust system

Tuned runner exhaust manifolds with 316 stainless steel tubular dry joint elbows

Cooling system

Brass sea water pump
Closed cooling
Long life 5-year antifreeze

Accessory drive system

Auto-tensioner
Serpentine belt

Recommended oil

NMMA Certified FCW 25W-40 Synthetic Blend

Engine guardian system

SmartCraft Engine Guardian

Dimensions (L x W x H)

35 x 33 x 24" / 878 x 838 x 610 mm

Weight (engine only)
Compatible drives

Bravo One X
Bravo One XR
Bravo Three X
Bravo Three XR
Bravo Two X

Print Compare With Other Products