Comp Series
Revolution X™
Speed. Performance. Efficiency.
Designed specifically for the V10 platform.
Available pitches 18, 19, 20, 21, 22, 23, 25, 27, 29, 31, 33
Rotation LH, RH
Performance vent system (PVS) Yes
Number of blades 4
Material Stainless Steel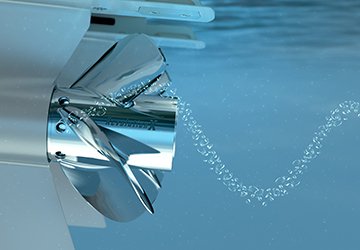 Fine tuned.
Enhanced Performance Vent System (PVS®) enables boaters to optimize forward and reverse thrust for greater control with Joystick Piloting for Outboards (JPO).
Just by varying the size of the exhaust hole and controlling your engine's rpm, you can eliminate sluggish performance or compensate for changes in load in altitude. It's technology that you can only get from Mercury.
Forward Operation
PVS holes located on the suction side of the blades allow exhaust bubbles to enter the propeller, enabling the prop to slip on hole shot when needed, giving the operator the ability to customize hole shot by using different PVS plugs (fully closed, partially/fully open) or removing them completely.
As the boat travels, water passes over theses PVS holes creating a seal.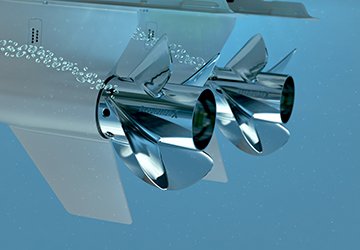 Reverse Operation
Exhaust bubbles are released from the PVS holes located on the pressure side of the blades.
Avoiding the propeller, the bubbles flow underneath the vessel, avoiding interaction with the propeller.
By staying clear of the propeller, reverse thrust is optimized.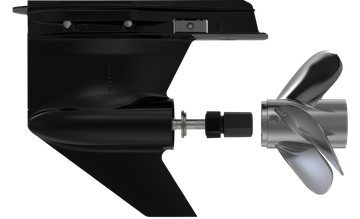 Flo-Torq® X
Designed specifically for the V10 platform, Mercury's Flo-Torq X propeller hub might just be the most important part you never see. Not only does it flex during shift changes, reducing noise and vibration, but it also ensures that the power from the V10 outboard is transferred smoothly to the propeller. If your prop hits an underwater object, the Flo-Torq X hub helps absorb impact, providing added protection to the lower unit. Just pop in a new hub and you're back on the water, no service call needed.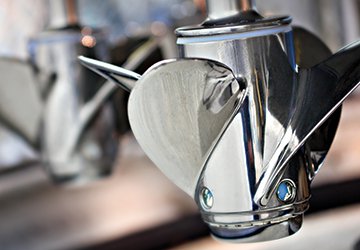 A Higher Grade of Performance
Mercury transforms aluminum and stainless steel into the highest-quality, best-performing, most-durable marine propellers in the world. Our experience, expertise and proprietary technologies – Flo Torq, Mercalloy®, X7® alloy and PVS® (Performance Vent System) – give you the competitive advantage. For best overall boat performance, there's no substitute for a Mercury propeller.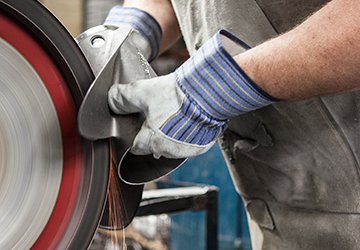 Producing world-class Mercury propellers is no simple task
Producing a world-renowned Mercury Marine prop takes time and skill, not to mention advanced engineering and know-how. Every operation - from inception to completion - is centralized at Mercury's propeller manufacturing facility in Fond du Lac, Wisconsin.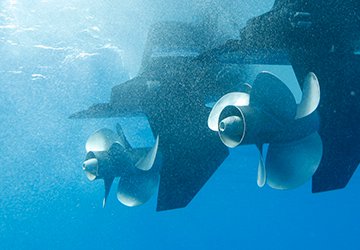 Stainless Steel 15-5: Superior Corrosion Protection for Long-Lasting Dependability
A proprietary blend of 15-5 stainless steel perfectly balances strength and corrosion resistance in both freshwater and saltwater applications. Developed specifically for Mercury propellers.
Documents
Buy the Books
You can order all available Mercury literature online or through any authorized Mercury dealer. Please have your outboard or sterndrive serial number before placing the order.
Operation, Maintenance, and Warranty Manuals
Parts Manual
Service Manual
Sign up to receive the latest tips, promotions and news from Mercury