Repower Finance Done The Right Way
With Mercury Repower Financing, you can easily power up everything from runabouts to cruisers with flexible outboard, sterndrive and inboard financing on the engine. You can also choose to finance the entire engine package (rigging, gauges, controls and labor). Mercury Repower Financing offers low rates and low monthly payments to fit a buyer's budget.
Attractive Rates
Flexible Payments
Low Down Payment
Fast Approvals
Same Day Loan Closing*
Finance Complete Package
From $5,000 to $50,000
We Handle the Details
Get the  performance you want - see your participating Mercury dealer today!
*With approved credit. Some loan restrictions apply.
---
Repower Tips for your Outboard Engine
Marine experts provide repower tips for your Mercury Outboard engine. These videos provide excellent tips to consider when repowering your boat.
Ever since the Great Recession of 2008, it seems like the number of people repowering their boats grows significantly each year. Why? The obvious answer is that when an older outboard engine reaches the end of its service life or the parts to fix it become difficult to find, it's much cheaper to repower than to buy a new boat-and-engine package.
Read about things to consider when repowering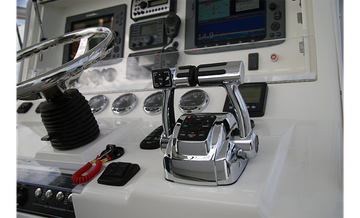 You're fully covered. Right down to the controls and gauges.
The outstanding warranty coverage on Mercury engines also extends to the controls and rigging components on your boat. When your Mercury dealer uses genuine Mercury gauges, controls and rigging for your repower, the warranty coverage for those components will match the total warranty of your engine!
Finance the entire repower!
Qualified applicants can finance more than just the engine for their repower. The gauges, controls, rigging components and even labor can be financed as well!
For more information on repowering your boat, please visit our FAQs.
Sign up to receive the latest tips, promotions and news from Mercury