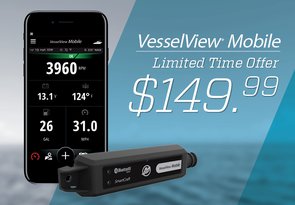 Mercury VesselView Mobile module, normally $275, is available for just $149.99 now through March 31.
Limited-Time Discount on VesselView Mobile
VesselView Mobile lets you use your mobile device (smartphone or tablet, Android or iPhone) to connect via Bluetooth with your Mercury engine (SmartCraft capable, 40hp and up)  to display VesselView data on your device. The plug-and-play module provides quick, convenient access to your engine's data.  
With VesselView Mobile you can: 
See all the SmartCraft engine parameters: fuel flow, water temperature, oil & water pressures, battery voltage, rpm, etc.  
Get fault code diagnostic information so you know and understand if that fault is something to be addressed when you return back to the dock or something more significant 
Get mapping information for your body of water: location, record a moment on the water, fuel & restaurant locations and more 
One module can monitor up to four engines. You can even customize the data points across three screens to fit your boating lifestyle. VesselView Mobile is compatible with all SmartCraft-compatible Mercury outboard and sterndrive engines that are 2003 and newer, 40hp and up.  
Additional capabilities with VesselView Mobile:  
Use the Dealer Locator and Primary Dealer selector 
Use checklists associated with your boating lifestyle 
Receive maintenance reminders and historical maintenance information logs 
Promotion applies to VesselView Mobile modules purchased directly from Mercury Marine between January 28, 2019 through March 31, 2019.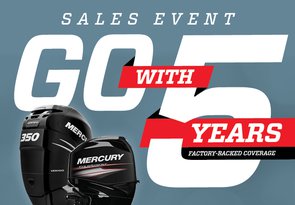 Five years coverage on all new outboards!
Go with 5!
Purchase a new 2.5hp to 400hp Mercury outboard between January 1 and March 31, 2019 and get a total of five years of Mercury factory-backed limited coverage! In addition to the standard three- year factory warranty, you will also receive a two-year Mercury Product Protection Gold plan!
This promotion applies to all Mercury outboards 2.5hp to 400hp, including Verado, FourStroke, Pro XS and OptiMax families, purchased from participating Mercury dealers or retailers. Mercury Product Protection is a factory-backed extended coverage plan, completely administered and backed by Mercury, for years of worry-free boating.
Exclusions: All Mercury Racing, Government, donations as well as engines sold for commercial, camp or resort applications, guide & outfitter registrations, CPO, SportJet Pumps and sales/registrations outside the United States or Canada. Also excludes any non-U.S. or Canada resident, or address outside of the U.S. or Canada. Two-stroke (non-DFI) engines are excluded. Units have to be manufactured in current calendar year and four immediately preceding years. Excludes sales from non-authorized dealers. Engines on the Angling or Sponsorship program do not qualify.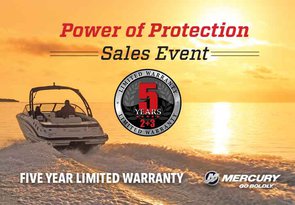 Head Out on the Water with Long-Term Protection
Power of Protection Sales Event
NEW long-term protection from Mercury! Purchase a new Mercury MerCruiser gas or inboard engine (installed in 2016, 2017, 2018 or 2019 model year boats) and get five years of limited coverage!
Five-year coverage against costly repairs
2016-2019 gas sterndrive/inboard models
More than 120 major engine parts covered
Entire engine assemblies replaced if necessary
World-class Mercury dealer service and support
Eligible
Mercury I.Q. Certified Boat Builder
models sold to US and Canada residents will receive 5 years coverage (2 years of Mercury Limited Warranty and 3 years of Mercury Power of Protection Limited Warranty). Valid on boats purchased from July 1, 2018 through June 29, 2019 and registered by July 15, 2019. The information provided in this document is intended to provide only a brief description of the benefits of this Mercury 5-Year Gas Sterndrive and Inboard Engine Limited Warranty. This Mercury Limited Warranty also has exclusions and limitations that apply to the benefits discussed in this document. For complete details as provided in the Agreement document (including "What is not Covered"), please call the program administrator at 866.404.3064.
Sign up to receive the latest tips, promotions and news from Mercury