Precision Lubricants
4-Stroke Marine Oil
Get a grip on a slippery situation.
A technology specific 25W-40 marine oil formulated for the world's first and only supercharged and intercooled outboard engine.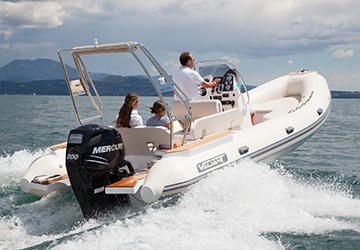 Synthetic Blend 4-Stroke (25W-40) Outboard Oil
A technology specific 25W-50 marine oil formulated for the world's first and only supercharged and intercooled outboard engine. The unmatched torque and acceleration of this engine requires maximum protection found in this well-balanced combination of today's highest quality synthetic and mineral base stocks. Verado Oil meets the stringent marine operational requirements of all Mercury's new 4 and 6 cylinder models. First in class for all FC-W durability test properties with industry leading internal Marine engine corrosion protection. Here are the results from a comparison test between Verado Oil and a popular 15W 50 full synthetic oil. - Verado oil shows significantly better shear stability and volatility, and is higher in viscosity and High Temperature High Shear (HTHS) after shear. - The popular competitive formulation uses a fair amount of VM (viscosity modifier) which is subject to shear, while the Mercury oil contains no VM. As a result, the Mercury oil will hold its viscosity far better in difficult situations. - The HTHS after shear follows along with the viscosity stability, which results in improved bearing protection. - Use of the full synthetic competitive oil resulted in higher oil consumption than the Mercury 25W-5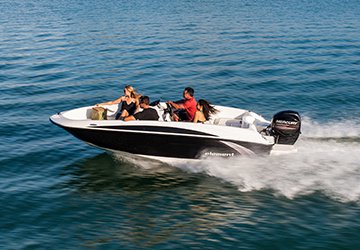 4-Stroke (10W-30) Outboard Oil
Specifically formulated and developed to meet the needs of: All 4-stroke outboard engines. - Developed for the rigors of the marine environment. - Industry-leading corrosion protection. - Features premium-grade synthetic and mineral-based stocks with specially designed marine grade additives not required in automotive oils. - Outstanding lubricity for internal engine components to reduce wear, scuffing and scoring. - Excellent running quality and long-term reliability. - Rigorously tested to guarantee warranty protection for Mercury and Mariner 4- Stroke outboards. Available container sizes: 1 Liter, 4 Liter, 208 Liter
Documents
Buy the Books
You can order all available Mercury literature online or through any authorized Mercury dealer. Please have your outboard or sterndrive serial number before placing the order.
Operation, Maintenance, and Warranty Manuals
Parts Manual
Service Manual
Sign up to receive the latest tips, promotions and news from Mercury