Mercury News
April 22, 2022
Mercury Marine Announces New Scholarship Opportunity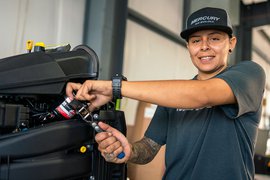 FOND DU LAC, Wis. (April 22, 2022) — Mercury Marine, a division of Brunswick Corporation (NYSE: BC), announced its new Propelling Marine Technician Careers Scholarship for the 2022-2023 academic year. This scholarship program is designed to support high school students or graduates who will further their education in the marine technician field. The program will offer four scholarships of $2,500 each ($1,250 for each semester), intended to alleviate financial stress of post-secondary education.   
Mercury Marine, as well as its dealers and customers, rely on skilled individuals with a strong work ethic and passion to build and service the company's industry-leading marine products. This scholarship program will help expand the network of marine technicians by providing the education and tools needed to succeed.   
These scholarships are available to high school seniors or recent graduates from: Marchman Technical College (Florida), Pinellas Technical High School (Florida), Northern Neck Technical Center (Virginia) or Cayuga-Onondaga BOCES (New York). The application deadline is May 13, 2022.
Additional scholarship criteria:
Cumulative high school GPA of 3.0 or higher on a 4.0 scale; submission of official transcript required.
Must submit two letters of recommendation from a teacher, advisor, employer or other professional reference.
Intention to pursue further education in a marine technician field as a full-time student (must provide enrollment information).
To learn more about the Mercury Marine Propelling Marine Technician Careers Scholarship and to apply, visit: mercurymarine.com/scholarship.
Sign up to receive the latest tips, promotions and news from Mercury