Mercury News
Nov. 28, 2017
Mercury 115 Pro XS - Remarkable hole shot and awesome top speed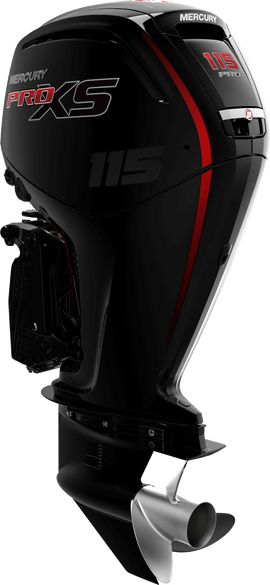 By Charles Plueddeman - The Mercury 115 Pro XS is an outboard that punches above its weight class. This mid-size motor delivers the well-known Pro XS attitude and performance-oriented DNA in a size that's perfect for a slew of boats, including compact bass rigs, flats and bay boats, pontoons and multi-species boats.
Bold Pro XS graphics on the cowl promise performance, and the four-cylinder 115 Pro XS delivers. Under that cowl is the dynamic 2.1-liter Mercury 115 FourStroke. Additional performance is gained by moving the top of the wide-open throttle rpm range from 6000 to 6300 rpm.
David Foulkes, vice president of Mercury engineering and chief technology officer of Brunswick Corporation (parent company of Mercury), reminds us of the simple math of performance, as applied to the 115 Pro XS.
"Horsepower is simply torque times rpm," said Foulkes. "As long as the torque curve is still climbing, if we add rpm we get more power. And the 2.1-liter engine makes plenty of torque."
With an extra 300 rpm it's possible to move down one propeller pitch and gain acceleration – reducing 0-to-20 mph time by 1 to 2 seconds and providing top speed improvement of up to 3 mph over the closest competitor. At 359 pounds (20-inch shaft, standard gearcase), the Mercury 115 Pro XS is the lightest performance 115 outboard by approximately 20 pounds, despite offering the most displacement in the category.
Like other 115hp performance motors, the 115 Pro XS is available in 20-inch and 25-inch shaft lengths, but the available Command Thrust gearcase is a feature no other outboard brand offers. The 4.9-inch-diameter Command Thrust case accommodates Merc's top performance props up to 16-inches in diameter. More blade area and the lift provided by the larger case can improve the performance of hulls such as vee-bottom multi-species boats and fiberglass bass boats. All these options plus the wide selection of Mercury props make it possible to really dial in optimal performance for any boat. The standard gearcase on the 115 Pro XS is a good fit for aluminum bass hulls.
Anglers who prefer increased boat space and other benefits provided by tiller handles can fit the 115 Pro XS with a Mercury Big Tiller. The ergonomic design of the Big Tiller delivers all-day comfort, with throttle, shift, steering and trim control all close at hand. The Big Tiller also features digital troll control as an optional upgrade that can be used to adjust trolling speed at idle in 10-rpm increments to accommodate wind and current, and achieve perfect bait presentation. On boats with remote controls, digital troll control can be activated through a number of SmartCraft gauges and displays.
The 115 Pro XS is compatible with a full suite of Mercury SmartCraft features, including Engine Guardian operator-warning system and new VesselView Mobile that uses an available Bluetooth module to transmit maintenance reminders, performance information and diagnostic information directly to a smart phone or tablet. Anglers running lots of electronics will appreciate Idle Charge, an electronic control that monitors battery voltage state and will increase the engine rpm to boost alternator charging output by up to 48 percent at idle.
Mercury has packed a lot of muscle and brains under the compact cowl of the 115 Pro XS. It's a middle-weight knock-out.
Sign up to receive the latest tips, promotions and news from Mercury