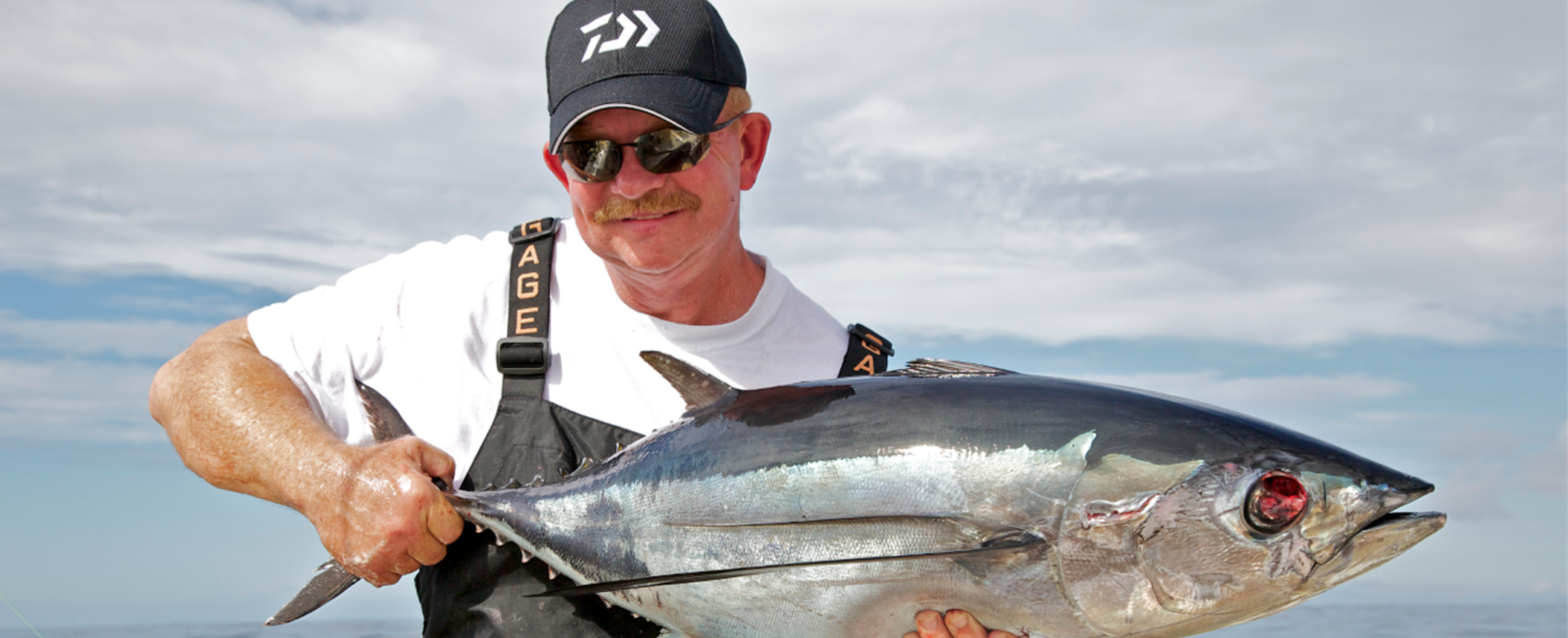 PORTLAND, ORE. — West Coast tuna expert and businessman Del Stephens remembers the letters stamped on boxes that would arrive occasionally in winter months at his childhood home in Harrisburg, Oregon.
Emblazoned with the letters USDA and bearing the iconic shield logo of the United States Dairy Association, those boxes from the Linn County Community Food Bank contained items that would help Stephens' parents feed their small family during tough economic times.
Canned vegetables. Flour. Peanut butter. Canned tuna.
"My parents were like a lot of people: they just needed a little help," said Stephens, a member of Mercury Marine's Pro Team who earned the nickname "Tuna Dog" for his skill at catching albacore tuna off the Oregon and Washington coasts. "At the time, it didn't dawn on me exactly what those boxes meant, but my parents struggled sometimes. They didn't always have enough money to get us through the winter. Those USDA boxes meant the world to them, just like they do to a lot of people."
Forty years later, Stephens is the driving force behind one of the most creative, productive food-drive benefits in the country: the Oregon Tuna Classic.
The Oregon Tuna Classic
The "OTC" as it's commonly called in small coastal villages on the Oregon Coast, is a two-event albacore-tuna-fishing competition that takes place annually in late summer out of the ports of Ilwaco, Washington, and Garibaldi, Oregon. The tournaments' non-profit parent organization, which is chaired by Stephens, is a volunteer team of roughly 20 people who facilitate and manage the events as fundraisers and food-generators for the food banks and pantries of north-coastal Oregon and Southwest Washington.
Over the 14-year history of the series, regional food banks in Oregon and Washington have received 161,000 pounds of whole tuna, and an additional $415,000 in cash generated by entry fees, auctions and charitable contributions from OTC competitors and sponsors.
The tuna is offloaded from competition boats, packed in ice and immediately transported to local processors where it is either canned or loined and flash-frozen in two-pound packages, providing food bank organizers with high-quality, clean, organic protein.
The cash donations are used to alleviate operating costs, and to provide other nutritional staples – fresh vegetables, canned goods, etc. – that, because of the food banks' subsidized purchasing abilities, translate into tens of thousands of pounds of food annually (and just over 1.8 million pounds of food since the OTC started in 2005).
"We service around 60,000 people a year just in our little facility," said Dusten Martin, program manager for the Clatsop County Regional Food Bank in Warrenton, Oregon. "Lean, healthy proteins are some of the most expensive items to buy, and the one part of a healthy diet that most low-income people just can't afford. To have something as healthy and nutritious as wild albacore tuna given to us for free is just a tremendous resource for us, because fresh tuna would be out of our budget. A lot of people we see throughout the year really rely on those donations."
It all started because a tuna fishery was too productive for local anglers to manage.
"The best tuna fishery in the world"
Even though albacore tuna has a storied commercial history on the Pacific Northwest coast – the world's first tuna canneries opened in Astoria, Oregon, in 1920 – the salmon-mad sportfishing fleets of Washington and Oregon paid little attention to the blue-backed torpedoes until the 1990s.
That's when Stephens – a Mackinaw and kokanee guide on Odell Lake in central Oregon at the time – heard reports of tuna being caught within 20 miles of the harbor in Brookings, Oregon, and convinced a friend to run out into the Pacific Ocean in a 23-foot aluminum boat with an inboard jet and 9.9hp Mercury kicker in search of albacore. The pair caught nine fish that day (destroying four salmon reels in the process of fighting the powerful tuna), but the experience of locating and landing the powerful and explosive gamefish immediately sparked Stephens' interest in the species.
In the 25 years since, Stephens has seen the fishery progress from small aluminum salmon boats with underpowered jet pumps and ill-suited salmon gear, to rigs like his 34-foot Hydra Sport (Bad to the Bone) with triple 300hp Mercury Verado outboards and top-of-the-line electronics and offshore tackle. It has placed Stephens in high demand as an author and speaker (he delivers 30 to 40 albacore seminars a year throughout the West Coast of the U.S.), and caught the attention of some of the most recognized offshore anglers in the world.
"(IGFA Hall of Famer) Tred Barta has said that this is the best tuna fishery in the world, and he's right," Stephens said. "But it's still a 'new' fishery in many regards. The biomass has been here for eons, but for the most part, the commercial fleet has it to themselves. Sport anglers take only 1 percent of the total catch of albacore in a year in Oregon and Washington."
Stephens said he's also witnessed the local boat manufacturers and retailers ramping up to match the interest and boat/motor requirement of the rapidly growing offshore fishery.
"You really should have a minimum of a 24-foot boat with twin 150hp motors, but I see more and more 30-foot-plus fiberglass boats with deeper Vs that need at least twin 300 Verados to triple 300 Verados," Stephens said. "There are a lot more big boats with more range to access the fishing grounds now, but we're still just scratching the surface. It's just a tremendous, impressive resource."
The OTC is born
Bud Hosner, owner of a marine-repair shop in Garibaldi, had been so successful in his earliest tuna forays onto the north Pacific that he had more albacore than he knew what to do with. He gave hundreds of pounds of the protein-rich meat to family and friends before he was struck with an epiphany: "I should be giving this tuna to somebody who really needs it," Hosner recalled.
In the summer of 2005, Hosner assembled a small group of fishing buddies who agreed to donate all the day's tuna catch to the local food bank. One day of fishing and roughly 2,100 pounds of albacore in the food bank's freezer later, the fledgling idea for the Oregon Tuna Classic was born.
Stephens was asked to join the OTC board of directors later that year and then succumbed to Hosner's repeated requests to lead the organization in 2007. In the 10 years since then Stephens has served as chairman (he took office in 2012 to compete in the events, and in the Offshore World Championship in Costa Rica), it's grown to as many as 80 four-person teams, with an all-time high of 21,000 pounds of tuna donated at a single event and cash donations as high as $80,000 in a year.
All told, the events' albacore and cash donations have accounted for just over 1 million pounds of food for local residents in need of assistance.
"The food banks are able to buy 4 to 5 pounds of food for every dollar we give them," Stephens says. "Combine that buying power with several tons of tuna and you have a good start in helping feed the hungry on the Oregon and Washington coast."
Coming full circle with letters on a box
Stephens remembers the moment as though it were an hour ago: 2007, at the Portland Regional Food Bank. As part of the formal presentation of the check from that year's tournaments, Stephens and the OTC team members present were given a tour of the facility.
As he walked through the warehouse, surveying shelves laden with pallets of canned goods, his eyes rested on something that took him back to his early teens.
"There were boxes there with the letters USDA on the sides," Stephens said. "It triggered memories of coming home as a kid and seeing those boxes on our table. I hadn't connected those things until that exact moment, and when I did, it was a pretty emotional, overwhelming thing. It's one of the biggest reasons why providing food for people in need is so important to me: I was directly affected.
"I know that one in five families are affected by hunger, many of them children and seniors. We're blessed with the opportunity to fish and enjoy what we love to do and pay that forward to people who really need our help. Our slogan at the OTC is 'Reelin' in Hunger,' and we're doing all we can to make that happen."