Back to Dockline
Nov. 26, 2019
World-renowned angling authority and television host George Poveromo gives us his opinion of the new V8 and V6 engines.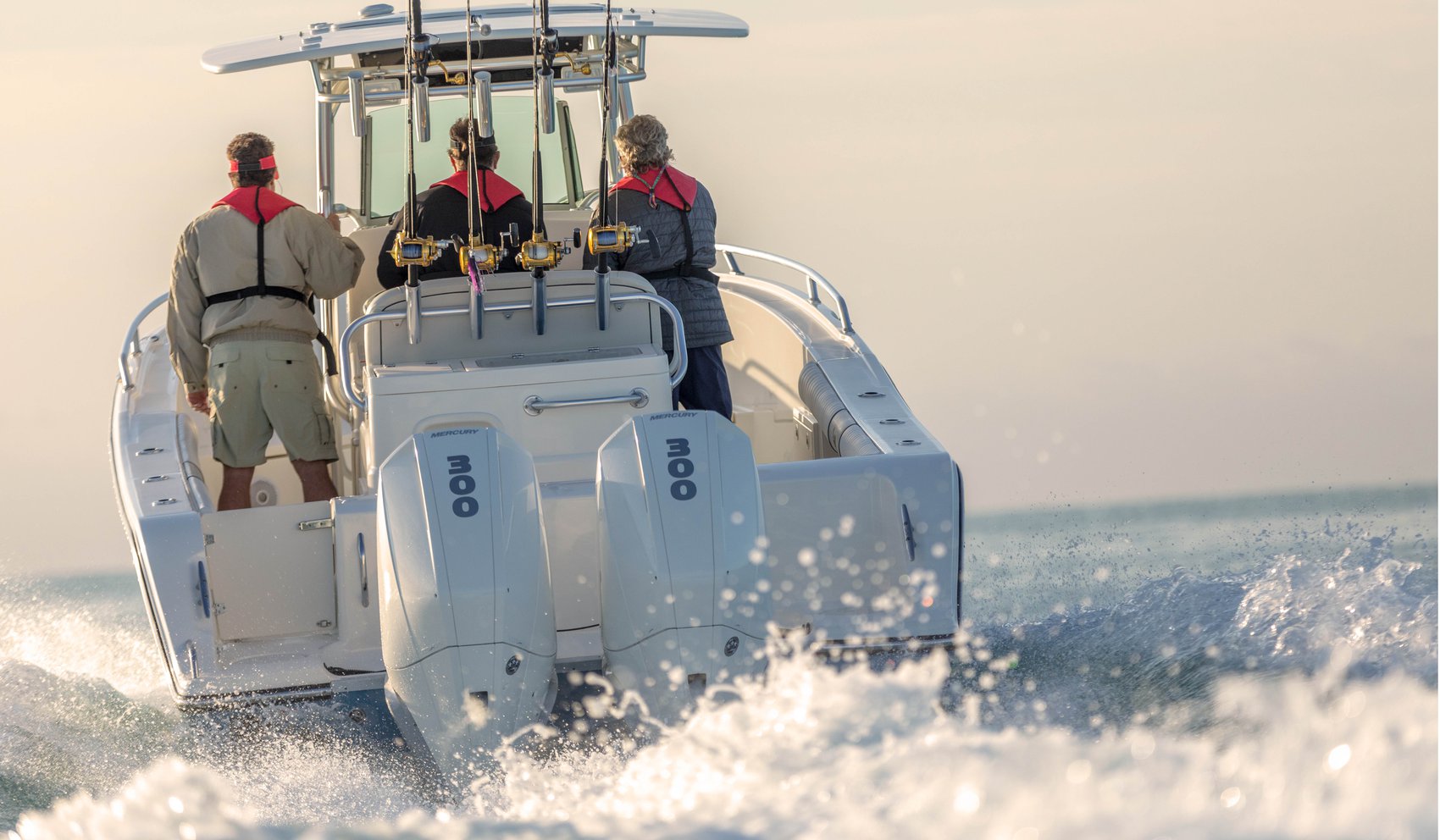 If you're looking to repower your boat, your timing couldn't be better. Mercury has brilliantly engineered superior torque, lightning-quick full-range throttle responses and enhanced fuel economy in new state-of-the-art V8 and V6 outboards that are significantly lighter than others in their respective horsepower categories.
These new outboards are rich with torque. Credit this, in part, to their 3.4-liter V6 and 4.6-liter V8 blocks and high-performance-designed Quad-Cams. How does this relate to boaters? For starters, consider Mercury's 200 and 225hp V6, and 225, 250 and 300hp V8 FourStrokes. Propped correctly, they'll unleash amazingly quick hole shots. This is crucial when fishing in, or traversing through, shallow waters. A strong torque curve and instant throttle response over their full rpm range also provides power to time waves and navigate through rough seas and inlets, or simply keep a fully loaded boat performing at its peak. If you're into near-shore or offshore trolling, the quietness and smoothness of these outboards are unparalleled. At idle, trolling, cruise or even high-end cruising speeds, they deliver impressive fuel economy.
Weight is also a major consideration when looking to repower, particularly for twin applications. Mercury has this more than covered! The 200hp V6 FourStroke (475 pounds) is the lightest in its class by 10 pounds, whereas the 225hp V6 FourStroke (also 475 pounds) is the lightest in its class by more than 60 pounds! The 250hp and the 300hp V8 FourStrokes, at 527 pounds, are the lightest in their class by more than 20 pounds.
Verado power is available in V8 250hp and 300hp supercharged 4.6-liter outboards weighing in at 600 pounds. The Verado V8s are unchallenged for ultra-strong acceleration and top-end performance. This strength is particularly warranted for heavier offshore boats, especially when seas kick up.
The new outboards feature a futuristic appearance and are available in Phantom Black, Cold Fusion, Warm Fusion or Pearl Fusion White. Another major plus is their Mercury-exclusive Top Cowl Service Door. Checking oil levels has never been so easy; simply pop open the door, have a look at the oil stick, and close the door.