Mercury Pro Team member Seth Feider wrapped his arms around a lifelong dream as he kissed the 2021 Bassmaster Angler of the Year (AOY) trophy on stage in Waddington, New York, at the final Bassmaster Elite Series event at St. Lawrence River.
The seventh-year Elite Series pro from New Market, Minnesota, finished the tournament in 13th place with a year-long points total of 787. His finish secured the coveted AOY title by a whopping 61-point margin over second-place finisher Chris Johnston, also of the Mercury Pro Team.
"This is a milestone; it's a lifetime of work," Feider said. "Ever since I was a little kid, every minute fishing was to get to this. It feels amazing. I've spent every minute of every day trying to accomplish something like this. It's nice to have a milestone to throw on the mantle and look at for the rest of your life."
With finishes of third, 29th, 25th, sixth, sixth, 12th, 24th, fourth and 13th, Feider will go down in history as one of the most consistent AOY winners in B.A.S.S. history. For perspective, prior to Feider, every AOY winner since 2017 had at least one finish of 49th or lower.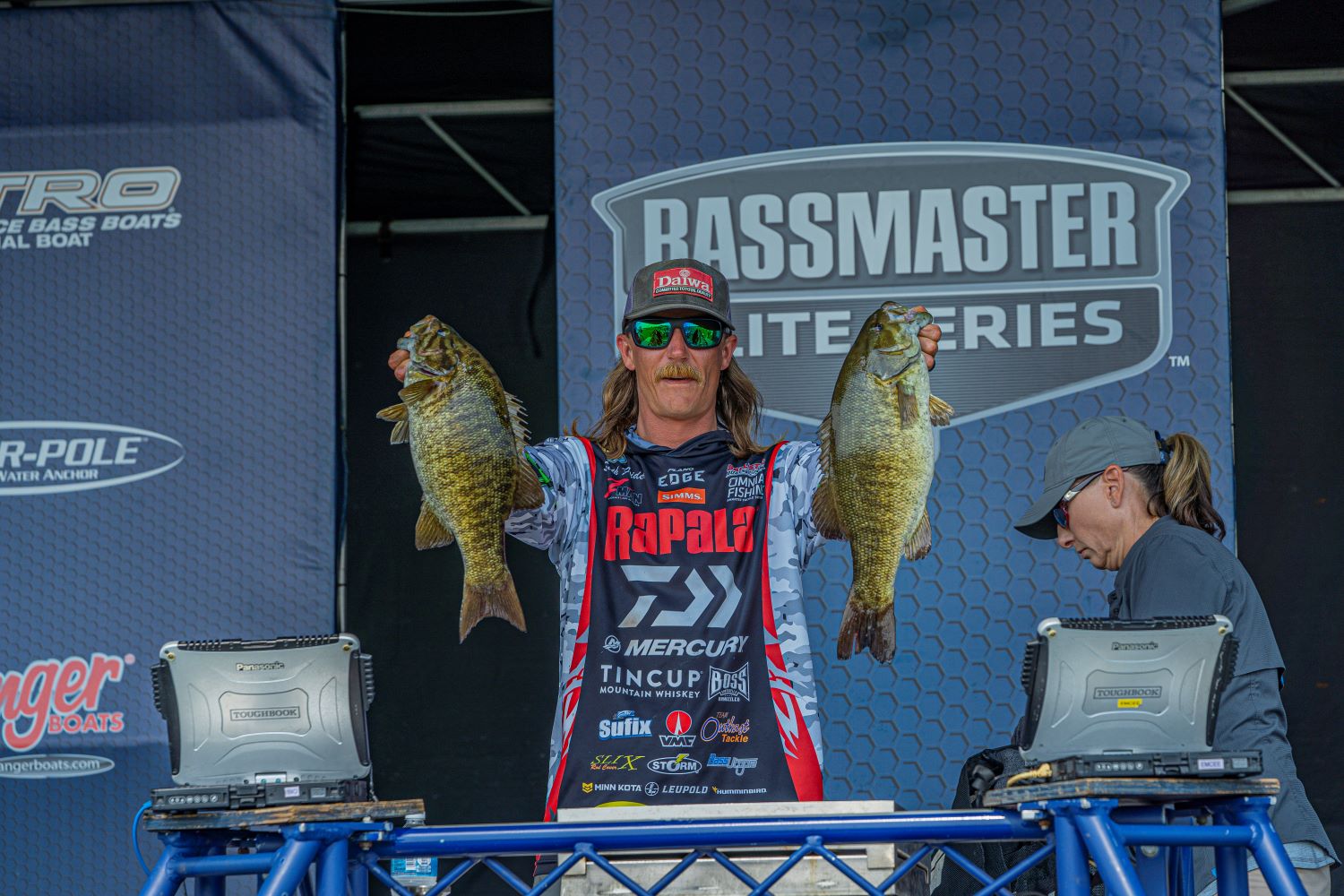 "Looking at the schedule before the season, I saw Florida (the opener at the St. Johns River) and the Sabine River (stop four in Orange, Texas), and I figured those would be my worst tournaments," Feider said.
Feider was well aware all season that many expected his AOY hopes to fall apart at some point while the trail was still visiting Southern venues.
"I expected that myself," Feider said with a laugh.
Instead, he had a career-best result on the extremely southern, extremely challenging Sabine River, finishing sixth. That finish moved him to the top of the AOY standings. That particular venue is a good snapshot of how far Feider has come as a tournament angler.
"The Sabine River was the first tournament of my rookie season in 2015," he said. "On my first ever day on the Elite Series I blanked. Nothing. In practice I had located two areas holding fish, but they were fairly far away from each other. Well, at least they seemed far away for a rookie. Now, I wouldn't think anything of making a run like that."
On day two of that first Sabine River event, Feider went out and caught a respectable limit and ended the tournament in 73rd place.
"I went to the other area and caught them on the second day. Had I left that starting area and made the run on day one it would have been a different story.
"Another part of my fishing that has improved is how I fish in Florida. I learned to slow down and pick areas apart. I put my trolling motor on 30 now instead of 100. This year at the St. Johns in Florida I finished third."
Prior to 2021, his highest finish in the state of Florida was a 22nd-place result at the St. Johns in 2019. Outside of that finish, most trips to the Sunshine State resulted in missed cuts and frustration for the Minnesotan.
The positive trend down south continued for Feider after the Sabine this season, as he notched another solid, sixth-place finish on Lake Fork and extended his AOY lead.
Feeling the Pressure
"After Lake Fork (stop No. 5 of nine), I had an idea that we might win this thing, and I've been thinking about it every minute of every day since; losing sleep, losing hair, almost puking the first morning here at the St. Lawrence," said Feider. "I didn't want to come up here and tank in the two tournaments (Lake Champlain and the St. Lawrence River) everybody expected me to do well in."
But Feider didn't tank. He traveled north to New York to fisheries reminiscent of the Minnesota waters he grew up fishing, and put together a pair of highly impressive finishes to lock up the AOY title.
"I shouldn't put that much pressure on myself, but I did. It worked out, though. It feels like the weight of the world is off my shoulders now that it's all over. It's been a stressful last couple of months."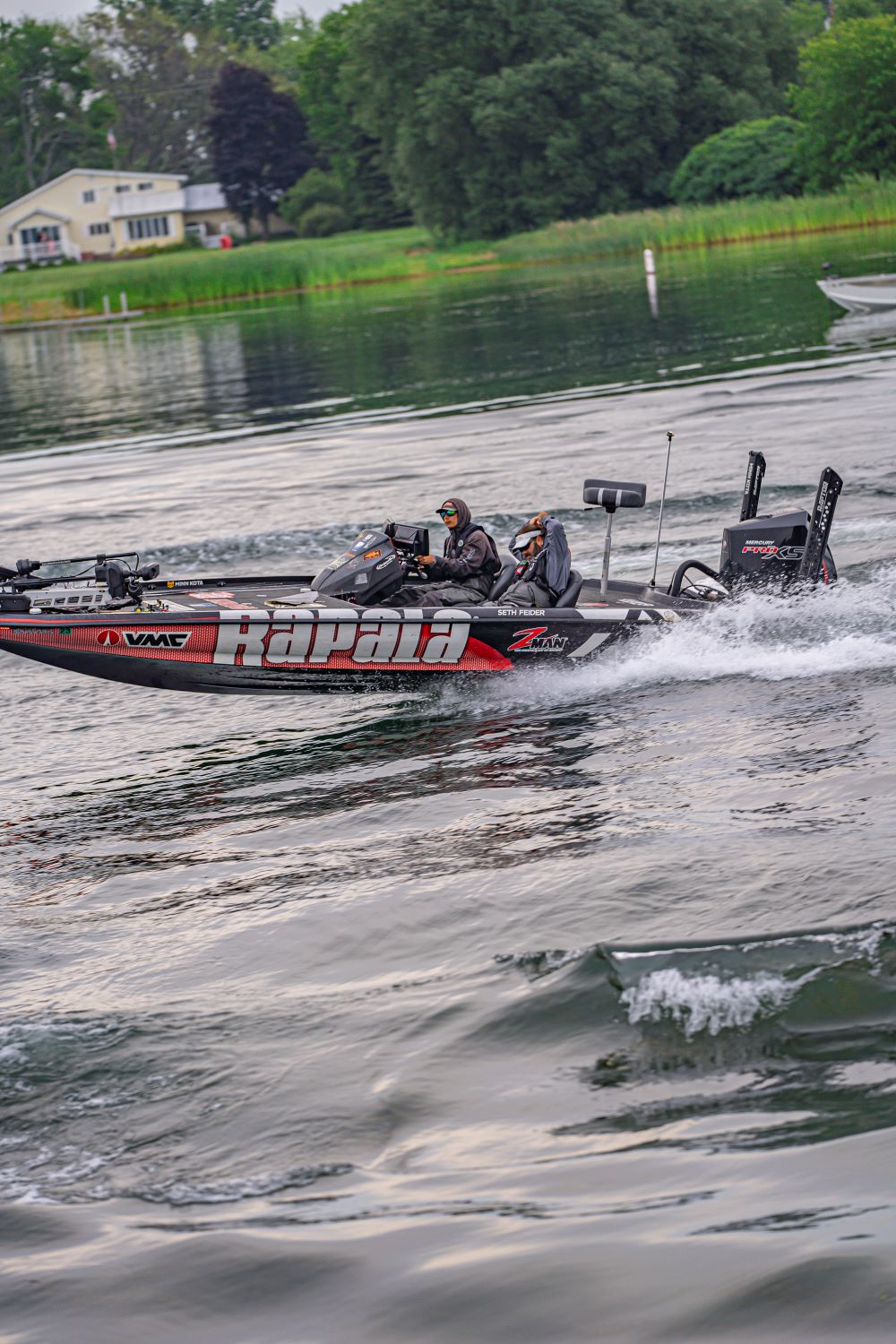 Feider has dealt with stress before. He joined the Mercury Pro Team in 2016, his second year on tour, and the year his career turned around. But the turnaround certainly didn't happen right away. In fact, it almost didn't happen at all.
Feider was mired down in the 2016 AOY points, needing to do well in the final two regular-season tournaments on the Potomac River in Maryland and the Mississippi River in Wisconsin.
He thought if he could only manage to qualify for the Angler of the Year Championship tournament (a former season finale event), to be held on Minnesota's Mille Lacs Lake, he could win it due to his experience on the fishery.
"I finished 85th at the Potomac River, and I thought I was done," he recalled. "I was out of money and thought I didn't have a shot at making it to Mille Lacs."
Feider turned it around when he nearly won at the Mississippi River, finishing second to Mercury Pro Team angler Ott DeFoe, and earned the very last spot in the 2016 Angler of the Year Championship.
Mercury pro Gerald Swindle wrapped up his second career Angler of the Year title at that event, but Feider's performance was arguably the most memorable part of that tournament. Surrounded by friends and family, the Minnesota angler lapped the field and took home some money to put toward the 2017 entry fees. More importantly, he renewed his belief that he belonged on tour.
Shoutout to Mercury
Since that 2017 event, Feider's career trajectory has been on the rise. Everything is clicking, including his equipment. He competes in a Mercury 4.6L V8 250hp Pro XS®-powered Ballistic Boats .223, made in Fruitland, Idaho.
"Mercury has been awesome this year; no breakdowns, no problems. That's what you need to win Angler of the Year," he said. "If you have one day where you don't make it back to weigh-in, this trophy is someone else's."
The successful 2021 campaign qualified Feider for the upcoming 2022 Classic to be held at South Carolina's Lake Hartwell. It will be his fifth career Classic appearance and second at Hartwell. He finished 18th there in 2018. Feider notched his best Classic finish in 2020 with a fourth at Lake Guntersville and now turns his sights to another career milestone.
"The goal now is a Bassmaster Classic win."
Team Feider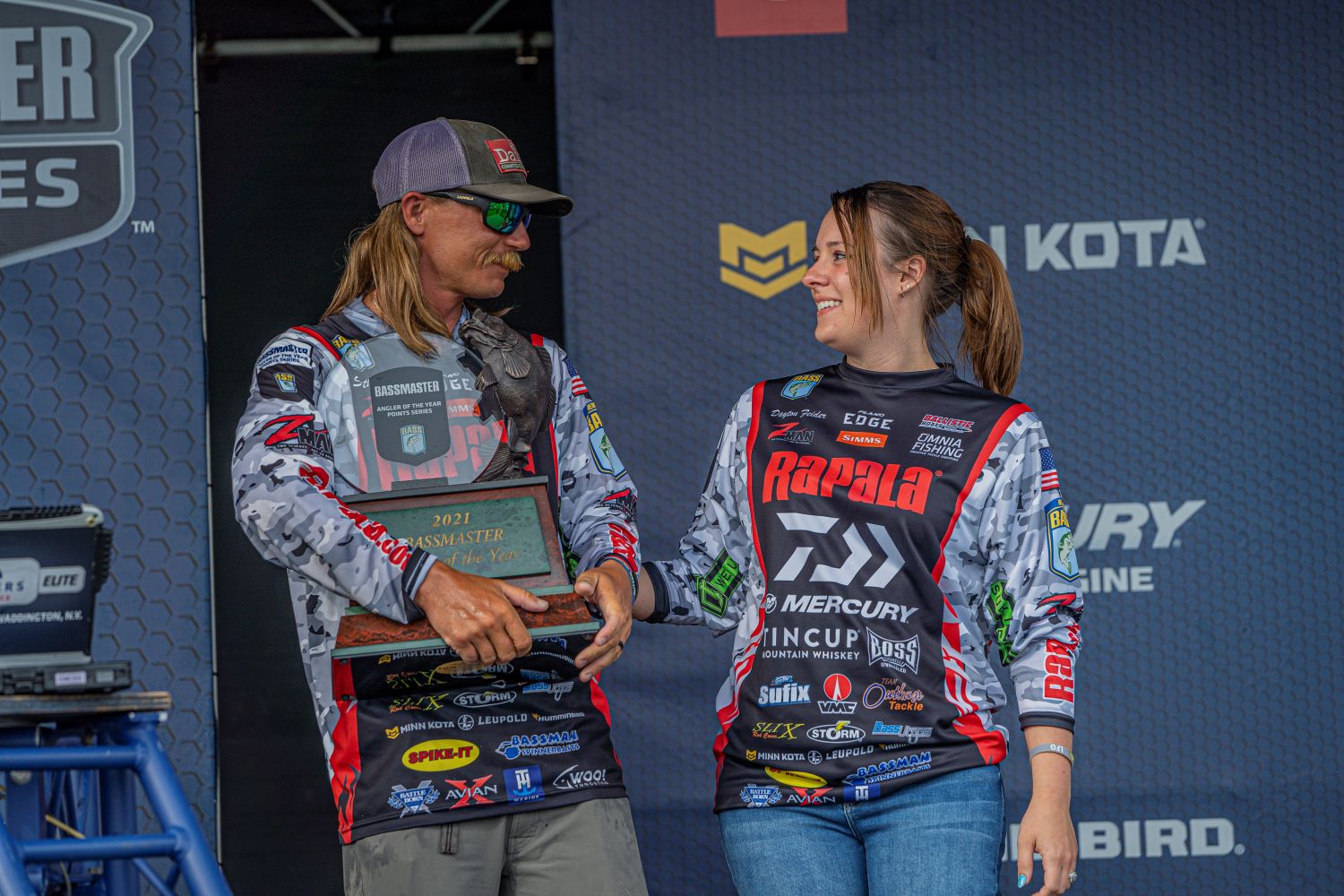 As Seth Feider the angler was making strides on the water after that pivotal 2016 season, his life was changing in other ways, too, giving him a newfound perspective that surely influenced his success this season.
"We got married in 2017, and it changed me," he said of he and his wife, Dayton. "Before, I didn't mind if I starved, but I'm not going to let them starve."
The Feider family has since grown to four with the addition of daughters Rose and Violet.
All that family support was clear in New York, where Seth was joined by his parents and Dayton to celebrate the AOY accomplishment. Who better to be there with him than the people who best know the sacrifice it takes to succeed at the highest level of bass fishing?
Later, in a social media post, Dayton summed it up well.
"Only a handful of people truly understand the hard work and dedication it takes to be successful in B.A.S.S. I'm so proud, and we have worked so hard, sacrificed so much. When people tell me, 'Oh, he just bass fishes, or that must be an easy job,' it drives me crazy. It's so much more than just catching a fish. We are so grateful and thank God for everything. I love you, Seth, and I'm so proud."
For more from 2021 Bassmaster Angler of the Year Seth Feider, you can follow him on Facebook and Instagram.