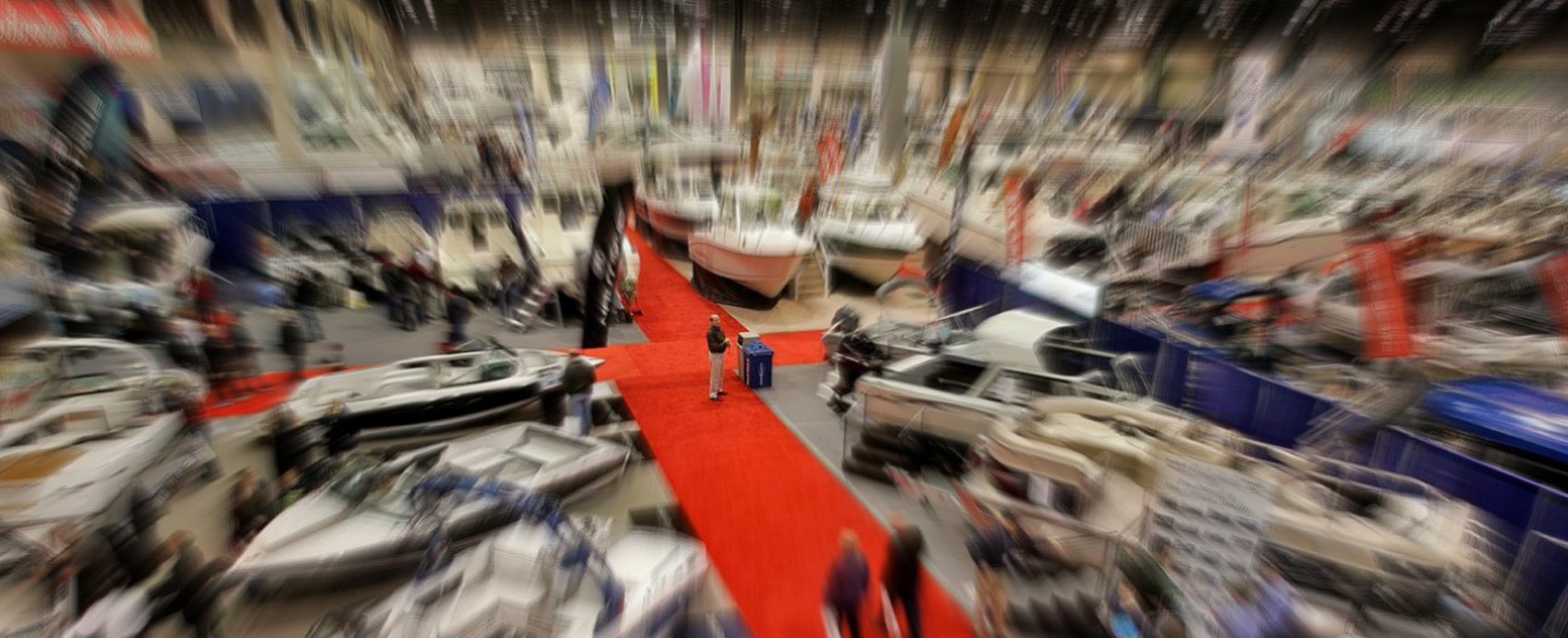 By: Louisa Beckett  /  Photo Credit: Seattle Boat Show 2016
The fall and winter months are "boat show season" in the port towns lining U.S. coastal waters and the Great Lakes.
There are many reasons to visit a boat show, not the least of which is their fun factor. Show organizers typically pack these events with informative seminars, hands-on demonstrations, and festival-style food and drink. Boat, engine and marine electronics manufacturers use the annual shows as opportunities to introduce their newest products and innovations to the public. Boat shows also make a great place to compare similar products from different brands in one convenient spot. If you need financing or insurance for your purchase, you'll find those service providers typically man booths at the show as well.
Best of all, marine manufacturers and dealers often offer special "boat-show pricing" discounts and deals available only at the shows.
If you're not sure of the dates or location of the boat show nearest you, visit http://www.boatshows.com/ calendar for a nationwide list. Whether you plan to attend a local boat show or travel to one of the larger shows, such as the United States Sailboat Show in Annapolis, Md., or the Fort Lauderdale International Boat Show in Florida, it pays to do some homework in advance.
Start your research by visiting the boat show's website. If you're interested in seeing a specific brand of boat, engine or accessory, check the Exhibitors List online to determine whether the Original Equipment Manufacturer (OEM) of that brand will display products in the show. OEMs typically mount their own proprietary displays at major shows, such as the Miami International Boat Show, but rely on their dealers to showcase their products at smaller regional shows. To find an OEM's authorized dealer in your area, visit the manufacturer's website, type in your zip code, and the dealer's name should pop up. Working with a brand's authorized dealer is a smart play because its staff will be highly knowledgeable about the products that interest you, it will offer only authentic products, and it will stand behind the manufacturer's warranty.
Next, go back to the boat show's website and look up the dealer's name in the Exhibitors List. It should be listed along with a booth number, contact name and phone number.
Print out the map of the boat show and circle the booth or dock numbers for all the manufacturers and dealers you want to visit so you can plan an efficient route. Many boat shows, especially the major shows, also offer smartphone apps you can download in advance. These apps will put a map of the show, the Exhibitors List, food stops and more right at your fingertips.
If you're in the market for a new boat, tender, marine engine(s), generator(s), boat lift, or another "big-ticket item," consider calling the authorized dealer for that product before the boat show and notify a salesperson that you plan to stop by the booth. At some shows, a manufacturer or dealer may even have demo boats and engines in the water that you can make an appointment to sea-trial. You never know – if you express serious interest in making a purchase, the dealer might send you complimentary boat show tickets.
On the day of the show, be sure to wear comfortable shoes and a hat if it's sunny. Another tip is to buy a bottle of water when you get there (at the typically inflated boat-show price) and refill it frequently at a water fountain to help you stay hydrated. Follow the route you've planned and try not to get distracted by all the other tempting boating gear on display around you.
When you visit dealers on your list during the show, don't limit your questions to the product you're interested in; this is your opportunity to inquire about other dealership offers, such as maintenance and repair services. If you are a first-time boater, the dealer can hook you up with a captain to help you learn how to operate your new vessel or marine engines. He or she also may be able to recommend a marina. Your purchase should be the start of your relationship with the dealer, not the end.
Don't buy anything first thing in the morning. Take a break at lunchtime to review the notes you've taken and the brochures you've collected. When you're ready to make a purchase, ask the dealer if you can speak semi-privately, away from the other show-goers visiting the display. You want the dealer's full attention. When you have it, ask what sort of incentive he or she can offer you to make the deal right here and now. As we mentioned earlier, dealers typically offer deep boat-show discounts, or they might throw in a free dock box or other accessory if you buy the product during the show. This doesn't always happen, but as they say, "It can't hurt to ask."
Once your business is concluded, you can go back and check out all that tantalizing gear you ignored earlier in the day. Enjoy all the boat show has to offer. It may not be as much fun as a day on the water, but it can be a close second, especially if it's cold outside.