On the water, Ott DeFoe is among the most accomplished anglers of the last decade. He's the 2019 Bassmaster Classic Champion, a five-time Major League Fishing (MLF) champion and host of "The Hunt for Monster Bass" on the Outdoor Channel. He's currently No. 5 in the BassFan World Rankings.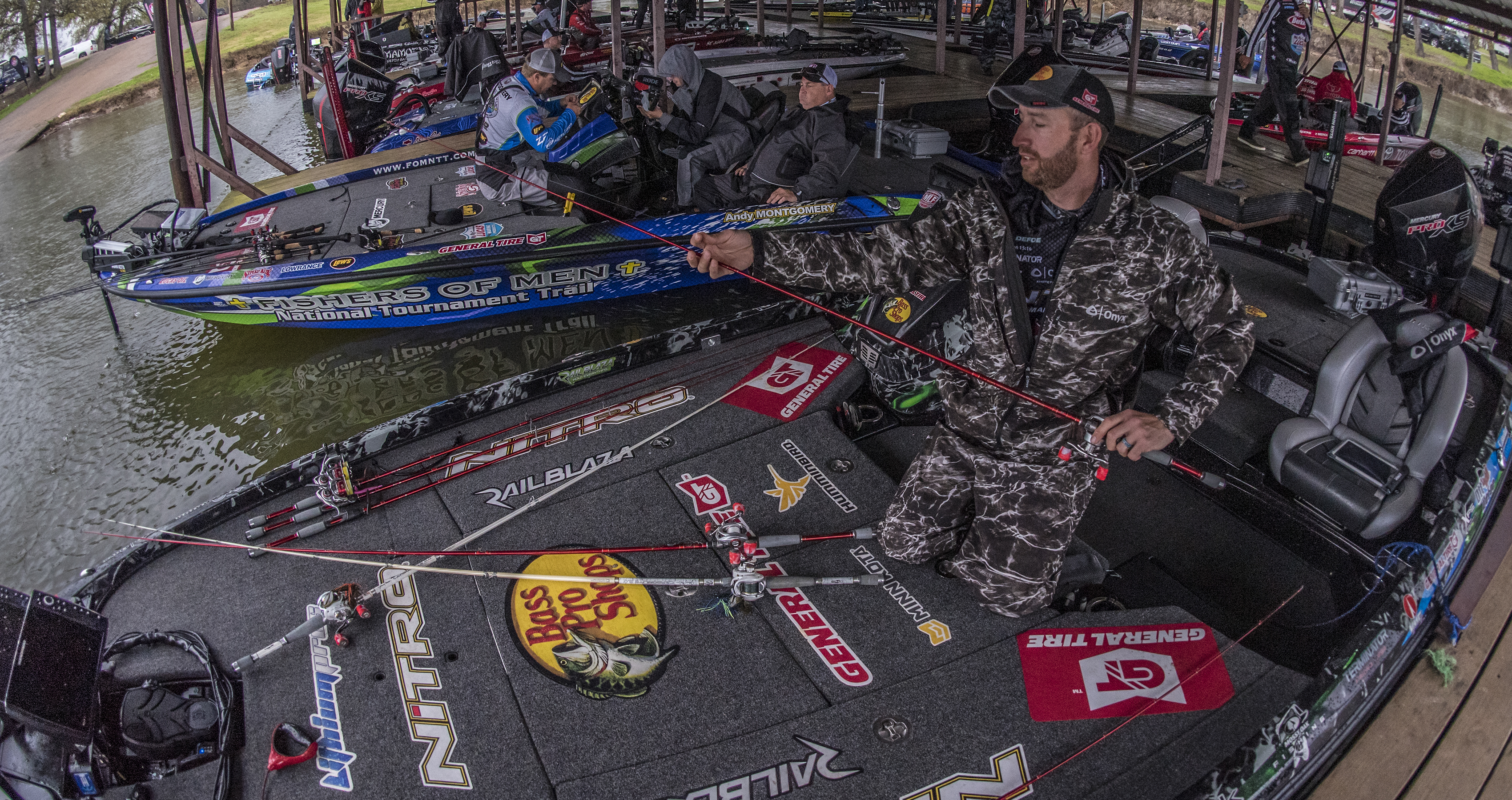 Off the water, the 35-year-old's attention to gear preparation helps make sure that he's ready to perform as soon as he backs his Nitro Z21 powered by a Mercury 250hp Pro XS in the water.
A big part of that preparation is DeFoe's boat-organization system. The east Tennessee native, who considers himself "fairly organized," says he's developed this system over two decades of competition.
"My system of organization is based on tournament fishing," DeFoe said. "Competing in tournaments is how I make my living, so I have to be as efficient as possible. If I am looking for tackle and not fishing, then I am obviously not catching fish."
Here's a rundown of how DeFoe organizes his tournament rig, along with some advice on what to carry. If you want to take a deep dive into all that DeFoe keeps onboard, check out this video tour of his Mercury-powered Nitro boat.
Safety First
Regulations for safety equipment vary from state to state and based on the type and size of boat, so it's important to review local requirements if you travel a lot, as DeFoe does.
His basic safety kit, which he can expand when needed, includes a personal flotation device (PFD) for every passenger, a throwable flotation device, a sound-signaling device and a fire extinguisher.
"The key with these items is that they must work and be accessible," he said. "Don't store the PFD in a plastic bag in the bottom of the boat. Have it out and wear it. If you are using an inflatable PFD, make sure the CO2 cartridge is up to date. For the throwable flotation device, it's a good idea to tie a rope to it to pull someone in if they go overboard."
Rear Compartments
In tournament-style bass boats, like DeFoe's Nitro Z21, storage zones are usually divided into the rear deck, the front deck and the cockpit area, which can include a variety of smaller storage zones.
DeFoe keeps a lot of his general boating essentials and tools in the rear compartments. The center box, closest to the engine, is for storing batteries, spare outboard and trolling motor props, tools to change props, rope, and his push-pole attachment. This compartment also provides access to the boat's electrical and mechanical systems.
"Next, my boat has two dry storage compartments in the back," DeFoe said. "I typically keep the one behind the passenger seat empty for whoever is riding with me, be that friends, a camera operator or a tournament official. The compartment behind the driver's seat is a little bit of a catchall. If there are some repairs that need to be made, I can usually make them with what I have stored in this compartment. There is a little bit of everything in there."
A sampling of what DeFoe carries in his "catchall compartment" includes PFDs, rain gear, sun gaiters, hats, screen cleaner, bungee cords, a first-aid kit, markers for coloring tackle and a small tool kit.
Cockpit Area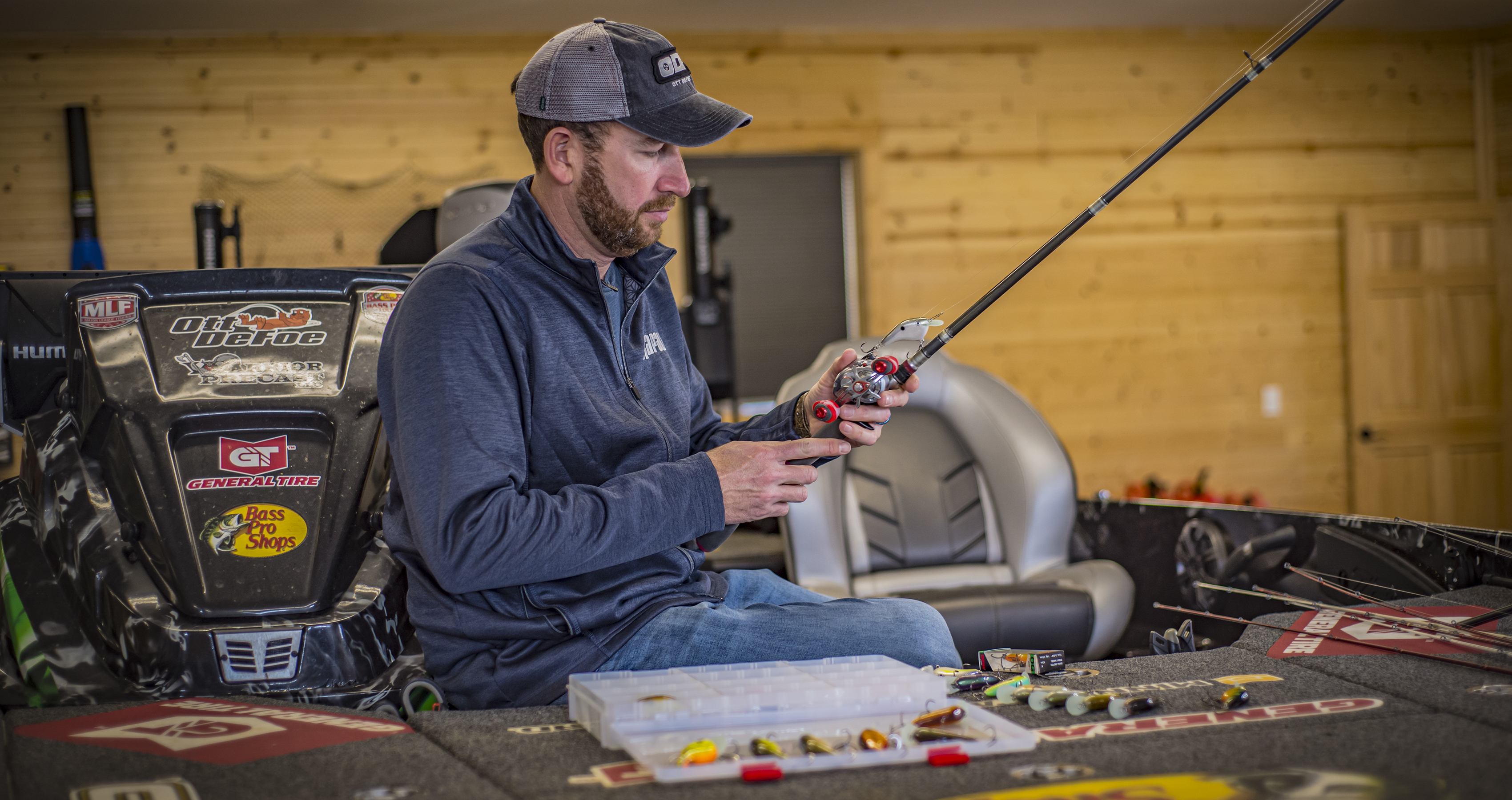 The cockpit area is where DeFoe keeps many of the tools that he uses most often throughout the day. Between the driver and passenger seats is a shallow storage box where he keeps gloves, sunglasses, a Rapala hand-held scale, whistle, sanitizer and a Thermacell to repel insects.
"My Nitro has a glove box type storage compartment in front of the passenger seat. It slides out and is very accessible," DeFoe said.
The glove box stores dyes, line conditioner, pliers, fish grippers and some assorted tackle.
"My cooler is in the middle of the boat," he added. "In addition to food and drinks, I have a small plastic trashcan in there."
Front Compartments
Five large front compartments in DeFoe's boat offer ample storage space. Since most of his fishing is done on the front deck, this is where he keeps most of his fishing tackle, with everything sorted by compartment and close by when he needs it.
"The one closest to the bow holds my larger plastic tackle boxes with crankbaits and other hard baits," DeFoe said. "Between that forward compartment and the cooler, my Nitro has two more storage compartments. I store my smaller tackle boxes, line and leader material in one. In the other one, I keep soft plastics, jigs and trailers, spinnerbaits, a few swimbaits, and Alabama rigs."
Rods require special storage, which is part of any good fishing boat's design.
"My boat has two long compartments (along the gunwales) we might consider as rod lockers," DeFoe said. "I put all of my rods in the port-side locker. I use rod sleeves to protect and organize all my rods, and those allow me to store over 30 rods in that one locker."
Because of its size, the starboard-side rod locker is used for other large items, including a fire extinguisher, rear navigation light, lure retriever, throwable flotation device, paddle and large bags of bulk soft plastics with individual packs filed on shower curtain rings.
With his gear organized this way, DeFoe is able to carry a ton of tackle and can easily swap out what he needs based on where he's fishing. More importantly, he can quickly get to whatever he needs, which keeps DeFoe operating in winning form on the Major League Fishing trail.
To see more from Ott DeFoe, follow him on Facebook, Instagram and YouTube. You can also learn more about his show, "The Hunt for Monster Bass," here.