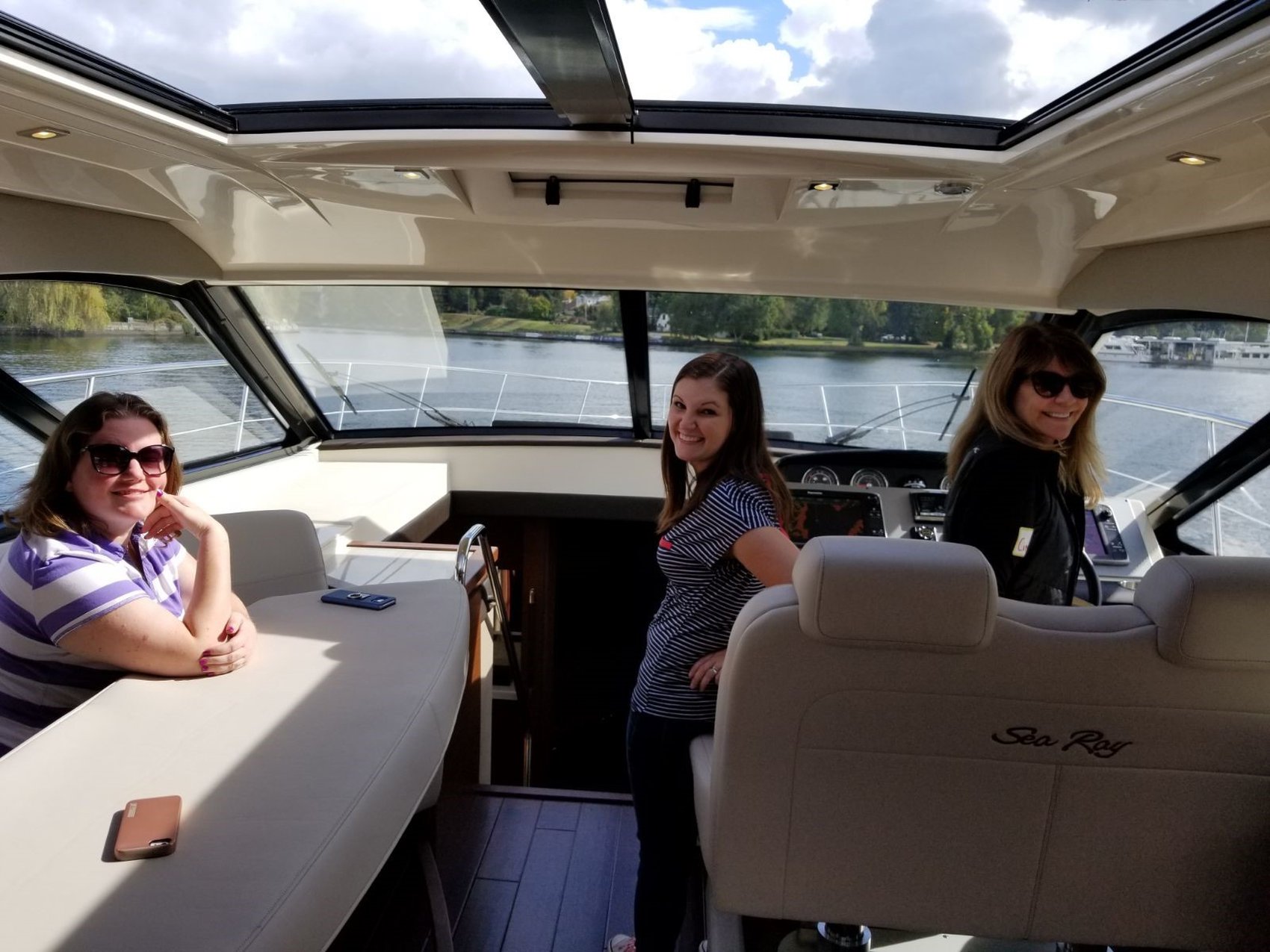 Sarah Lovel has come a long way since the days when her parents would attach a tow-rope to her life jacket, throw her behind the boat and pull her around Puget Sound, telling her she was water skiing.
"As far as I knew, I was water skiing," she said, laughing. "And I loved it. We had a little Bayliner and we boated on Puget Sound. It was really beautiful, and we always had a great time. But boating was a just a phase our Dad went through, then we moved on to other things."
Flash forward to 2018, when Sarah (now a mother of four, including 16-year-old Madilyn, a Sea Scout) joins a small group of women in a unique class called Women in Boating, presented free by Lake Union Sea Ray. The classes are designed to share boating knowledge with women who may or may not have boating experience – doesn't matter. The dealership's ultimate goal is to provide a friendly stress-free environment where women can learn almost everything about boating, from tying knots to driving – and even docking – a boat.
"We have three boats in our family – a 24-foot Four Winns, a 35-foot Sea Ray and a 46-foot Pacemaker – and the boating classes are split into three groups," said Sarah. "Each group learns about boats of a certain size. That was actually the third time I had taken the class, not only because we have three boats but because I learn so much every time I attend their class. And I'll keep attending their classes to learn more.
"My husband is a great boater; the Pacemaker used to be his home. But when it came to teaching me how to drive the boat – especially docking – that was tough. I was extremely intimidated. But the dynamic of women coming together to learn how to drive and dock a boat is incredible. By far, my favorite aspect of the class is the fellowship with other women boaters. And . . . we have champagne at the end of the class!"
The bodies of water near Seattle – including Puget Sound, the San Juan Islands and the Strait of Juan de Fuca – create a boater's paradise for anglers and people who simply crave being on the water. The Seattle area offers some equally awesome freshwater locations, including Lake Union.
Lake Union Sea Ray strives to deliver every experience a boater could want. According to their stated mission, Lake Union inspires "friends and families in the Northwest Community to experience their dreams and create lasting memories."
Part of delivering on that promise comes in the form of the Women In Boating classes.
"We've offered that class for at least 13 years, and the women who take part always love it," said Mark Helgen, vice president of sales at Lake Union Sea Ray on Lake Union in Seattle. "We have beautiful water and fabulous boating destinations, and we're protected by the peninsula. Puget Sound is more than 100 miles long, and the San Juan Islands are incredible."
Helgen was born and raised in the Puget Sound area and graduated from the University of Washington in Seattle. He knows these waters well.
"From Bellingham up north all the way south to Tacoma is just remarkable boating. Glaciers had a huge impact on this area, creating islands, coves and bays. All of them are popular cruising areas. It's also a great fishery, with salmon, halibut, lingcod and more. We also have wonderful Dungeness crab, clams and shrimp – though the shrimp season is something like five days long. It gets pretty wild that week."
The Women In Boating classes consist of three-hour sessions offered twice each year to any women, not just boat owners. Helgen said 25-35 women typically attend each class, and the boats range from 20-foot sport boats to much larger sport yachts. The women typically divide into groups of five or six.
"We teach them how to tie knots, how to properly tie up a boat, and basic navigation," said Helgen. "Then we teach them to drive and how to put the boat at the dock. In an emergency, everyone on board needs to know how to dock the boat. We also like to show them all the new technologies, such as joystick products – Axius, Zeus and Joystick Piloting for Outboards.
"We also conduct lifestyle events each year in the San Juan Islands that are typically three to four days at Roche Harbor."
Sarah said her family boats often, but they've only scratched the surface of the many on-water opportunities.
"There's just so much to do around here," she said, "especially maritime activities. There are hundreds of places to go and things to see. We like to boat to restaurants, and there's a place called Tide's Tavern that we can boat to, fill our growlers and go. We really enjoy all this area has to offer, especially the beautiful places to boat."