Of all the advantages offered by Mercury Marine Joystick Piloting for Outboards, ease of docking tops the list. This control system excels in docking maneuvers by giving a boat powered by two to six Mercury Verado outboards 360 degrees of flexibility to move sideways, diagonally or even spin on its own axis.
Wind and current can be difficult challenges to overcome when docking a boat. Before approaching a slip, study the direction and speed of both of these forces and formulate a game plan with your crew. Here are a couple of basic steps to include in a good docking plan, and they're made so much easier with the precision control provided by Mercury Joystick Piloting for Outboards:
1) Upon approaching the slip, use the boat's power to counteract the effects of current and wind, and slow to a crawl. If backing in, secure a bow line to the upwind piling first for best control. Then, give yourself enough slack to reach the downwind piling and secure the second bow line.
2) Center up the boat, then ease back to secure the stern lines on the upwind side first. Adjust the lines to compensate for tidal fluctuations and determine whether you need to secure any spring lines (the ropes running diagonally forward or backward from the boat to restrict fore or aft movement).
The process above is "flipped" for boats pulling in bow‑first instead of backing.
Careful and controlled maneuvering can be particularly important when edging up to a fuel dock or other floating dock. Be sure to examine the direction and speed of the wind and current, contemplating the stronger force and the angle you'll need for precision docking. At a fuel dock, make sure there is enough room to slide in between boats, or wait until enough space opens up. In addition, be aware of whether the wind is blowing against the dock or off of it, thereby determining if the landing will be soft or if fenders are necessary.
Joystick Inputs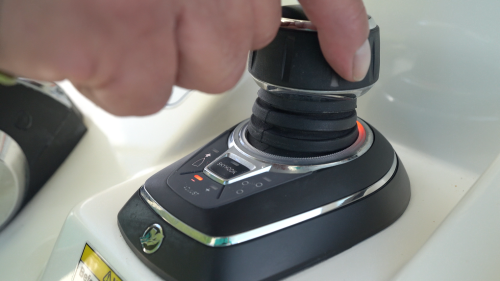 Mercury Joystick Piloting for Outboards (JPO) incorporates four main directional quadrants — forward, reverse, port and starboard. Simply move the joystick in the direction you want to go. Any fine‑tuning is accomplished by twisting the joystick to the desired heading, otherwise known as yaw control.
When the joystick is in use, a section of the light ring at the joystick's base confirms the heading input by illuminating brightly. A full‑circle green ring signifies neutral. The amount of thrust, or speed, is based on how far the joystick is moved. That is, for greater thrust to counter and overcome a strong current or wind, move it all the way over. For less thrust, like when docking under calm conditions, slightly move the joystick. Plus, with the touch of the Adjust button, you can toggle between two different ranges of thrust to accommodate close‑quarters situations where you may not want or need as much throttle, or other situations that require a higher amount of throttle.
Difficult Docking Situations? No Sweat!
Mercury Joystick Piloting really shines for me under challenging docking conditions, like when backing into a slip swept by a stiff crosswind and tide working together. In fact, that is the exact scenario I faced during a recent service visit to TNT Custom Marine, a top Mercury dealer in North Miami, Florida. My boat is a Mako 334 center console with triple 400hp Mercury Verado outboards.
1) Upon reaching our assigned slip, we began backing in using Joystick Piloting. The first objective was to reach the upwind piling — on the port side, in this case — and retrieve that bow line. This was accomplished by simply twisting the joystick and moving it in that direction, with just enough momentum to reach the piling. 
The joystick controls also enable a boat to ease up to and rest against a piling, giving a deckhand ample time to either secure a line or retrieve one.
2) After retrieving the portside bow line, I slightly moved the joystick to the right and toward the downwind piling to secure that bow line. Less momentum was required here, as the wind and tide began carrying the boat.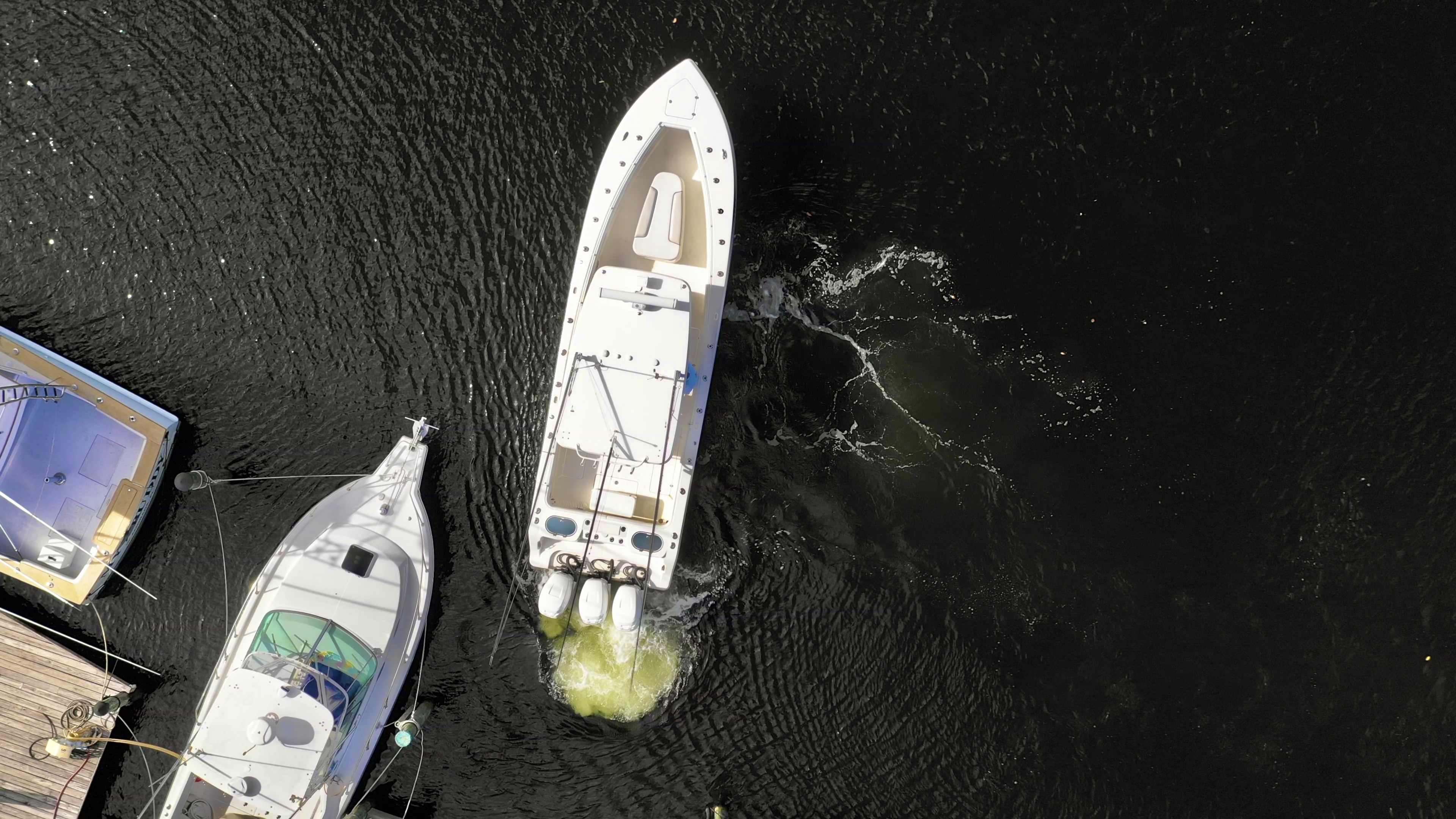 3) Once the downwind bow line was retrieved, I moved the joystick to its port quadrant at nearly full thrust to overcome the wind and current and center up the boat. I kept the boat centered until both bowlines were cleated off.
4) I then slightly moved the joystick straight to port, bringing the boat close enough to acquire the portside spring line.
5) Once the spring line was secured, it was just a matter of using the joystick to "crab" backward and to port just enough to reach those (upwind) stern lines, and then re‑centering the boat to take possession of the starboard stern line.
That's all there was to it. I docked the boat with practically one hand using Mercury Joystick Piloting for Outboards. It really is that easy.
Here is one final docking tip: Once your dock lines have been adjusted, mark them with a strip of bright tape. This way, when returning to your slip, you won't have to guess as to precisely where to cleat the lines.
Check out George's video, below, providing a step‑by‑step demonstration of easy docking using Mercury Joystick Piloting for Outboards.