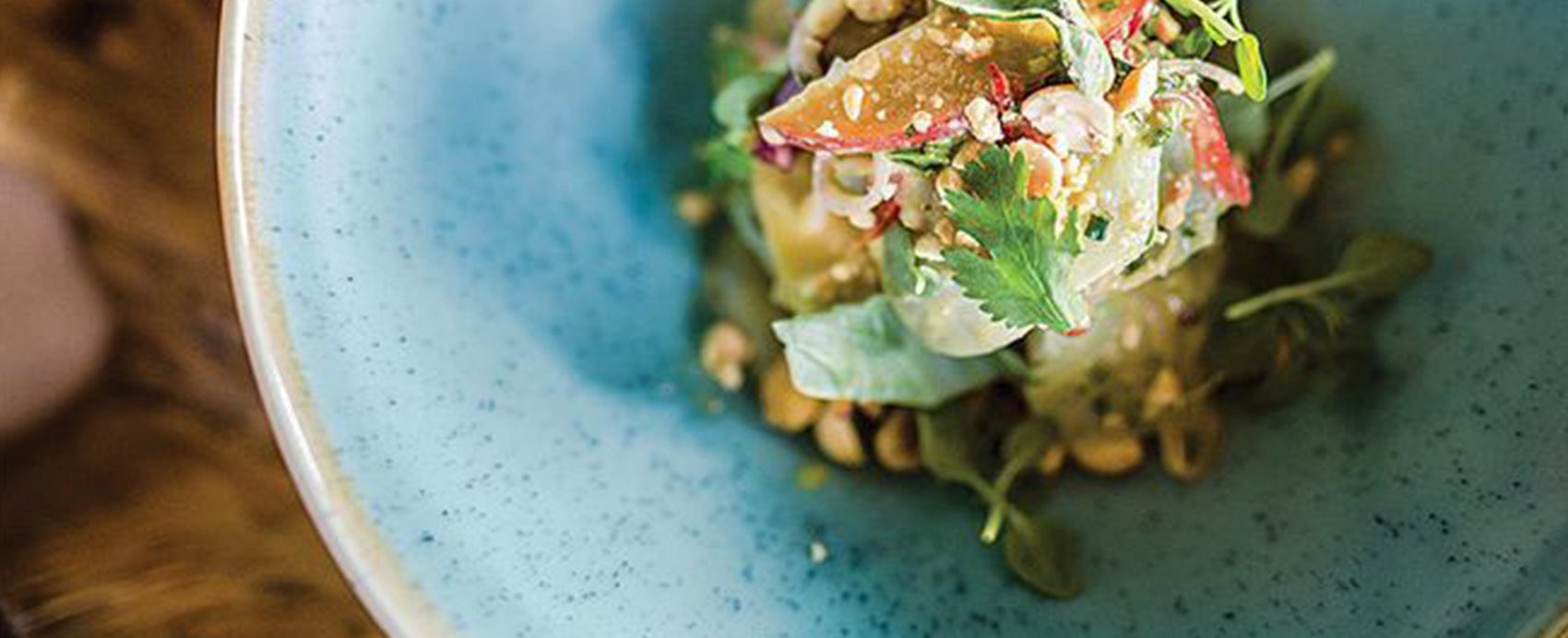 Winter doesn't have to be all heavy stews and roasts. This January, why not try  something a little brighter? Featuring tangy citrus notes balanced by smoky  flavors and a hint of heat, this recipe for wahoo ceviche with grilled avocado and  jalapeño-lime vinaigrette is guaranteed to kick off your new year with a colorful  (and healthy) bang.
Keep reading for the recipe courtesy of saltwatersportsman.com
Wahoo Ceviche with Grilled Avocado and Jalapeño-Lime Vinaigrette
By James Petrakis
A perfect light summer meal, this ceviche requires some advance preparation because the fish is smoked and cooled ahead of time. While this recipe uses wahoo, any firm-flesh fish suitable for ceviche may be substituted, and as always, ingredients may be adjusted for individual taste.
Ingredients
Citrus-Cured Wahoo

One 1-pound wahoo fillet
2 cups coarse salt
1 cup sugar
Zest and juice of 1 orange
Zest and juice of 2 lemons and 2 limes
1⁄4 cup red onion, sliced thin

Jalapeño-Lime Vinaigrette

2 seeded jalapeños, chopped
1⁄4 cup rice wine vinegar
3 Tbsp. lime juice
1 Tbsp. orange juice
1 Tbsp. lemon juice
1 Tbsp. sugar
25 cilantro leaves

Avocado-Peach Salad

1 avocado
1 ripe peach, 1 blood orange, sliced
1⁄2 cup gypsy peppers, sliced thin
Cilantro to taste
1⁄2 cup toasted peanuts, crushed
Recipe
Citrus-Cured Wahoo
Combine all ingredients in a bowl and mix well.
Bury the wahoo fillet in the mixture and cure for 1 hour, then rinse the fillet and cold-smoke for 15 minutes.
Cool completely and slice thin.
Jalapeño-Lime Vinaigrette
Combine all ingredients in blender and buzz for 20 seconds
Assemble
Halve and seed the avocado, rub with olive oil and salt and pepper, then grill and let cool before slicing.
Toss sliced wahoo, gypsy peppers and red onion in three-quarters of vinaigrette.
Marinate for 20 minutes, plate, and garnish with peaches, orange, avocado, cilantro, peanuts and remaining vinaigrette.