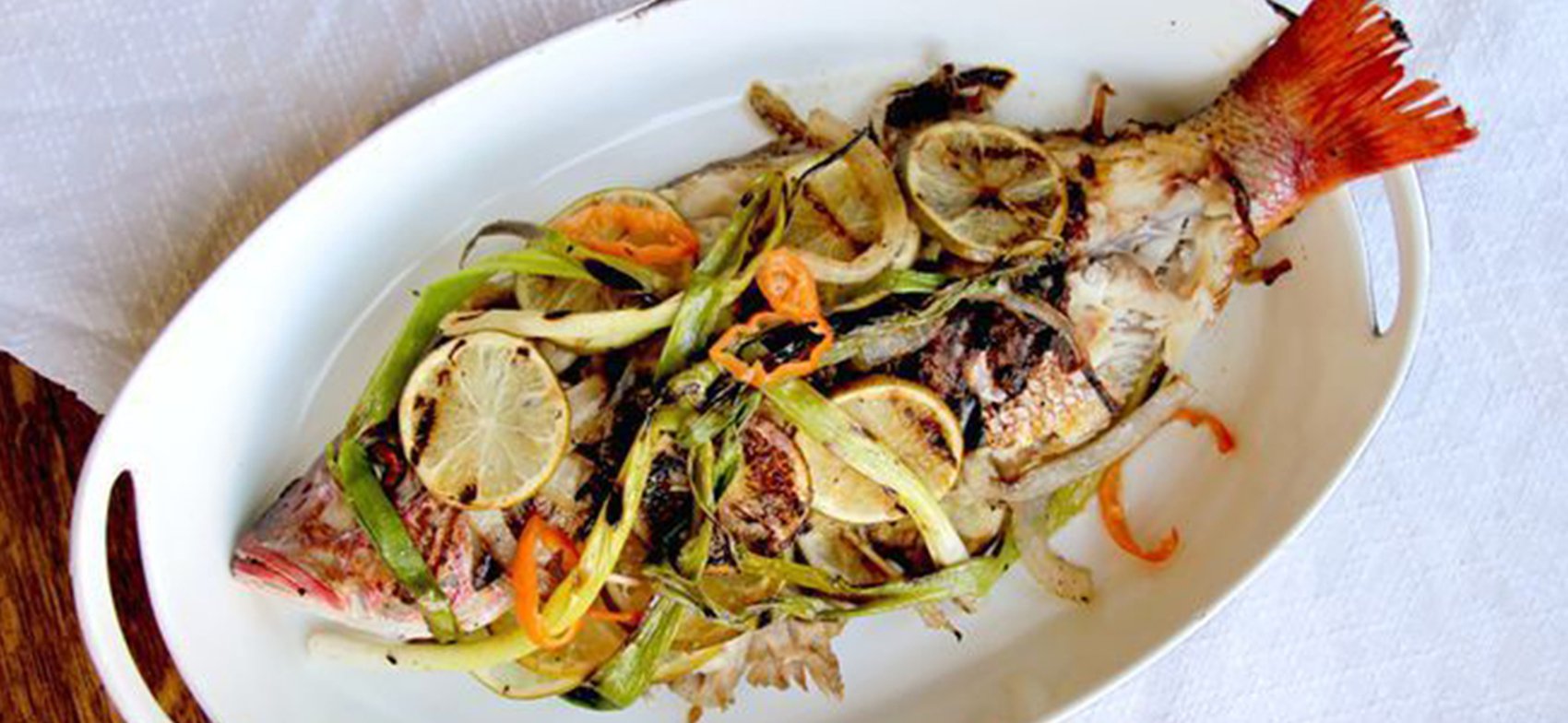 Summertime calls for a laid-back attitude, fresh, bright flavors and just a little heat. Luckily, this easy Jamaican-inspired recipe for grilled snapper with habanero and scallions has all three. Beautiful to look at and bursting with notes of pineapple, it's the perfect way to experience a Caribbean getaway right from the comfort of your home. Courtesy of Saveur Magazine.
SERVES 2
Ingredients
1 (1-lb.) whole red snapper, scaled and cleaned
Kosher salt and freshly ground black pepper, to taste
5 cloves garlic, roughly chopped
4 sprigs thyme
1 large habanero chile, stemmed, seeded, and thinly sliced
1⁄4 cup olive oil
Juice of 1 lime
6 scallions
1⁄2 small white onion, thinly sliced
1 wedge of fresh pineapple (optional)
Instructions
Season the cavity of the fish with salt and pepper. Stuff with garlic, thyme, and 1/4 of the chile. Rub outside of fish with oil, lime juice, salt, and pepper; refrigerate 20 minutes.
Heat a charcoal grill or set a gas grill to high; bank coals or turn off burner on one side (see "Grilling 101"). Heat a plancha or flat cast-iron griddle over coals until very hot. Grill fish on plancha, flipping once, until charred in spots and cooked through, 12-15 minutes. If you like, squeeze fresh pineapple juice over fish; transfer to a serving platter. If outside starts to burn before fish is fully cooked, move plancha to cooler section of grill until done. Clean pan and grill remaining chile with scallions and onions until slightly charred and wilted, 5-7 minutes; serve over fish.
For more recipes like this one, visit Saveur.com.