Mercury® Remanufacturing
Plus-Series Inboards
Value performance for your inboard repower.
Standard and opposite rotation versions are available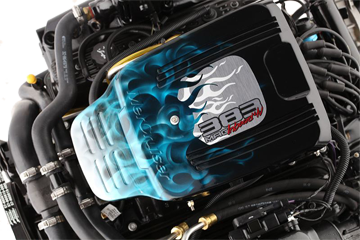 383 MAG Inboard 4V
350 Crankshaft Horsepower
Thanks to its size and power this is the ideal replacement engine for 350 MAG, 7.4L, and 7.4L MPI engines that power cruisers, small boats and large runabouts.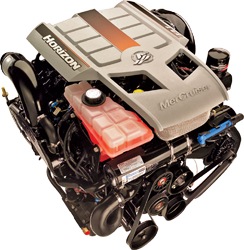 8.1L Horizon Inboard
370 Crankshaft Horsepower
The ideal big-block repower for your inboard yacht. This is the ideal replacement inboard engine for any make of 7.4, 454, 8.2, 502 or 8.1 engines that power twin-engine inboard boats.
Specifications
Mercury® Remanufacturing: Plus-Series Inboards
| | |
| --- | --- |
| Part number | |
| HP / kW @ flywheel | |
| Maximum RPM (WOT) | |
| Engine type | V-8 Remanufactured Iron Marine Block |
| Displacement (CID/L) | |
| Bore and stroke | 4.03 x 3.75" / 102 x 95 mm |
| Compression ratio | |
| Fuel ethanol tolerance | |
| Engine control system | ECM 555 W/Knock Control & Crankshaft Trigger |
| Fuel delivery system | |
| Fuel injection system / carburetor type | Multi-point electronic fuel injection (MPI) |
| Air induction | Two-piece long runner intake with 75 mm throttle body (80 mm w/DTS) |
| Alternator amp / Watt | |
| Water drain system | |
| Exhaust system | Electro-deposition paint coated warm iron manifold with wet joint elbow |
| Cooling system | 160F Raw Water Bravo with Sea Water Pump |
| Accessory drive system | |
| Lubrication system | High Flow 100 psi Oil Pump |
| Recommended oil | Mercury MerCruiser Synthetic Blend 25W-40, NMMA Certified FC-W Synthetic Blend |
| Pistons | |
| Cranktrain | Powder Metal Rods and Forged 4340 Steel Crankshaft |
| Rocker arms | |
| Dimensions (L x W x H) | 32 x 30 x 22" / 814 x 740 x 559 mm |
| Weight (engine only) | |

Print Compare With Other Products

| | |
| --- | --- |
| Part number | 8M0061212 - Standard (LH) Rotation - Transmission not included / 8M0061213 - Opposite (RH) Rotation - Transmission not included |
| HP / kW @ flywheel | |
| Maximum RPM (WOT) | |
| Engine type | Remanufactured GM V8 Marine Iron Block & Gen+ Heads - 062 Casting |
| Displacement (CID/L) | |
| Bore and stroke | 4.03 x 3.75" / 102 x 95 mm |
| Compression ratio | 9.0:1 with Hypereutectic Pistons |
| Fuel ethanol tolerance | |
| Fuel requirement | |
| Engine control system | Thunderbolt V w/Knock Control - MIE Calibration |
| Fuel delivery system | 4V carburetor and mechanical fuel pump |
| Fuel injection system / carburetor type | 750 cfm Weber 4V with electric choke |
| Air induction | Dual Plane Aluminum Intake Manifold with Bronze Inserts |
| Alternator amp / Watt | |
| Water drain system | Multi-point drain - Hand Removable Blue Drain Plugs |
| Exhaust system | Iron manifold with Dry-Joint Exhaust Elbow |
| Cooling system | Thermostatically Controlled Raw Water - 143F |
| Accessory drive system | |
| Lubrication system | High Flow 100 psi Oil Pump and Copper Oil Cooler |
| Recommended oil | SAE 25W-50 FC-W synthetic blend racing oil |
| Rocker arms | 1.6:1 Full Roller Aluminum |
| Dimensions (L x W x H) | 43 x 29 x 22" / 1092 x 737 x 559 mm |
| Weight (engine only) | 980 lbs / 444 kg - When Installed with 72C Transmission |

Print Compare With Other Products