Mercury® Remanufacturing
Plus-Series Bravo Sterndrives
The ideal replacement engine.
Completely renewed to original specs.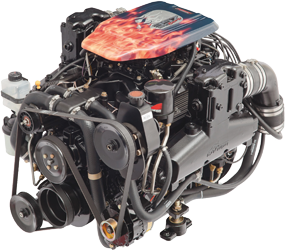 357 MAG Bravo 4V
325 Crankshaft Horsepower
Thanks to its size and power, this is the ideal replacement engine for 5.0L, 350 MAG, 7.4L and 454 engines that power cruisers, small sport boats and large runabouts.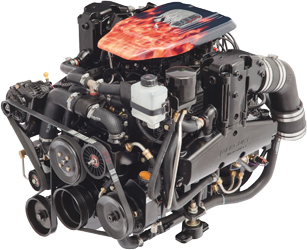 383 MAG Bravo 4V
350 Crankshaft Horsepower
Same power and more torque than a 454 HO carbureted engine. This torque monster delivers 429 ft-lbs of raw torque at 3800 RPM to launch even the heaviest boats with authority. When equipped with the same marine exhaust headers as found on the 383 Scorpion®, this engine produces 370 HP and 456 ft-lbs of torque—more than a 502 carbureted engine. This is the ideal replacement engine for 454HO and 502 HO carbureted engines that power cruisers, large runabouts, and sport boats. Marine exhaust headers sold separately.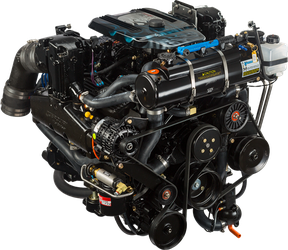 383 MPI Bravo - Freshwater Cooled
With 350hp and a full closed cooling system that supplies fresh water cooling to the engine and exhaust manifolds, this model is ready to repower 350 & 377 Bravo Horizon and SeaCore engines.
Specifications
Mercury® Remanufacturing: Plus-Series Bravo Sterndrives
Part number
HP / kW @ flywheel
Maximum RPM (WOT)
Engine type

8.9L Mercury V-8 iron block & remanufactured heads

Displacement (CID/L)
Bore and stroke

4.50 x 4.25" / 114 x 108 mm

Compression ratio

8.6:1 with forged pistons

Fuel requirement
Fuel delivery system

Holley 800 CFM electric choke carburetor, mechanical fuel pump

Air induction

Single-plane aluminum intake with bronze crossover and pads

Ignition

Thunderbolt V with knock control

Alternator amp / Watt
Water drain system

Multi-point drain - Hand Removable Blue Drain Plugs

Exhaust system

Iron manifolds with 4" / 102 mm diameter 316 stainless steel dry joint exhaust elbows

Cooling system

Thermostatically Controlled Raw Water - 143F

Accessory drive system
Lubrication system

High flow oil pump, copper oil cooler, oil thermostat

Recommended oil

SAE 25W-50 FC-W synthetic blend racing oil

Engine guardian system

High coolant temperature
Low drive lubricant
Low oil pressure

Rocker arms
Dimensions (L x W x H)

34 x 33 x 27" / 871 x 830 x 689 mm

Weight (engine only)
Compatible drives (application dependent - contact sales or service)

Bravo One X 1.36:1
Bravo One X 1.50:1
Bravo One XR 1.36:1
Bravo One XR 1.50:1
Bravo One XZ 1.50:1
Bravo Three X 1.81:1
Bravo Three XR 1.81:1
Bravo Three XR 2.00:1
Bravo Two X 1.81:1

Print Compare With Other Products

Part number
HP / kW @ flywheel
Maximum RPM (WOT)
Engine type

V-8 Remanufactured Iron Marine Block

Displacement (CID/L)
Bore and stroke

4.03 x 3.75" / 102 x 95 mm

Compression ratio

9.0:1 with Hypereutectic Pistons

Fuel ethanol tolerance
Engine control system

Thunderbolt V w/Knock Control

Fuel delivery system

4V carburetor and electric fuel pump

Fuel injection system / carburetor type

750 cfm Weber 4V with electric choke

Air induction

Dual plane aluminum intake manifold with brass water crossover

Alternator amp / Watt
Water drain system
Exhaust system

Iron manifold with Dry-Joint Exhaust Elbow

Cooling system

143F Raw Water Bravo with Sea Water Pump & Engine Oil Cooler

Accessory drive system
Lubrication system

High Flow 100 psi Oil Pump

Recommended oil

SAE 25W-40 NMMA Certified FC-W Synthetic Blend

Pistons
Cranktrain

Forged Steel Rods and 4340 Steel Crankshaft

Rocker arms

1.6:1 Full Roller Aluminum

Dimensions (L x W x H)

32 x 30 x 22" / 814 x 740 x 559 mm

Weight (engine only)
Compatible drives (application dependent - contact sales or service)

Bravo One 1.50:1
Bravo One 1.65:1
Bravo Three 1.81:1
Bravo Three 2.00:1
Bravo Three 2.20:1
Bravo Three 2.43:1
Bravo Two 1.81:1
Bravo Two 2.00:1
Bravo Two 2.20:1
Bravo Two 2.43:1

Print Compare With Other Products

Part number
HP / kW @ flywheel
Maximum RPM (WOT)
Engine type

V-8 Remanufactured Iron Marine Block

Displacement (CID/L)
Bore and stroke

4.03 x 3.75" / 102 x 95 mm

Compression ratio
Fuel ethanol tolerance
Engine control system

ECM 555 W/Knock Control & Crankshaft Trigger

Fuel delivery system

GEN II Cool Fuel with Boost Pump

Fuel injection system / carburetor type

Multi-point electronic fuel injection (MPI)

Air induction

Two-piece long runner intake with 75 mm throttle body (80 mm w/DTS)

Alternator amp / Watt
Water drain system
Exhaust system

Electro-deposition paint coated warm iron manifold with dry joint elbow

Cooling system

160F Raw Water Bravo with Sea Water Pump

Accessory drive system
Lubrication system

High Flow 100 psi Oil Pump

Recommended oil

Mercury MerCruiser Synthetic Blend 25W-40, NMMA Certified FC-W Synthetic Blend

Pistons
Cranktrain

Powder Metal Rods and Forged 4340 Steel Crankshaft

Rocker arms
Dimensions (L x W x H)

32 x 30 x 22" / 814 x 740 x 559 mm

Weight (engine only)
Compatible drives (application dependent - contact sales or service)

Bravo One 1.50:1
Bravo One 1.65:1
Bravo Three 1.81:1
Bravo Three 2.00:1
Bravo Three 2.20:1
Bravo Three 2.43:1
Bravo Two 1.81:1
Bravo Two 2.00:1
Bravo Two 2.20:1
Bravo Two 2.43:1

Print Compare With Other Products