Mercury® MerCruiser®
Tow Sport Inboards
The Perfect Choice for Tow Sports
A flawless blend of torque, pulling power, and launch propulsion.
Torque (lb-ft) 410
HP / kW 370 / 276
Maximum RPM (WOT) 5000 - 5400
Engine type V8, 2-valve/cylinder pushrod
Displacement (L) 6.2L
Fuel delivery system Computer controlled Multi-Port Electronic Fuel Injection (MPI)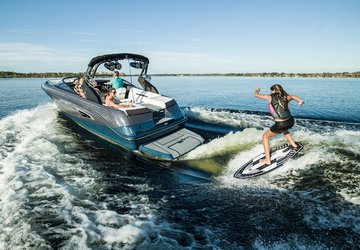 Joystick Piloting for Inboards.
The only joystick piloting system that's compatible with gasoline or diesel inboard and tow sport engines.
The only joystick piloting system for single-inboard boats.
Many features available to make your tow sport adventures even more amazing - click here to find out more!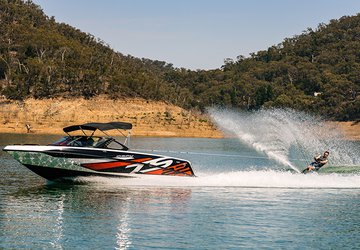 Durable & Reliable.
Electronic MPI technology delivers smooth, quiet and steady idling; instant throttle response; and increased fuel efficiency to help reduce operating and maintenance costs. Engine Guardian, which monitors engine functions and nips potential problems in the bud, is standard.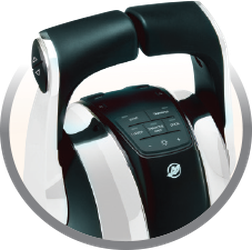 Intuitive Design.
A sophisticated Control Module and Mercury SmartCraft compatibility provide complete control over key engine functions. SmartCraft Digital Throttle & Shift (DTS) offers smooth shifting, immediate throttle response and high-tech digital controls.
Specifications
Mercury® MerCruiser®: Tow Sport Inboards
Torque (lb-ft)
HP / kW
Maximum RPM (WOT)
Engine type

V8, 2-valve/cylinder pushrod

Displacement (L)
Bore and stroke

4.0 x 3.75" / 101.6 x 95.25 mm

Fuel requirement

90 RON 10% Ethanol Maximum
Unleaded Regular 87 Octane Minimum (R+M/2)

Engine control system

SmartCraft PCM 112
Standard SmartCraft with DTS

Fuel delivery system

Computer controlled Multi-Port Electronic Fuel Injection (MPI)

Starting

Electric (turn-key)
Smart Start Electric

Air induction

Performance-Tuned Scroll Intake Manifold

Ignition

SmartCraft PCM 112 Digital Inductive

Alternator amp / Watt

Fully regulated belt-driven 70 amp (882 watt)

Water drain system

Air actuated + four-plug manual drain "Season Extender"

Exhaust system
Cooling system

Optional: Fresh Water Cooling (Closed Cooling)
Water-cooled with thermostat

Lubrication system
Recommended oil

NMMA Certified FCW 25W-40 Synthetic Blend

Engine guardian system

SmartCraft Engine Guardian

Gear shift
Transmission and Ratio

45 C: 1.0:1
45 IV: 1.46:1

Dimensions (L x W x H)

32 x 30 x 22" / 813 x 762 x 559 mm

Weight (engine only)

Print Compare With Other Products

Torque (lb-ft)
HP / kW
Maximum RPM (WOT)
Engine type

V8, 2-valve/cylinder pushrod

Displacement (L)
Bore and stroke

4.0 x 3.75" / 101.6 x 95.25 mm

Fuel requirement

90 RON 10% Ethanol Maximum
Unleaded Regular 87 Octane Minimum (R+M/2)

Engine control system

SmartCraft PCM 112
Standard SmartCraft with DTS

Fuel delivery system

Computer controlled Multi-Port Electronic Fuel Injection (MPI)

Starting

Electric (turn-key)
Smart Start Electric

Air induction

Performance-Tuned Scroll Intake Manifold

Ignition

SmartCraft PCM 112 Digital Inductive

Alternator amp / Watt

Fully regulated belt-driven 70 amp (882 watt)

Water drain system

Air actuated + four-plug manual drain "Season Extender"

Exhaust system
Cooling system

Optional: Fresh Water Cooling (Closed Cooling)
Water-cooled with thermostat

Lubrication system
Recommended oil

NMMA Certified FCW 25W-40 Synthetic Blend

Engine guardian system

SmartCraft Engine Guardian

Gear shift
Transmission and Ratio

45 C: 1.0:1
45 IV: 1.46:1

Dimensions (L x W x H)

32 x 30 x 22" / 813 x 762 x 559 mm

Weight (engine only)

Print Compare With Other Products