A Marriage of Legends: The Mercury Joint Effort with Corvette was Legendary
It was a marriage of performance legends when Mercury Marine was chosen to manufacture the LT-5 engine for the 1990 ZR-1 Corvette. That marriage produced an offspring, the "Wette Vette," a 24-foot Baja 223 Bandit runabout powered by a marinized version of the LT-5.

Mercury was selected to manufacture the LT-5 engine at its MerCruiser facility in Stillwater, Oklahoma, in part because so few engines would be built that General Motors (which owns Chevrolet, builders of the Corvette car) could not manufacture it efficiently, while MerCruiser could offer a very high level of quality manufacturing. In fact, the MerCruiser-built engine was awarded the automaker's most demanding quality certification — GP3 Level 1.
Designed for General Motors by Lotus Engineering, the LT-5 was an all-aluminum 5.7-liter small-block V8 featuring 32-valve dual-overhead-cam heads that generated 375hp. For the 1993 model-year engine, horsepower was bumped to 405 with cam-timing and engine-porting changes. The LT-5 became the most celebrated Corvette engine of its time, accumulating records along the way. In 1991, a slightly modified ZR-1 with a "bone stock" LT-5 broke three world endurance records at the Firestone test track in Fort Stockton, Texas. A team of drivers headed by Tommy Morrison broke the 24-hour endurance mark by almost 15 mph, traveling 4,221.26 miles at an average speed of 175.885 mph. Two years later, a MerCruiser-branded ZR-1 took the checkered flag in the 24-hour World Challenge race in Mosport, Canada, with another ZR-1 finishing second. Production of the LT-5 ended in 1994.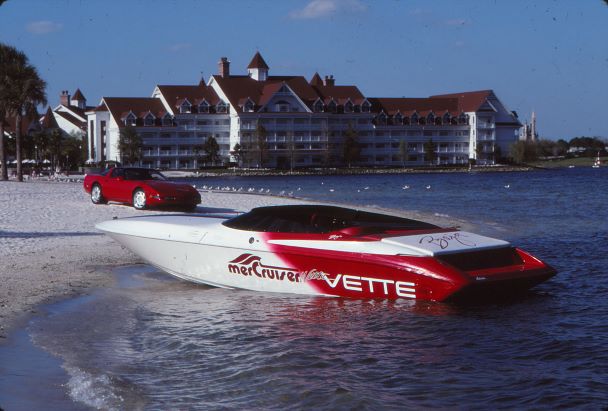 Believing that powering only automobiles with the impressive LT-5 was a waste of good horsepower, Fred Kiekhaefer, vice president of marketing at Mercury Marine at the time, conceived the concept of the Wette Vette to promote the fact that engines for the limited-production Corvette ZR-1 automobile were being hand-built by MerCruiser. Mercury Racing converted an engine for marine duty and installed it in the customized Baja. The resulting Wette Vette boat and its matching ZR-1 Corvette "tow vehicle" appeared at boat and auto shows and were photographed running neck and neck, providing eye-grabbling publicity shots that were published in automotive and marine enthusiast magazines around the world. The promotion was so successful GM kept the Wette Vette on the road an entire year, wowing boaters and car buffs alike. The car and boat were featured in a June 1991 story in Boating Magazine.
The Wette Vette – which perhaps should have landed in a museum following its publicity duties – instead was separated from the engine, which changed hands a few times before being sold at auction in January 2019 for a reported $10,000. The engine is claimed to be still functional and was sold with a marine cooling system, stainless exhaust headers, electrical panel, wiring harness, and ECU and its Bravo One outdrive. The fate of the Baja Wette Vette boat is unknown.