Verado®
Six Cylinder 225-350 hp
Outrageous Power. Refined Experience.
A perfect balance of performance, fuel economy and driving experience.
Engine type Inline 6
Displacement (L) 2.6
Full throttle RPM 5800-6400
Steering Electro-hydraulic power steering
Dry weight *Lightest model available 668 lbs / 303 kg
Choose color:
Phantom Black
Warm Fusion White
Cold Fusion White
Pearl Fusion White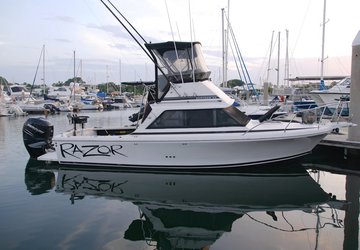 Verado repower 'astonishing'.
Josh Ker, the man who heads up Bigfish Gear in Darwin, has been involved in offshore fishing for the past 25 years but he still wasn't prepared for what happened when he recently repowered his Bertram 25 flybridge with a 350hp Mercury Verado.
"I'd been having some mechanical sagas with a 300hp engine from a different manufacturer which didn't even have 1,000 hours on it so I decided replacing it was the only option," he said.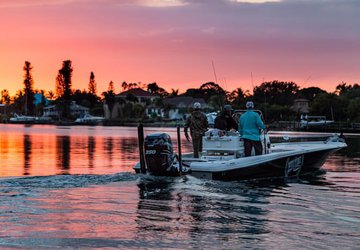 Florida Man Logs More Than 500 Miles in 20 Hours
Captain George Gozdz, host of Reel Time Florida Sportsman TV, was looking to take his new Triton 260LTS powered by a 350hp Verado out for an adventure. The adventure turned out to be a nearly 515-mile trek from Stuart, Florida, to Tampa and back – a trip that took him through the Lake Okeechobee Waterway system.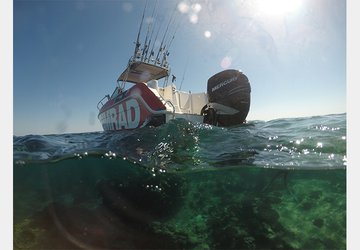 Northern Australia expedition – Verado does it with ease.
Chasing Giant Trevally for two weeks off Western Australia's Pilbara coast, adventure angler Luke Ryan has pushed his Mercury Verado harder than ever before and it's passed every test.
Luke gave his 300hp Verado an 850-nautical mile workout after loading his Haines Hunter 680 Patriot with more than a ton of extra supplies – including fuel, camping gear, people and food.
White, Black, Your Choice.
In addition to standard Phantom Black, Mercury offers 300hp and 350hp Verado outboards in three shades of white – Pearl Fusion, Cold Fusion and Warm Fusion. The three shades of Mercury White will complement almost any boat design or style.
Cold-Air Intake
The Verado 350 can breathe! The cold- air intake system is designed to capture cool, fresh air from outside the cowl and deliver it directly and efficiently to the supercharger. The larger, straighter airflow path is a more efficient design that creates less turbulence. The unique labyrinth design in the top cowl keeps the powerhead dry. 
Offshore and Heavy Duty Gearcases.
The ultra-robust 5.44-inch-diameter Offshore gearcase is designed and built to handle offshore seas and provide extra lift for longer, heavier center-consoles and walkarounds. It features larger, stronger gears and heavy-duty bearings and components that are five times stronger than those in a standard gearcase. Companion engines: Standard on Verado® 300 hp, 250 hp and 225 hp.
The Heavy Duty gearcase is perfect for more aggressive go-fast boats and commercial offshore applications that operate in rough seas or want that extra mile per hour.  We pair our Offshore 5.44-inch gearcase with a 1.75 gear ratio and 1.25-inch prop shaft for added durability. Companion engines: Standard on Verado 350 hp and optional on Verado 300 hp.
For boats equipped with Mercury Joystick Piloting that exceed 60 mph, a specially designed "cambered" skeg option results in the best driving experience and overall engine performance.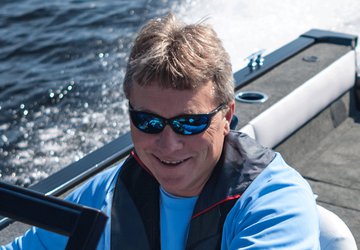 Repower Financing.
With Mercury Repower Financing, you can easily power up everything from fishing boats, to runabouts, to cruisers with flexible financing on the engine. You can also choose to finance rigging, gauges, controls and even labor. Mercury Repower Financing offers low rates and low monthly payments to fit a boater's budget.
Click here for more information and get the performance you want!
Lightweight / Compact Design
At just 668 pounds, the Verado 350 is 95 pounds lighter than its competition, and its compact design allows for 26" engine spacing and less stress on the transom. 
Joystick Piloting for Outboards.
With a simple push or twist of a joystick it's possible to maneuver a boat in virtually any direction – sideways, diagonally or spinning the boat on its axis.
Control dual, triple or quad Verado 250hp, 300hp or 350hp outboards, even in challenging wind and current conditions. This system integrates seamlessly with SmartCraft® Digital Throttle & Shift (DTS) and electro-hydraulic power steering, while standard integrated autopilot provides Auto Heading and Waypoint Sequencing.
Also available with Skyhook®, a digital GPS positioning system which can hold a boat in position while fishing or waiting for bridges to open.
Smoothest, quietest.
The inherently balanced in-line six-cylinder engine and our Advanced Mid Section (AMS) with perimeter mounts virtually eliminate vibration in the boat. Perfect for sneaking up on fish or cruising on luxury pontoons.
Driving Experience.
SmartCraft® Digital Throttle & Shift provides smooth, instantaneous, predictable and quiet shifting, as well as ultra-responsive throttle control, while true Power Steering (standard on six-cylinder models) delivers precision steering without undesirable steering torque.
Mercury "shadow technology" eliminates the hassle of grappling with multiple engine levers when running with triple or quadruple outboards. Shadow mode controls up to four engines with just two levers from as many as two helm stations.
Specifications
Verado®: Six Cylinder 225-350 hp
Documents
Buy the Books
You can order all available Mercury literature online or through any authorized Mercury dealer. Please have your outboard or sterndrive serial number before placing the order.
Operation, Maintenance, and Warranty Manuals
Parts Manual
Service Manual