Pro XS®
150 Pro XS
Supreme confidence from superior speed produced by unsurpassed engineering are the building blocks of victory.
Designed and built to take you where you are at your best – whether that's saltwater flats or inshore bays; cool freshwater rivers or warm inland lakes.
Engine type 8-valve single overhead cam (SOHC), Inline 4
Displacement (L) 3.0
Full throttle RPM 5200-6000
Steering Dual cable mechanical, Hydraulic power steering
Dry weight *Lightest model available 456/207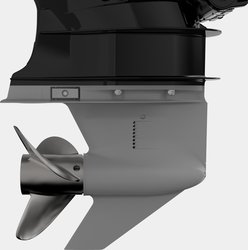 The best way to get there first
High-performance features unite to let you drive as fast as everyone wishes they could drive:
Mercury-exclusive Transient Spark technology optimizes spark timing to provide increased torque and improved acceleration
2.08:1 gear ratio transmits more torque to the prop shaft
Nearly 20 pounds lighter than the closest competitor
Quickest 0-20 mph in its class
Fastest high-output 150hp four-stroke outboard
More efficient, more intuitive, more refined
Innovative design delivers the complete package
Idle Charge battery-management technology prevents battery from draining while trolling and operating multiple electronic devices
Class-leading 60 amp alternator
Four water pickups on nosecone provide flexibility to mount the engine higher, install a jack plate, or trim higher 
Building a better ride
Increased maximum engine rpm of 6000 provides broader selection of propeller pitches and dialed-in performance
Proven, performance-inspired gearcase provides durability and speed
Unmatched noise and vibration mitigation
Optimized engine mounts improve boat handling at high speeds 
Specifications
Pro XS®: 150 Pro XS
HP / kW
Engine type

8-valve single overhead cam (SOHC)
Inline 4

Displacement (CID/CC)
Displacement (L)
Full throttle RPM
Air induction

Performance-Tuned Scroll Intake Manifold

Fuel induction system

Computer Controlled Multi-Port Electronic Fuel Injection (EFI)

Recommended fuel

Unleaded Regular 87 Octane Minimum (R+M/2) or 90 RON 10% Ethanol Maximum

Recommended oil

NMMA Certified FCW SAE 10W-30

Engine protection operator warning system

SmartCraft Engine Guardian

Compatible with SmartCraft digital technology
Starting
Controls

Mechanical throttle & shift

Steering

Dual cable mechanical
Hydraulic power steering

Shaft length

20" / 508 mm
25" / 635 mm

Dry weight *Lightest model available
CARB star rating
Bore and stroke

4.0" x 3.6" / 102mm x 92mm

Ignition

SmartCraft ECM 07 Digital Inductive

Cooling system

Water-cooled with thermostat

Gear shift
Trim system
Exhaust system
Oil Capacity

Print Compare With Other Products
Documents
Buy the Books
You can order all available Mercury literature online or through any authorized Mercury dealer. Please have your outboard or sterndrive serial number before placing the order.
Operation, Maintenance, and Warranty Manuals
Parts Manual
Service Manual