Jet
200 hp OptiMax® SportJet®
Get Where You Need, Worry-free
Engineered for maximum maneuverability.
Engine type V-6
Displacement (L) 2.5
Full throttle RPM 5150 - 5650
Dry weight *Lightest model available 367 lbs / 166 kg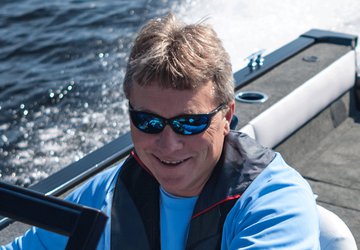 Repower Financing.
With Mercury Repower Financing, you can easily power up everything from fishing boats, to runabouts, to cruisers with flexible financing on the engine. You can also choose to finance rigging, gauges, controls and even labor. Mercury Repower Financing offers low rates and low monthly payments to fit a boater's budget.
Click here for more information and get the performance you want!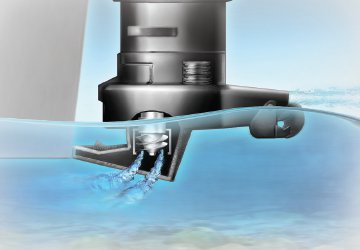 Jet Advantages.
Water is drawn into the unit through the intake grill by an impeller, driven directly by the engine driveshaft. The water is then forced at high pressure through an outlet nozzle, creating thrust that drives the boat forward. To obtain reverse, a gate lifts into position over the outlet re-directing the pressure stream in the opposite direction.
Go Where Others Can't.
The Mercury SportJet is the perfect power option for getting into the shallows. Uniquely engineered for unparalleled maneuverability. No props. No skegs. No snags on underwater obstructions. Move easily into areas that other boats can't get near. And with various horsepower options, it can take you a lot farther than secluded fishing holes. Skiing, tubing, wakeboarding. These jets can do it all. The ultimate blend of power, simplicity, and fun.
Your Best Running Buddy.
The Mercury SportJet features award-winning technology. Instant turn-key starting. Smoke-free operation. Outstanding fuel economy and engine power. Mercury offers three different grate options. Customize your jet outboard for your individual boating experience. From weedy areas to rocky river bottoms, Mercury has you covered. Less work at the dock. More fun on the water.
SportJet power.
The Mercury® SportJet® drive features a 200hp V6 Direct Fuel Injection (DFI) OptiMax engine for instant turnkey starting, no-smoke operation, outstanding fuel economy and excellent power. The Mercury SportJet has a self-draining cooling system for ease of maintenance.
Specifications
Jet: 200 hp OptiMax® SportJet®
HP / kW
Engine type
Displacement (L)
Full throttle RPM
Alternator amp / Watt

60 amp / 756 watt (Belt-Driven)

Engine protection operator warning system

Low battery voltage
Low oil level
Low water pressure
Oil system failure
Over-rev
Overheat
Sensor failure
SmartCraft Engine Guardian
Water in fuel

Compatible with SmartCraft digital technology
Starting

Computer-controlled, electric with auto-primer and turn-key

Gearcase ratio
Dry weight *Lightest model available
Bore and stroke

3.50 x 2.65" / 89 x 67 mm

Ignition
Fuel system

2-stage Direct Fuel Injection (DFI)

Cooling system
Gear shift

F-N-R with high-thrust dual outlet reverse gate

Gearcase options
Trim system
Exhaust system

Tuned through-transom with dual mufflers

Color
Flush system
Pump type
Impeller diameter
Impeller type

4-blade progressive pitch stainless steel

Print Compare With Other Products
Documents
Buy the Books
You can order all available Mercury literature online or through any authorized Mercury dealer. Please have your outboard or sterndrive serial number before placing the order.
Operation, Maintenance, and Warranty Manuals
Parts Manual
Service Manual