FourStroke
40-60 hp
Held to a Higher Standard
Enhanced fuel injection for boosted efficiency
Engine type Inline 4
Full throttle RPM 5500-6000
Steering Big Tiller Compatible, Remote, Tiller Kit
Dry weight *Lightest model available 260 lbs / 118 kg
Smooth and Strong Performance.
A compact, single-overhead-cam design and long piston stroke give Mercury 40 - 60hp FourStroke outboards more low-end torque for excellent acceleration, even when pushing a heavy load.
The high-displacement, long-stroke, four-cylinder, single-overhead cam design provides optimum power and a smooth ride with Command Thrust models.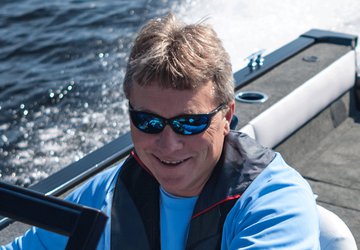 Repower Financing.
With Mercury Repower Financing, you can easily power up everything from fishing boats, to runabouts, to cruisers with flexible financing on the engine. You can also choose to finance rigging, gauges, controls and even labor. Mercury Repower Financing offers low rates and low monthly payments to fit a boater's budget.
Click here for more information and get the performance you want!
VesselView Mobile.
Now you can have the power of SmartCraft on your mobile device (iOS or Android) with all the digital data your SmartCraft engine supports - plus new features such as Maintenance Reminders, Mapping, Performance Summary and Fault Code Diagnostic information. Connect with your engine and be in the know.
Connects the SmartCraft data network to your iOS or Android mobile device via BLE (Bluetooth Low Energy 4.0)*
See SmartCraft engine parameters: fuel flow, water temperature, battery voltage, RPM, engine hours*
Get fault code diagnostic information so you know and understand if that fault is something to be addressed when you return back to the dock or it is something more significant*
Get mapping information for your body of water: location, record a moment on the water, fuel & restaurant locations and more
Dealer Locator and Primary Dealer selector
Checklists associated with your boating lifestyle
Maintenance reminders and historical maintenance information logs*
Compatible with all Mercury SmartCraft-capable engines built since 2003 (40 HP and up)
*VesselView Module required; available for purchase at Mercury Marine dealers, from the VesselView Mobile app or
here
Android® is a registered trademark of Google®, Inc., Bluetooth® is a registered trademark of Bluetooth SIG, Inc., iOS® is a registered trademark of Cisco Systems®, Inc. (used under license by Apple®, Inc.), SmartCraft® and VesselView® are registered trademarks of Brunswick® Corporation.
The Big Tiller.
The optional center-mounted Big Tiller offers optimal control. A longer tiller grip incorporates a convenient power trim switch, the shift lever is close at hand, and an optional digital troll control adjusts engine speed as low as 700 rpm in 10-rpm increments.
Thumbscrew Clamp Bracket.
The 40hp manual start, long shaft (20" / 508mm), tiller steer model is also available with a thumbscrew mounting bracket. This bracket reduces the time and effort needed to install or remove the outboard from a boat's transom.
Turnkey starts / fuel efficiency.
Mercury Electronic Fuel Injection (EFI) delivers reliable turnkey starts, improved fuel efficiency, instant throttle response and protection against low-quality-fuel problems.
Electrical support.
An 18-amp high-output alternator keeps batteries charged and fishing electronics humming.
SpitFire and SpitFire Pontoon Propellers.
The advanced design of the Mercury® Spitfire® aluminum propeller combines four aggressive blades with high rake angles and extra cup for tenacious holding and 25% quicker acceleration, with no loss in top speed compared to a three-blade Mercury Black Max® propeller of the same pitch.
The advanced design of the Mercury Spitfire Pontoon four-blade aluminum propeller maximizes blow-out resistance, with extra blade area for outstanding hold in turns and extra thrust around the dock that pontoon boaters need and demand. The Spitfire Pontoon propeller is available for 40 - 60hp Command Thrust engines in 10-, 11- and 13-pitch sizes.
More Control, Hole Shot and Mid-Range Power.
Increased thrust is delivered by a 2.33:1 gear ratio with 44% larger gears. The desmodromic shifting is ultra-smooth.
A gearcase that sits deeper in the water, a bigger prop with 20% more blade surface, and lower gear ratio provide unmatched thrust, maneuverability and boat lift.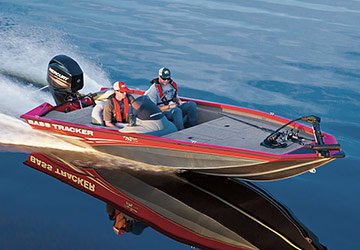 Value
The 60 hp Command Thrust matches the acceleration and fuel efficiency of our competitor's more expensive 70 hp outboard model.
Specifications
FourStroke: 40-60 hp
Documents
Buy the Books
You can order all available Mercury literature online or through any authorized Mercury dealer. Please have your outboard or sterndrive serial number before placing the order.
Operation, Maintenance, and Warranty Manuals
Parts Manual
Service Manual