Gauges & Displays
SmartCraft Connect
Integrate Garmin and Raymarine multi-function displays with your Mercury SmartCraft propulsion system.
SmartCraft Connect transforms your favorite multi-function display into an information portal to your boat by delivering VesselView functionality on the same screen as your GPS chartplotter and sonar. It puts engine data and alerts on full display, right at your fingertips, for total confidence and enhanced control.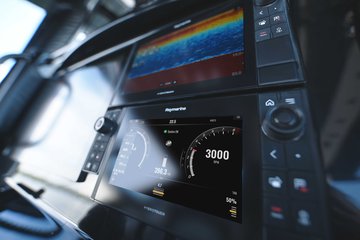 Total On-Board Management
SmartCraft Connect integrates with up to four Mercury SmartCraft engines to provide powerful VesselView functionality on compatible Garmin or Raymarine multi-function displays. VesselView delivers more engine performance data and alerts than any other monitoring system in the marine industry. An intuitive user interface lets you easily track rpm, speed, fuel flow, temperature, trim and more directly on the displays you use most.