Precision Lubricants
Oil Change Kits
Make it easy to change your oil
Complete kits for Mercury FourStrokes from 15hp to 400hp.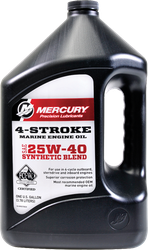 Mercury FourStroke oil for your Mercury FourStroke outboard
Mercury oil change kits contain industry-leading Mercury 25W-40 Marine Engine Oil. Over five years of engineering and development went into the exclusive flagship protection formula which features a high-tech, advanced set of anti-wear additives that provide up to 33% better camshaft wear protection and the highest levels of corrosion and oxidation protection. Designed to maintain engine reliability and performance, Mercury 25W-40 Marine Engine Oil has been proven to hold its viscosity ratings longer in industry wear testing than other oils on the market.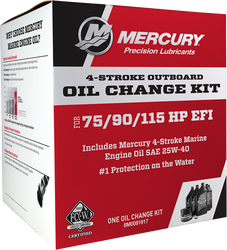 A complete oil change - in a box
Mercury's convenient oil change kits make it easy for you to change your oil. Each kit contains all the items needed to change oil in select Mercury FourStroke outboards:
25W-40 Marine Engine Oil featuring Flagship Protection
Oil Filter
Drain Plug Seal
Drip Tray (where applicable)
Complete instructions printed right on the box