Back to Dockline
11 Apr 2023
Automotive oils can't match the marine-specific protection of Mercury oils for your boat's engine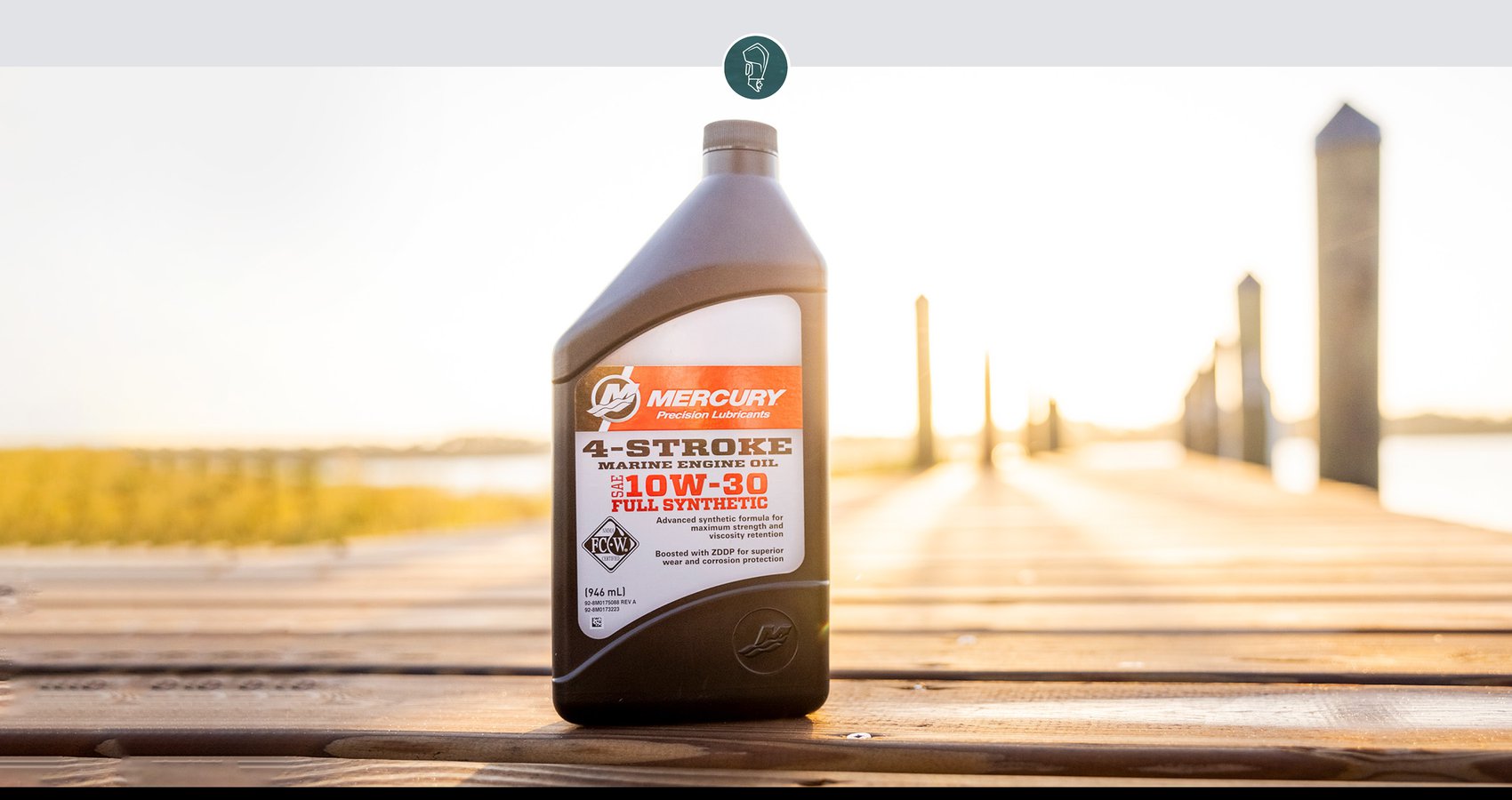 Because your boat engine operates in a marine environment, it needs the protection that only quality marine lubricants can provide. It's the kind of protection your engine simply won't get from a lubricant designed for use in automobile engines.
That's why Mercury Marine® has developed a complete line of Mercury Precision Lubricants®, each a premium product designed to protect your Mercury engine when it is on and off the water.
Harsh Duty
Imagine driving your car or truck at 120 km/h up a steep hill while towing your boat – for an hour. That's the kind of stress your marine engine is under. That stress would likely destroy automotive oil and, in short order, an automotive engine.
A marine engine – whether it's an outboard, inboard, sterndrive or personal watercraft – is designed to operate for hours at high rpm and under heavy load. This torturous duty requires special lubricants, which is why you should never use automotive oil in a marine engine.
The extended high-rpm operation that a marine engine endures can shear (or split) inferior additive molecules, leading to permanent loss of viscosity. This can leave less lubricant protection on crankcase components during the next engine use. Mercury formulates its 4-Stroke Marine Engine Oil products with additives specifically designed to offer powerful shear resistance and viscosity retention – vital for long-term marine engine performance.
A Cool Operator
Marine engines operate at a much lower temperature than automotive engines. If the temperature of saltwater rises above 76 C it begins to crystalize and can clog cooling passages in the engine. For this reason, marine engines are thermostatically controlled to operate below that temperature. Auto engines typically operate well above 93C.
Most marine engines are cooled using raw water – water drawn directly from the lake or ocean – which is often cool to very cold. Thus, Mercury Precision Lubricants engine oils are formulated to provide outstanding protection against wear and corrosion at much lower temperatures than automotive oils.
Tough Neighborhood
In the marine environment, corrosion – inside and outside the engine – is a constant threat. A boat engine always operates near the water, drawing in very humid air directly off the water's surface in order to operate. This humid air also gets inside combustion chambers through open valves when the engine is not in use. And in a saltwater environment that air can be especially corrosive. It's one of the harshest environments imaginable for an engine.
This humid environment and the low operating temperature of a marine engine combine to make a marine engine more susceptible to formation of condensation in the oil, and to contamination of the oil by unburned fuel. This is especially true if the engine is used for long periods of slow-trolling and never gets hot enough to evaporate condensed fuel and water from the oil. Now consider that when it's not working hard to get you to the fish, or tow you around the lake, or carry you to a distant port, a marine engine is often idle for weeks or months at a time, which creates another opportunity for condensation to collect inside the engine. For this reason, Mercury Precision Lubricants oil products contain specific anti-corrosion inhibitors, which simply are not present in automotive engine oil.
Mercury Exceeds Industry Standards
While "off the shelf" marine lubricants may meet this basic industry standard, Mercury marine engine oils are designed to exceed those standards, often by a significant margin. Mercury commits engineering resources to the development of lubricants designed specifically to work well in Mercury engine products, devising formulas for viscosity and additive packages to provide Mercury outboard, sterndrive, and gas and diesel inboard engines with maximum protection. You can count on Mercury Precision Lubricants products to keep your Mercury engine operating with peak power and efficiency, season after season.
Check your Mercury Marine owner's manual, or ask your Mercury Authorized Dealer, for the recommended lubricant products for your marine engine.