If you missed part one, please click HERE to catch up on Captain Mike Genoun's expert advice to saltwater hook selection.
Personally, I take saltwater hook selection very seriously and always start every trip by considering all of the factors that I might face on any given day. For example, if I'm intending on deep dropping in search of grouper and golden tilefish, I count on large ultra-strong yet thin gauge inline circle hooks that I know will easily penetrate the rubbery lips of various deep-water predators. This is incredibly important when fishing great depths where traditional hook sets are simply not possible. VMC's #7385 Inline Tournament Circle in size 9/0 is my "go-to" here.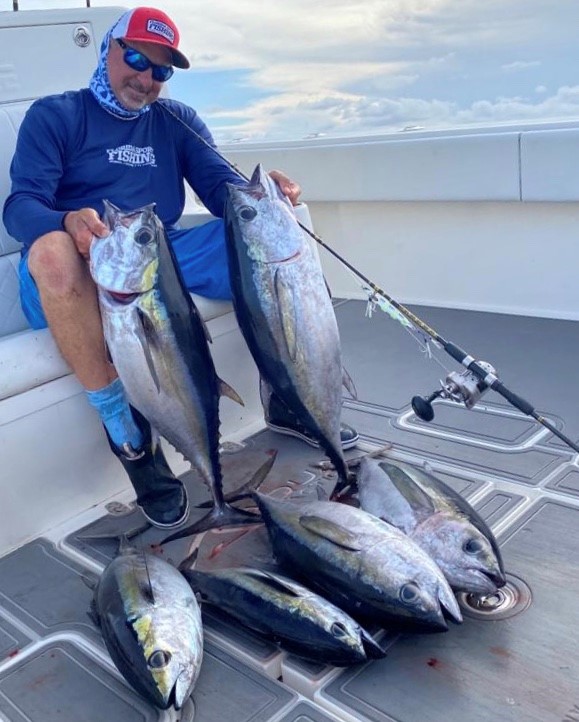 On the other side of the 'Stream, when I'm yellowfin tuna fishing in The Bahamas where a stealthy approach in the crystal clear water is a key ingredient for success against these keen-eyed predators, I rig with small 3/0 circle hooks rated for 3X strength as I'll be fishing 50 – 80-pound test line and will be applying serious pressure against the powerful pelagic predators. In this venue I need a hook that is easy to hide yet utterly dependable.  
Another example includes freelining fragile whitebait along Florida's west coast beaches to cruising snook, which requires an altogether different approach; and while I count on the same size 3/0 circle hook, it is a completely different hook manufactured of a very thin-gauge wire. The light wire plays an important role by preventing the hook from killing the bait, or at the very least weighing it down and cramping its natural appeal.
When rigging skirted trolling lures and natural baits like fresh bonito strips and ballyhoo intended for dolphinfish and wahoo, long shank O'Shaughnessy hooks, including Mustad's popular #3407, are a staple for both strength and an added level of insurance against sharp-toothed predators. No blue-water fishermen's arsenal is complete without a few boxes of 3407s in various sizes.
While there is absolutely no substitute for time spent on the water, spending a few minutes to consider all factors before rigging your rods and hitting the water will certainly help you select the appropriate and correct terminal tackle for any given scenario. And by making mental notes of what is working and why you'll be able to greatly shorten the learning curve and your success ratio with hooking and landing quality fish will soar. 
Never discount the value of picking the perfect hook and I look forward to seeing you on the water . . .
Photo and Article Credit: Captain Mike Genoun, Florida Sport Fishing TV