On January 22, the Mercury Marine family will note a milestone – 82 years since the formal founding in 1939 by E. Carl Kiekhaefer of Kiekhaefer Marine, the company that would produce Kiekhaefer Mercury outboard motors and later change its name to Mercury Marine.
From its humble beginnings at the end of the Great Depression, the company has scrapped through a world war and economic fluctuations, and faced off against challenging domestic and international competitors, building a reputation for performance and innovation that has carried it through to the 21st century. Today, Mercury Marine is the world leader in integrated marine propulsion systems and a key component of the Brunswick Corporation constellation of marine brands – an outcome that Kiekhaefer would proudly embrace.
Cedarburg Years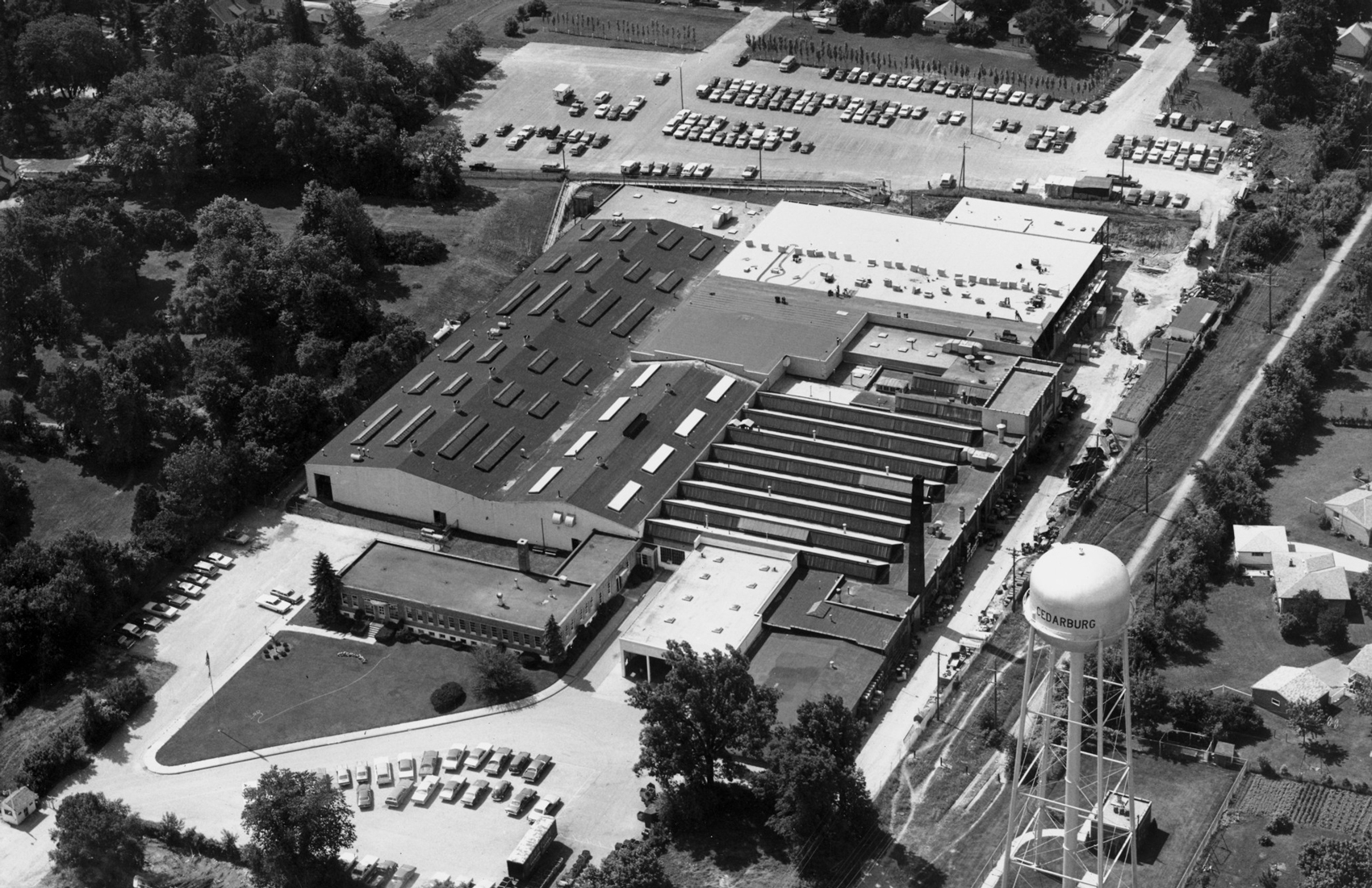 Every legend starts somewhere, and the incredible story of Mercury Marine began in Cedarburg, Wisconsin, in 1938. When he heard that the Cedarburg Manufacturing Company plant in his hometown was about to close, Kiekhaefer saw a good opportunity. The 32-year-old electrical engineer planned to buy the building and start his own business manufacturing magnetic separators for the dairy industry.
He later discovered that Cedarburg Manufacturing had left behind about 300 crated Thor outboard motors it manufactured for mail-order giant Montgomery Ward under the Sea King brand. The motors ran poorly, however, and Montgomery Ward had cancelled the contract. Kiekhaefer revised the carburetor on a single Sea King and discovered that with the fix, the motor ran well. Montgomery Ward was persuaded to take the modified inventory, and Kiekhaefer was happy to pocket some cash for his business start-up. But after the first batch had sold out quickly, Montgomery Ward requested more outboards. Kiekhaefer fired up the assembly line.
Kiekhaefer quickly shifted his business focus from magnetic separators to outboard motors. An all-new outboard was designed, and the first Kiekhaefer Mercury motors – two 3hp singles and a 6hp twin – debuted at the 1940 New York Boat Show. Kiekhaefer engineers streamlined the gas tanks and lower units to create the "slimmest, most compact" outboard available, and designed a number of technical advancements, including intake reed valves for reducing backfires, the Twin-Flux Magneto and the Rotex Positive Water Pump, which doubled cooling-water capacity. Kiekhaefer left New York with 16,000 orders.
Before Kiekhaefer Marine could really get rolling, World War II caused production to cease. Military contracts to manufacture small engines for pumps, chainsaws and drone aircraft kept the company going and allowed Kiekhaefer to continue to develop its engine ideas. When the war ended, production started on all-new Mercury outboards, featuring sleek cast-aluminum cowls finished in a deep green color. Kiekhaefer focused his brand on performance and technical innovation, and Mercury models soon became known as the hot rods of the outboard market. With operations outgrowing the Cedarburg facility, in 1951 Kiekhaefer moved the company to Fond du Lac, Wisconsin.
Building a Brand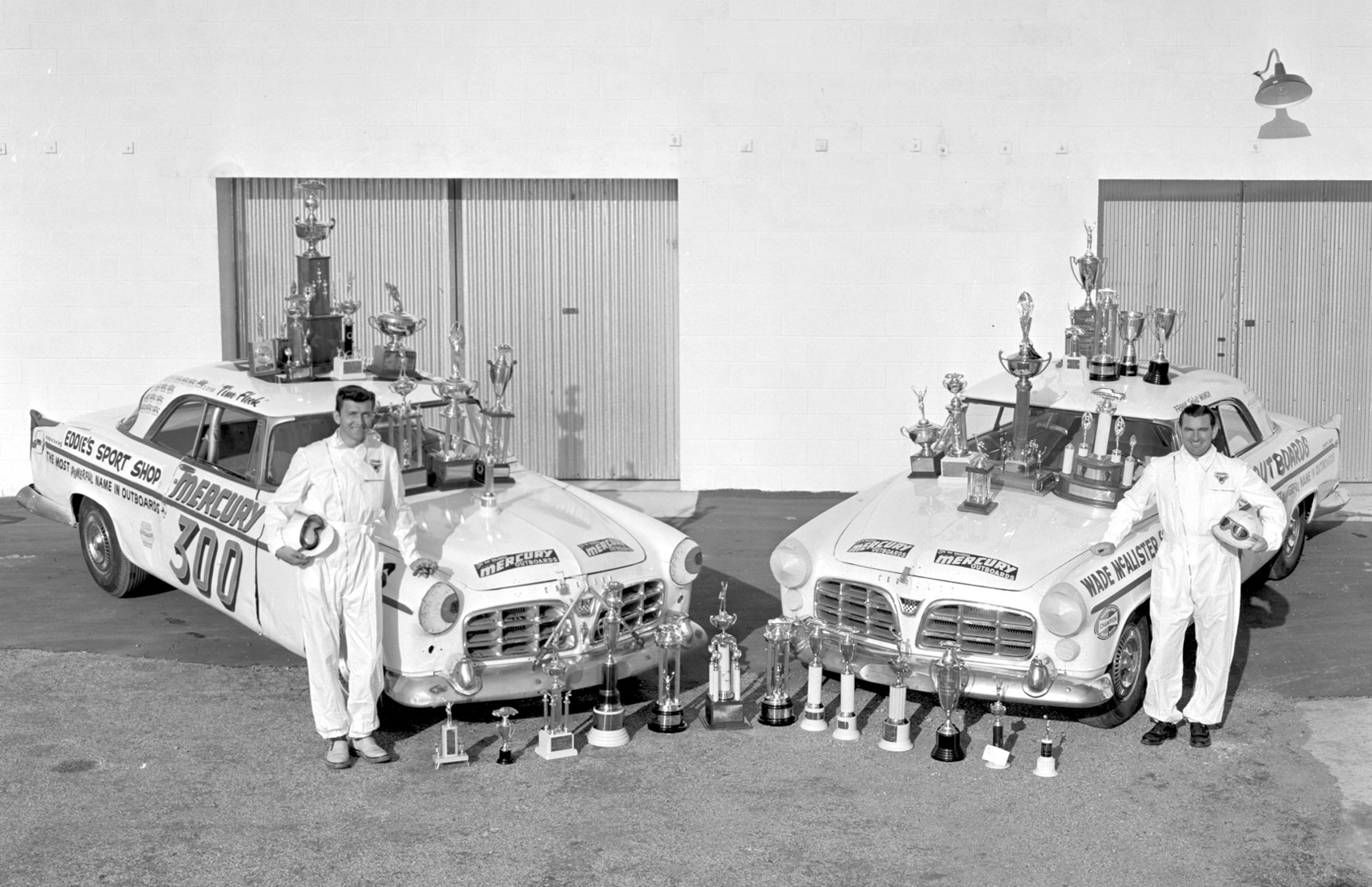 Battling two long-established outboard brands – Evinrude and Johnson – Kiekhaefer was active in powerboat racing as a way to enhance the Mercury reputation for high performance. In the mid-1950s, he promoted his outboards by forming a Mercury team to race stock cars on the new NASCAR circuit. The Kiekhaefer Mercury team dominated on the track for several seasons, and Kiekhaefer is credited with professionalizing the sport, in part by introducing team uniforms, specialized transport vehicles and the timed pit stop.
Kiekhaefer Marine continued to set performance and technology benchmarks. One of Mercury's earliest technological advances came in 1947, when the company introduced the first outboard equipped with anti-friction ball, roller and needle bearings in all major bearing locations, improving reliability and efficiency. A year later, Mercury introduced the first in-line 4-cylinder outboard, the Mercury Thunderbolt. In 1952, Mercury introduced the splined propeller shaft, eliminating the need for a shear pin. The Mercury Mark 75, which debuted in 1956, was the first 6-cylinder outboard and, at the time, the most powerful motor on the market. Mercury outboards introduced through-hub exhaust in 1957, and in 1962 Mercury offered the first outboard with a 100hp rating, an in-line 6-cylinder dubbed the "Tower of Power."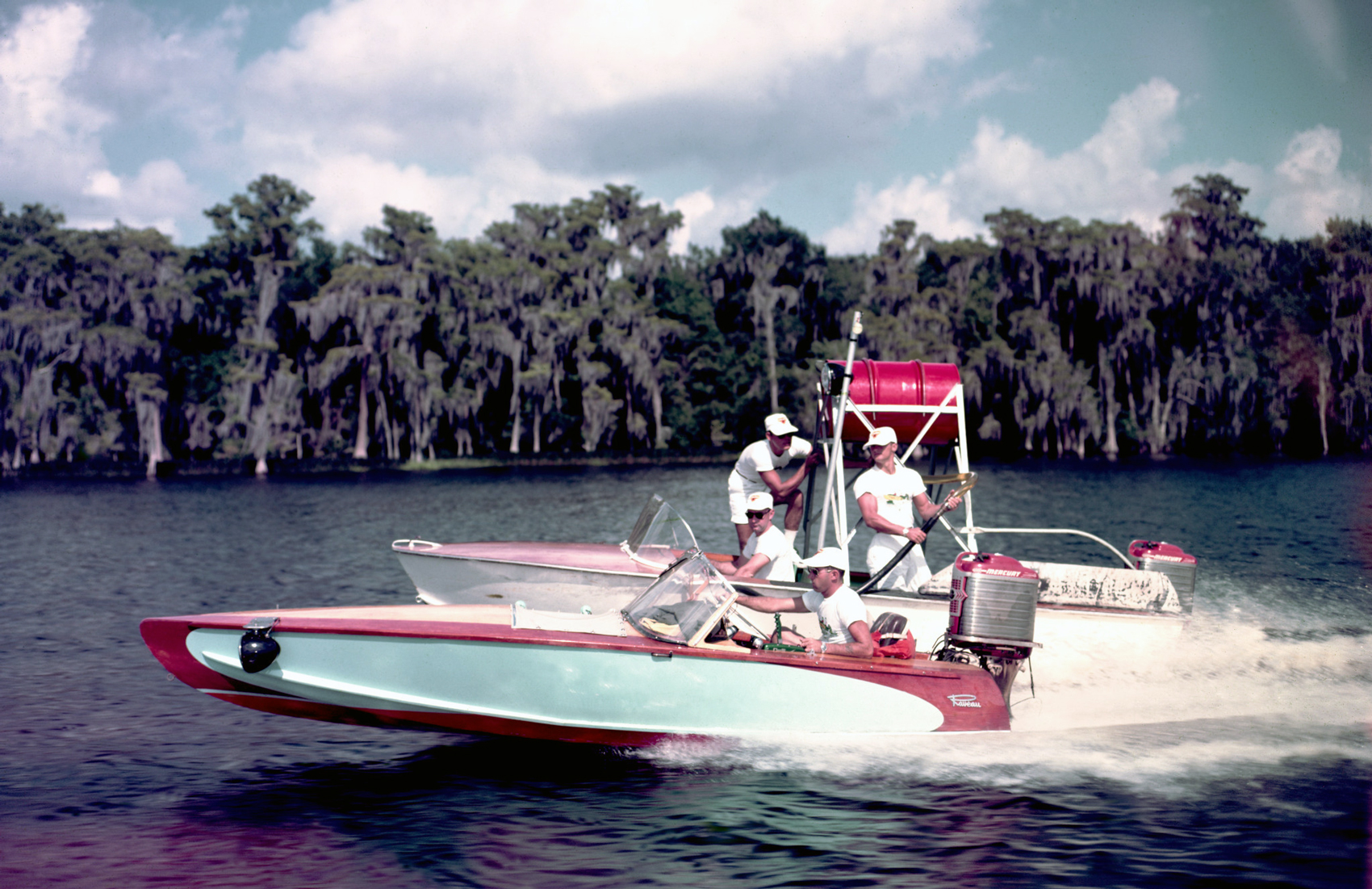 Kiekhaefer also banked on promotion to build the brand. Perhaps the greatest undertaking of the Kiekhaefer years was Operation Atlas, a 1958 endurance test that saw a pair of runabouts powered by 70hp Mercury Mark 75 outboards run nonstop for 25,000 miles, equivalent to a circumnavigation of the globe. The operation took place at the new top-secret "Lake X" testing facility Kiekhaefer was bulldozing out of swampland around Lake Conlin near St. Cloud, Florida. Because the boats were to run nonstop, refueling and driver changes were accomplished while underway. After 34 days, 11 hours, 47 minutes and 5.4 seconds on the 5.5-mile course, the lead boat completed 25,003.2 miles, and Mercury outboards garnered global publicity. Surrounded by snake- and gator-infested swamp and a high fence, Lake X became the secure testing site for most new Mercury products. Today, Mercury continues to conduct endurance testing, hydrodynamic testing, race-boat rigging and testing, and performance development at the Lake X facility.
A couple years later, Kiekhaefer was not the first to offer a sterndrive, but when the MerCruiser sterndrive debuted in 1961, it was available with more power and engine options than those offered by the competition. Mercury grabbed the leading share of this new market segment in less than a year, a position the brand still holds today.
Also in 1961, Kiekhaefer Marine became a division of Brunswick Corporation, which changed the name of the brand to Mercury Marine. In 1970, Carl Kiekhaefer resigned and founded a new company, Kiekhaefer Aeromarine, focused on high-performance and racing products. Following Kiekhaefer's death in 1983, his son, Fred Kiekhaefer, purchased Aeromarine and, in 1990, sold it to Brunswick Corporation, bringing all of Carl Kiekhaefer's innovations – he is credited with more than 200 patents – back under one roof.
Powering Into a New Century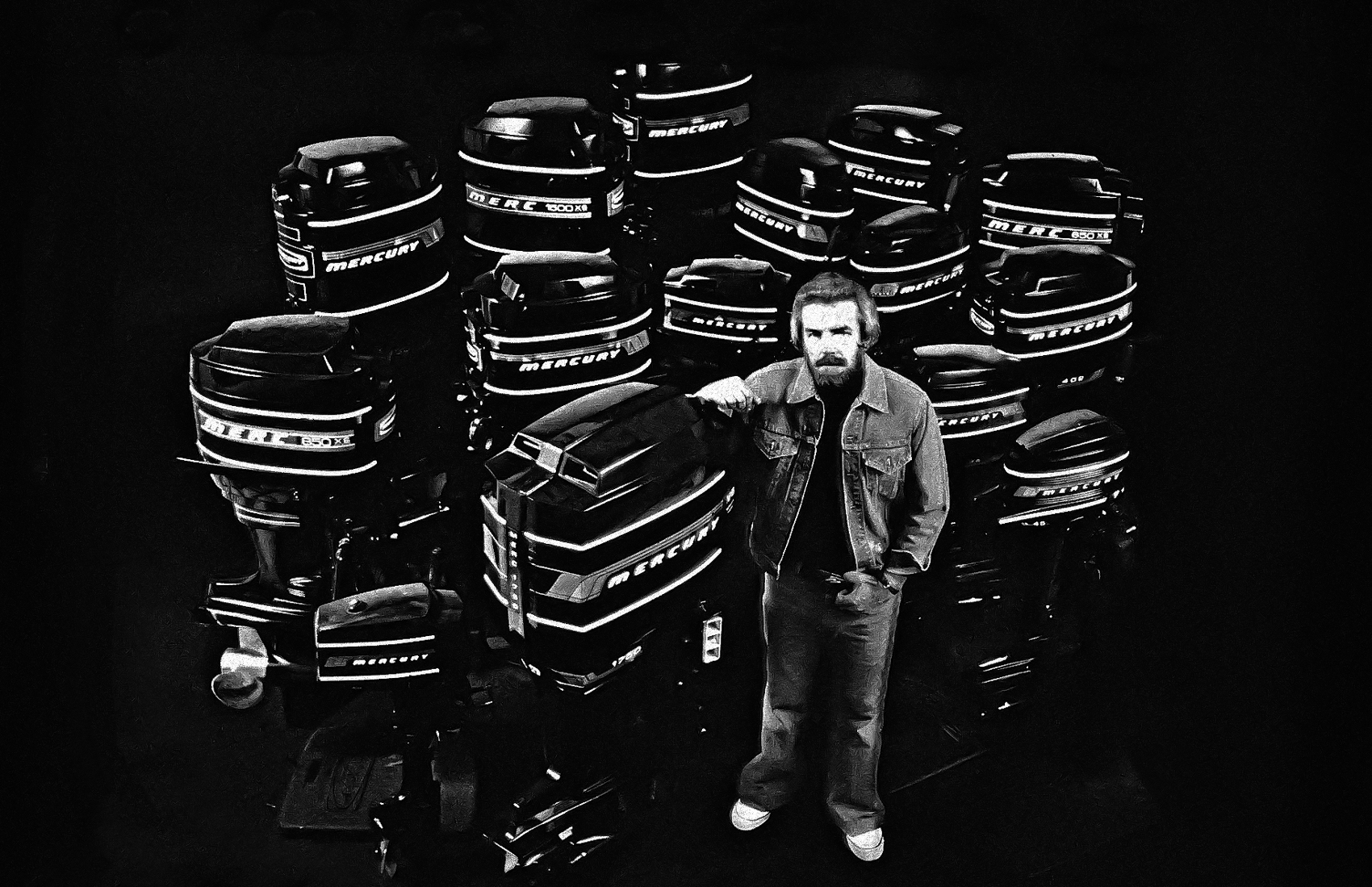 Carl Kiekhaefer's passion for innovation and performance continued to undergird Mercury Marine. In 1976, Mercury offered the first V6 outboard, and in 1996 took V6 displacement to 3.0 liters with the introduction of the Mercury 225 Offshore model. The twin-prop MerCruiser Bravo Three drive appeared in 1992. To reduce emissions and make two-stroke outboards more efficient, Mercury introduced its OptiMax models, with industry-first direct fuel injection (DFI), in 1996. In 2004, the supercharged Mercury Verado launched a revolution in four-stroke outboard performance, with Digital Throttle & Shift (DTS) controls as a key feature. Horsepower reached a new benchmark in 2017 when Mercury Racing introduced a 1,750hp competition sterndrive engine, the QC4v 1750, and, in 2019, with the launch of the supercharged V8 Mercury Racing 450R outboard. Mercury, in 2007, introduced fingertip joystick control for slow-speed maneuvering on its Zeus pod drives. The company expanded on the concept with the Axius system for MerCruiser sterndrives in 2008 and with Joystick Piloting for Outboards in 2013. The most-recent technology from Mercury includes VesselView touchscreen displays, Active Trim, Skyhook GPS virtual anchoring and the VesselView Mobile app for personal devices.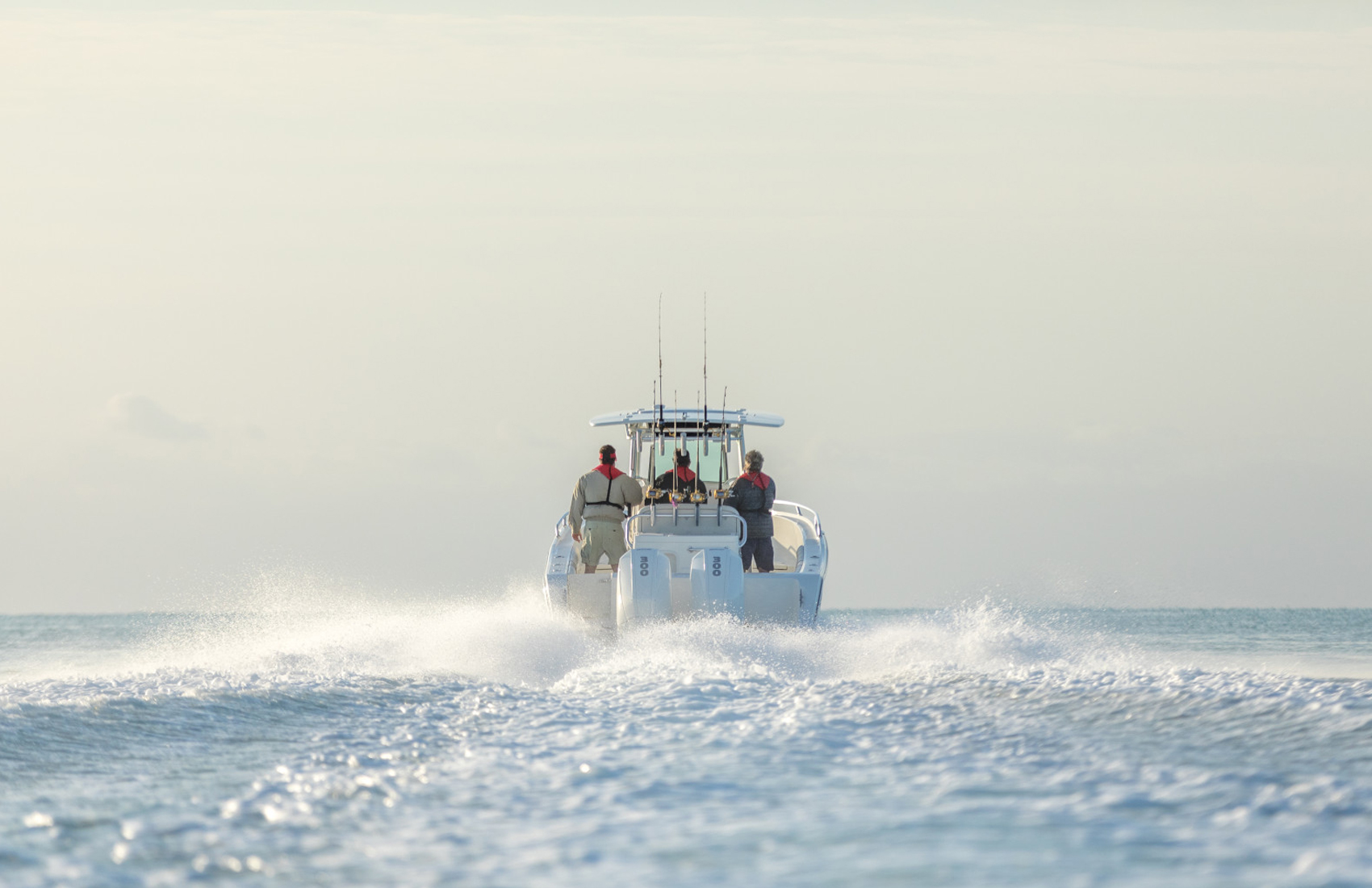 Behind the scenes, Mercury is a world leader in manufacturing technology. Mercury leads the marine industry in the design and manufacturing of aluminum and stainless steel propellers. Its Fond du Lac, Wisconsin, campus is home to one of the most advanced aluminum casting facilities in the world, which includes the largest die-cast machine in North America. Mercury Marine, in 2018, opened a new 20,000-square-foot Noise, Vibration, Harshness (NVH) Technical Center in Fond du Lac, the largest facility of its kind in the marine industry.
Whereas pleasure boating relies on a clean environment, Mercury has long advocated for clean water and has implemented advanced internal sustainability policies. In 2020, Mercury earned its 10th consecutive Green Masters designation from the Wisconsin Sustainable Business Council (WSBC), which measures companies on a broad range of sustainability categories ranging from energy and water conservation to waste management, community outreach and education. In early 2021, Mercury completed the installation of its first array of photovoltaic solar panels at its world headquarters campus in Fond du Lac. The new array of 320 panels is designed to generate enough electricity to light the company's warehouse operation in Fond du Lac for the next 30 years, a big step toward fulfillment of a goal to derive 50 percent of the company's electricity from renewable sources by the end of 2030.
The latest Mercury FourStroke V8 and V6 outboard engine design earned the 2018 Business Friend of the Environment Award for its eco-friendly characteristics. The engine has drawn accolades for its light weight, fuel efficiency and low emissions. Mercury forms the engine block using a patented alloy made from recycled aluminum. The engines are also renowned for being exceptionally quiet to combat noise pollution. These are the marine engine products – clean, quiet, efficient and a pleasure to use – that will power Mercury Marine into the future as it celebrates the 82-year legacy of its founder, Carl Kiekhaefer.