Back to Dockline
April 29, 2021
The Pennsylvania pro is competing against his childhood heroes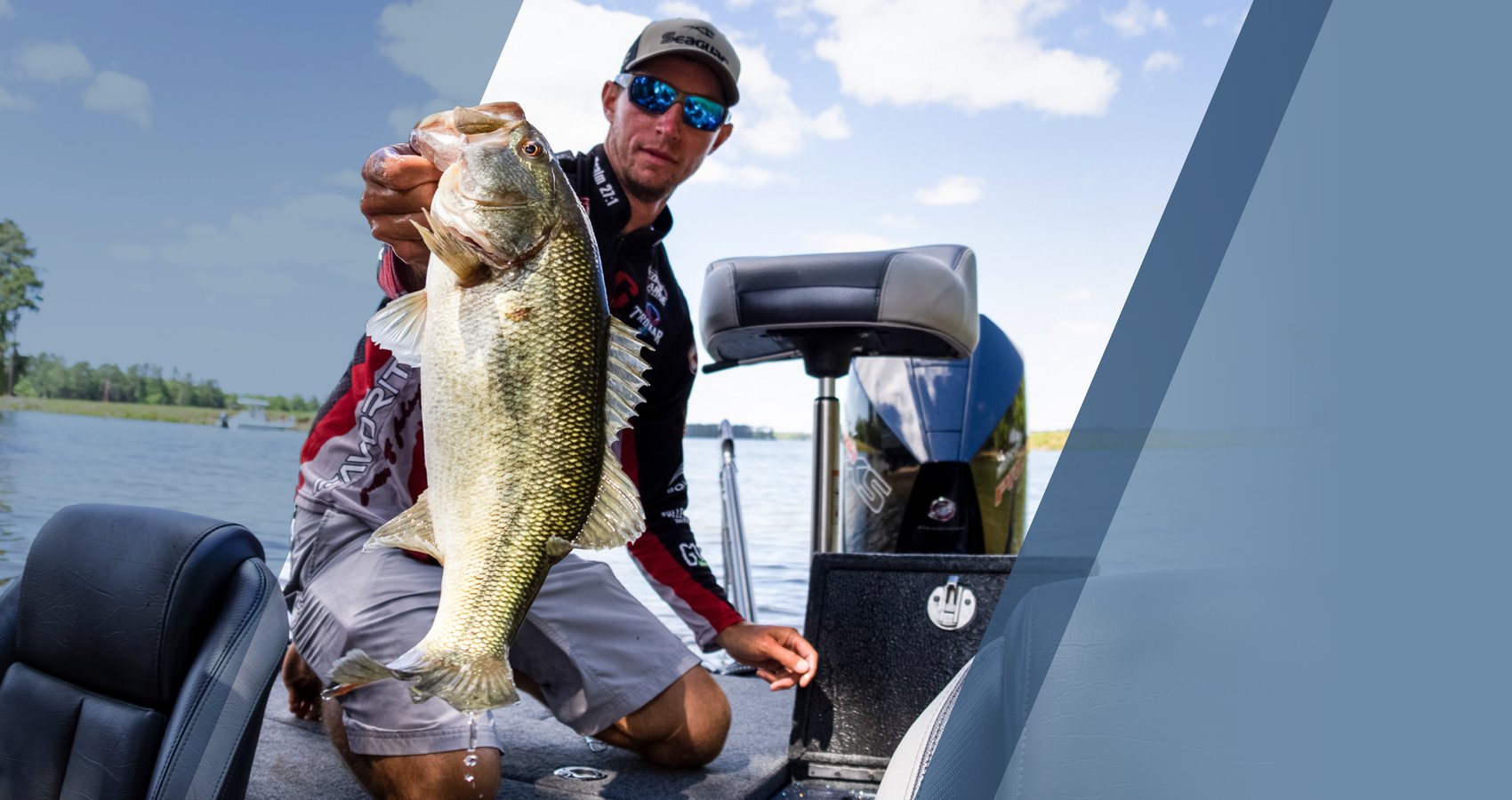 Matt Becker's fishing dreams continue to come true. On April 25, the Mercury Pro Team member from Finleyville, Pennsylvania, brought in a four-day total of 76 pounds, 5 ounces to earn the victory and $135,000 in the Major League Fishing (MLF) BIG5 Tackle Warehouse Pro Circuit event on Lake Murray in Columbia, South Carolina.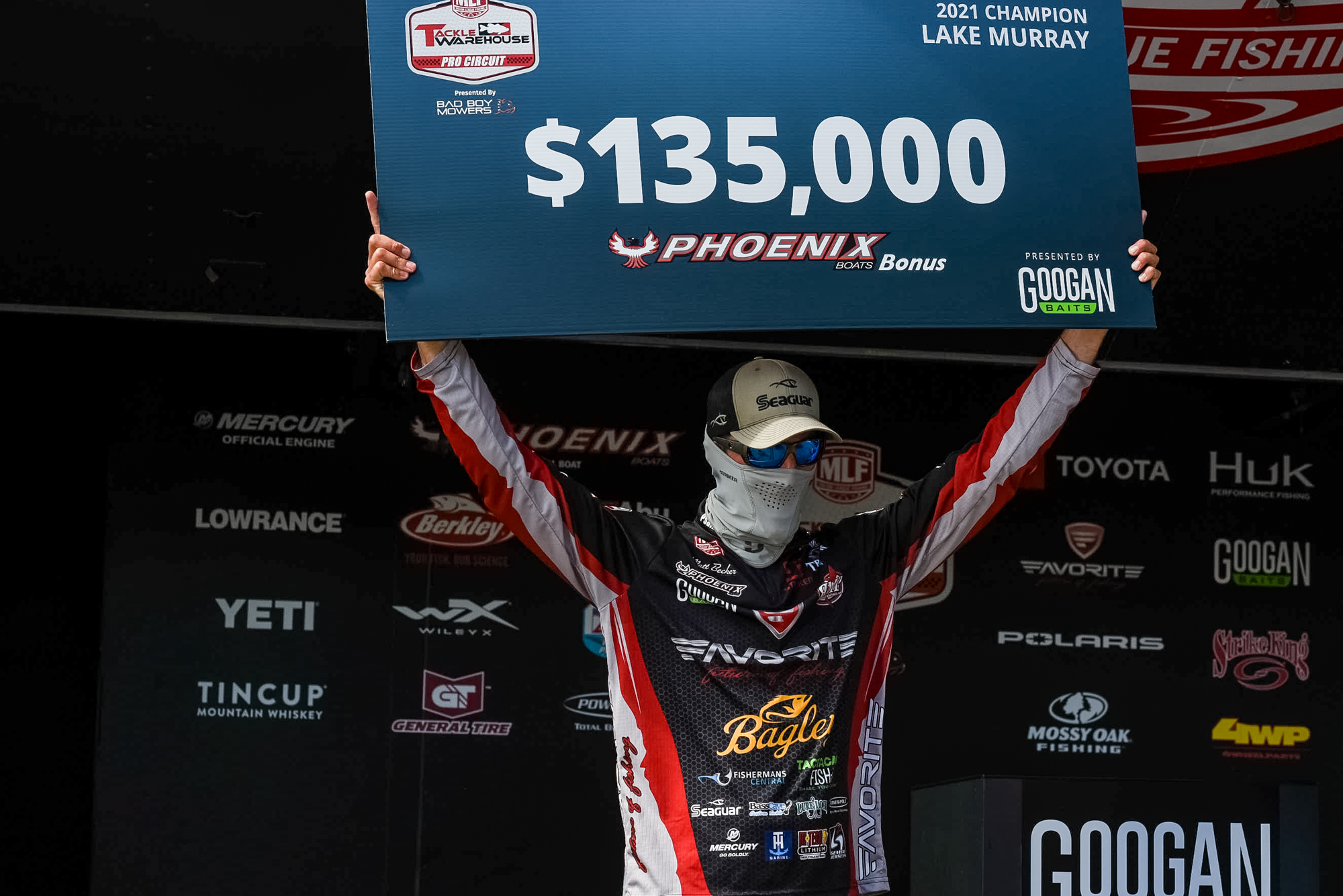 "This has been years and years in the making," said an emotional Becker on stage after being crowned champion. "I was really beginning to think that I couldn't win. I've always been consistent, near the top of the standings. But I was really starting to doubt that I could win. Just to make a top 10 against this group of hammers is unbelievable. They always say when it's your time, it's your time. And, man, did I live that this week."
Flashback to 2005 when Becker, who is now 28, was attending the Bassmaster Classic held on his home waters of Three Rivers in Pittsburgh, Pennsylvania, at the age of 13.
"It was awesome. I ran around getting autographs on fishing magazines and taking pictures of the pros and eating it all up," Becker recalled. "I saw Kevin VanDam raise that trophy on the final day and knew I wanted to fish like that. That was where these dreams began. I wanted to fish against my heroes someday."
Becker had his favorites as a kid, including VanDam on the Bassmaster Elite Series and David Dudley of Lynchburg, Virginia, on the former FLW Tour, which is now the Pro Circuit. Both are members of the Mercury Pro Team.
"Those were my guys. I always pulled for them," Becker said. "I watched every television show and read every magazine. I knew I wanted to fish against them one day."
Becker got the opportunity to fish against Dudley in 2018 and actually "became pretty good friends with him," Becker said. They competed against each other when Becker made the jump to the FLW Tour. Becker fared well, finishing 32nd in the standings – six spots ahead of Dudley – and winning the Rookie of the Year title. In 2019, Dudley won the Angler of the Year title while Becker continued to improve, finishing in 14th.
2019 was also the year Becker transitioned to fishing full time.
"This all couldn't have happened without my family and supporters. I was working for a company – Precision Copy Products – that took me in, gave me a good job and all the time off I needed to fish tournaments, get better and prepare for the move to competing full time. I worked there until my second year on Tour, but since then it has been 100% fishing."
In addition to winning a major tournament, 2021 has seen Becker achieve his childhood goal of competing against VanDam. The MLF Bass Pro Tour, where VanDam and Dudley now both compete, made four spots available in each 2021 event for the top Pro Circuit anglers. For finishing fourth in the 2020 Pro Circuit standings, Becker earned the right to compete in Bass Pro Tour Stage One in March on Sam Rayburn Reservoir in Texas. He finished 23rd – three spots behind VanDam. Mercury Pro Team member Ott DeFoe won the event. 
"We actually shared a fishing spot on Rayburn," said Becker of VanDam, "which was very cool. I was catching a lot of small fish on Rayburn and getting pretty frustrated. My boat official was giving me updates on how VanDam was doing, and that was fun. I was ahead of him for most of the day, but he pulled ahead at the end."
Thanks to this win at Lake Murray, Becker will get the opportunity to compete against Dudley and VanDam again. Becker earned his spot in Bass Pro Tour Stage Four on Lake Chickamauga June 4-9. He will compete along with three additional Mercury-powered anglers from the Pro Circuit: David Williams, Tai Au and Evan Barnes.
To do well in that event, and any future event for that matter, Becker knows he will have to make adjustments as the event goes on.
"Growing up fishing a tough fishery like the Three Rivers of Pittsburg, I developed a lot of mental strength," Becker said. "You don't get a lot of bites there, and the fish are not big. In the tournaments I do the best in, I make adjustments during the event and rely on my mental strength."
Lake Murray is a good example. Becker planned to start day one targeting docks and sight-fishing for spawning bass once the sun got up. But, before doing that, he wanted to test a risky strategy of fishing points where blueback herring were spawning. The gut call to try that pattern worked. Becker kept hitting and re-hitting as many points as possible, knowing that eventually, the schools of bass would move shallow to feed. He caught a big bag that first day and stuck with the strategy the remaining three days.
Becker estimates he started his Mercury 4.6L V8 250hp Pro XS outboard 100 times each day while moving from spot to spot. He would stay on a lot of points for less than five minutes and make five or so casts before going to the next one.
"It was a lot of work," he said. "I am exhausted.
"The spot I caught them day two, I had fished three times before I caught them," added Becker. "I knew the fish were there, but I rotated through multiple times and never had a bite. Then I came back, and they were there, and they were eating. I went from zero to 14 pounds in minutes."
The next event for Becker and the Pro Circuit anglers will be at Lake Eufaula in Eufaula, Alabama, May 13-16.
Throughout the season, anglers are also vying for valuable points in hopes of qualifying for the 2021 Tackle Warehouse Pro Circuit TITLE presented by Mercury. The TITLE is the Pro Circuit championship, where the anglers will compete for up to $235,000 on the Mississippi River in La Crosse, Wisconsin, on Aug. 17-22.
You can follow Mercury Pro Team member Matt Becker on Facebook, Instagram and YouTube, or at MattBeckerFishing.com.
Photo Credit: Charles Walsdorf