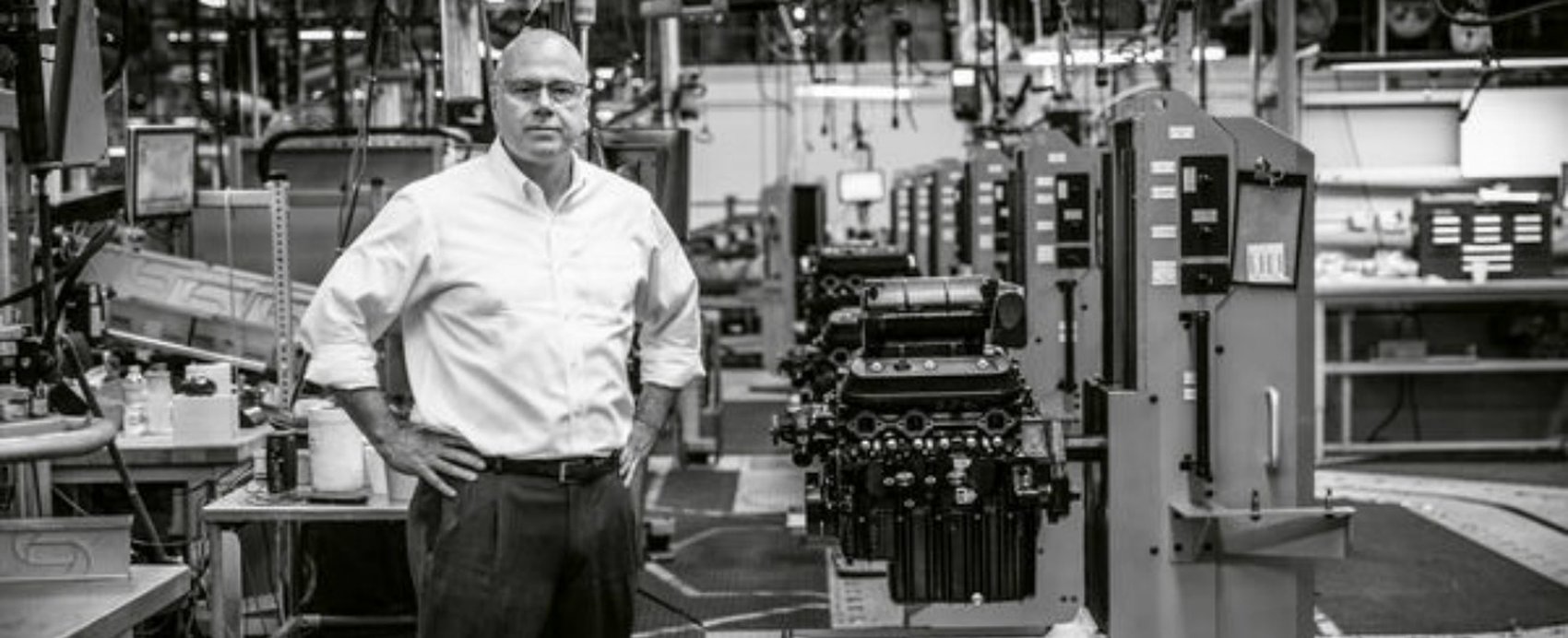 When it comes to marine technology, Mercury Marine is on the cutting edge of innovation, and Vice President David Foulkes is charged with keeping it that way. A graduate of the Imperial College, London, with a Bachelor of Science degree in Aeronautics and a Masters in Fluid & Structural Mechanics, David spent 18 years in engineering, design and development roles with the Ford Motor Company prior to joining Mercury in 2007. In his current role, he is responsible for Mercury Marine's engineering and advanced technology development activities in the areas of marine engines, propulsion systems and HMI/controls. In the decade he has been with Mercury, he has led the teams that have delivered a number of very successful new products, including the 150hp FourStroke, 75-115hp outboard platform, revolutionary MerCruiser gas sterndrive engines completely designed in-house, high-speed diesel engines, and Mercury's suite of advanced control systems and helm components. David also has overseen a major expansion of Mercury's engineering facilities.
We asked the David to talk about inspirations from his past and how Mercury must keep evolving to serve the "connected user" of the future.
Q: What is your inspiration for innovation and design?
A: "In the latter portion of my career with Ford, I became an engineering and design director, so I was integrating a lot of technologies into the vehicles at the same time as keeping as much as possible of what the designers intended. In the end, I found that with enough effort and collaboration, you can merge the functional requirements and the design requirements and actually come up with something that's even better than the original intent.
"I've always been really inspired by things that perform well in whatever way they're expected to perform, but look and feel really good. It's a big deal how you sit in a car, and how you feel when you touch the controls, and the controls are smooth and elegant, and precise; all those things are important…. I always say to the engineers who work for me, if you wouldn't be proud to have this on your coffee table, you shouldn't be designing it. There's just an elegance about good design. You can just tell when it's good.
"Very recently, we put out the Mercury 115 Pro XS. I think that's one of the nicest looking outboards I've ever seen. And the performance is fantastic. For me it's just right; it's a just-right product. There are almost no other outboards out there that are smooth and continuous. It's shapely any way you look at it. The vertical red stripe graphic is like a celebration of the form. We said, 'We are the only ones who can deliver this graphic treatment because the basic form is so good.'"
"If you wouldn't be proud to have this on your coffee table, you shouldn't be designing it."
Q: How is emerging technology going to affect the marine industry, which has a reputation for being a little backward at times?
A: "I think in some ways the marine industry has trailed the auto industry, and in other ways, it's ahead of the auto industry. The fact that we can now move a boat directly sideways and spin it, that's something where we were there first. What I don't think we do as well yet as automotive is to integrate it all. That's where Mercury can play a huge role.
"For example, the joystick is a huge deal; our Active Trim systems are a huge deal. Those kinds of things gradually declutter the helm and give it a more integrated feel. Also, with the VesselView Mobile app that really brings the benefits of connectivity to the boater, we leveraged the fact that everybody now carries around in their pocket a tremendously powerful computer, their smartphone. Within three months of launching the app in English, we had it in 12 languages.
"We can expect more and more connectivity and progressive levels of autonomous operation as we go forward."
Q: How do you think the "connected user" will continue to evolve in the future?
A: "I think one of the challenges for the boating industry is engaging younger and younger consumers. The expectations for connectedness and timeliness of information and integration of information, for immediacy – being available now, easy to understand – no manuals, and convenient…. The demands are coming at us.
"Watching a teenager use electronics is a very educational experience. They are so quick; they make mental leaps around things; they use it like an extension of themselves. And that's the expectation as we go into the future. It's not as if this is some discretionary journey. The pace is set – we have to stay ahead of our competition."
Q: How do you think what you are working on today will impact future generations?
A: "More and more in the technology world, we contribute by integrating new technologies in thoughtful ways that make our products more intuitive and usable. We are all, as they say, 'standing on the shoulders of giants'. Everybody makes enhancements by making connections between technologies that already exist, and some people make connections others don't see. They are taking a piece of technology and recombining it in ways that nobody ever thought of before."
Q: What do you think will be your legacy of innovation?
A: "I think I have had the good fortune to be here at Mercury when there was an incredible group of engineers and designers and talent in other functions as well who listened closely to their customers and were able to execute some inspired designs and integrate technology in a way that hadn't happened before, and moved us forward in a pretty stiff competitive environment. I'm just a part of it."