Mercury Pro Team member Caleb Kuphall scored a dominant wire-to-wire victory in the Bassmaster Elite Series event at Lake Guntersville held May 20-23. He tallied a four-day total weight of 85 pounds, 14 ounces.
The second-year pro from Mukwonago, Wisconsin, won by an eye-popping margin of 17 pounds, 14 ounces – the second-highest margin of victory in Elite Series history. Kuphall is only the 11th Elite angler to win by a double-digit margin.
The humble fishing guide from the outskirts of Milwaukee became the first Bassmaster Elite Series angler from the Badger State to hoist a blue trophy overhead.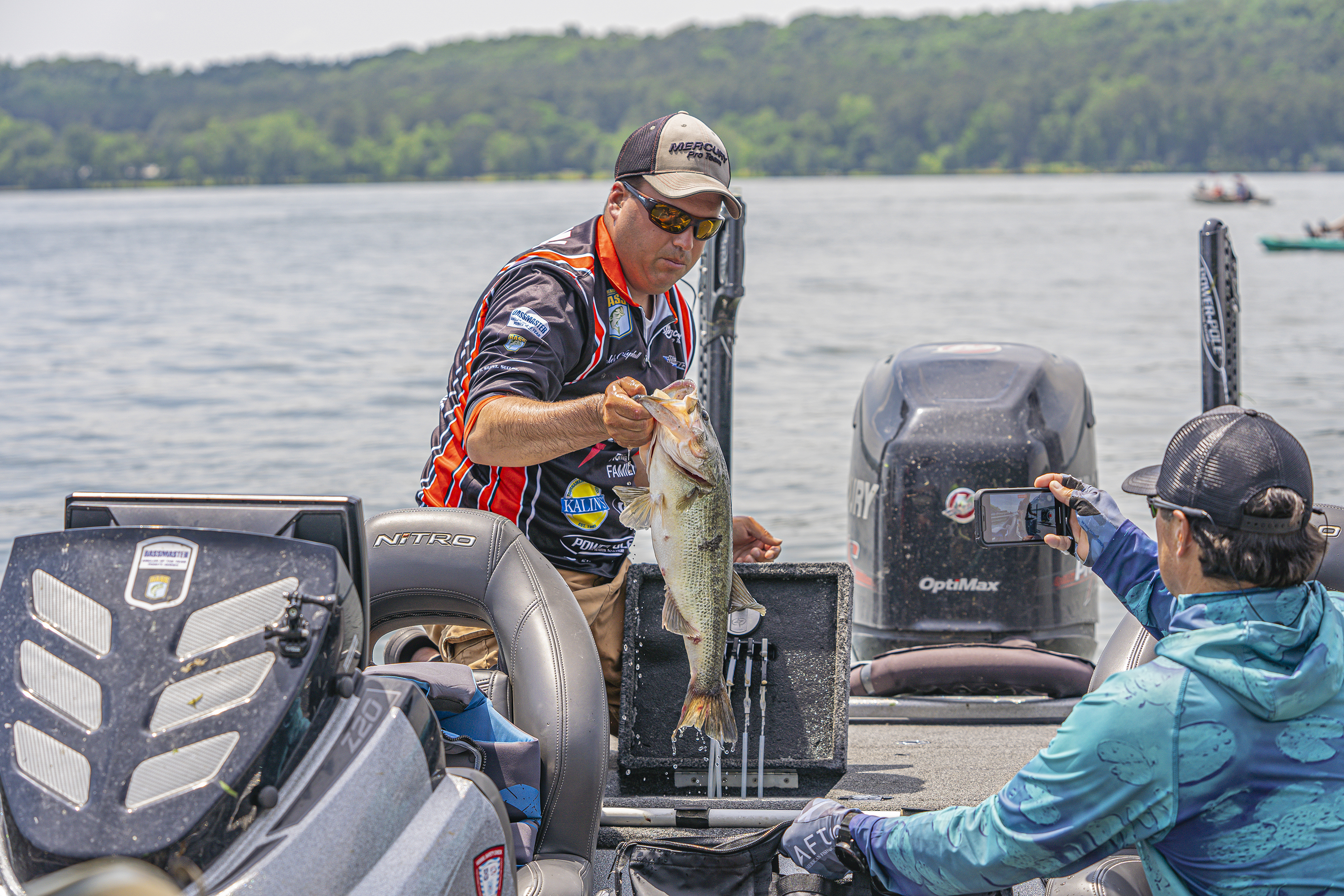 Kuphall's opening-round performance of 27-10, the heaviest bag of the tournament, gave him a nearly 6 1/2-pound early lead. The big start allowed him to endure a slower day two in which he weighed in only 15-19. Kuphall caught the second-largest bag of the event, 23-9, on day three, and then, for good measure, weighed the heaviest five-fish limit on Championship Sunday, 19-1, to win by the massive margin. For the win, Kuphall collected the top prize of $100,000.
"Having as much of a lead as I did, it was very nerve-wracking because you don't want to blow it," Kuphall said. "You're like, 'I've got this lead, and if I blow it, it's a catastrophic train wreck.' I kind of just rode that wave."
Kuphall caught all his bass flipping and punching shallow vegetation. In a tournament that saw competitors trying a wide range of springtime tactics, he kept it simple and stuck to a fundamentally sound game plan that helped steady his nerves.
"I don't generally get really nervous when I'm out fishing," he said. "Throughout today (the final day), I felt totally calm because I just had two areas, so I didn't really have a lot of decisions to make. I wasn't going to do anything crazy, and luckily it worked out."
Kuphall's first area was a vast milfoil field just outside the takeoff site at Goose Pond. When his first area slowed, Kuphall ran up the lake to the east side of an island just below the B. B. Comer Bridge. That second spot comprised two large sections of matted grass with scattered patches of floating weeds. The area reminded Kuphall of the lakes he fishes in Wisconsin.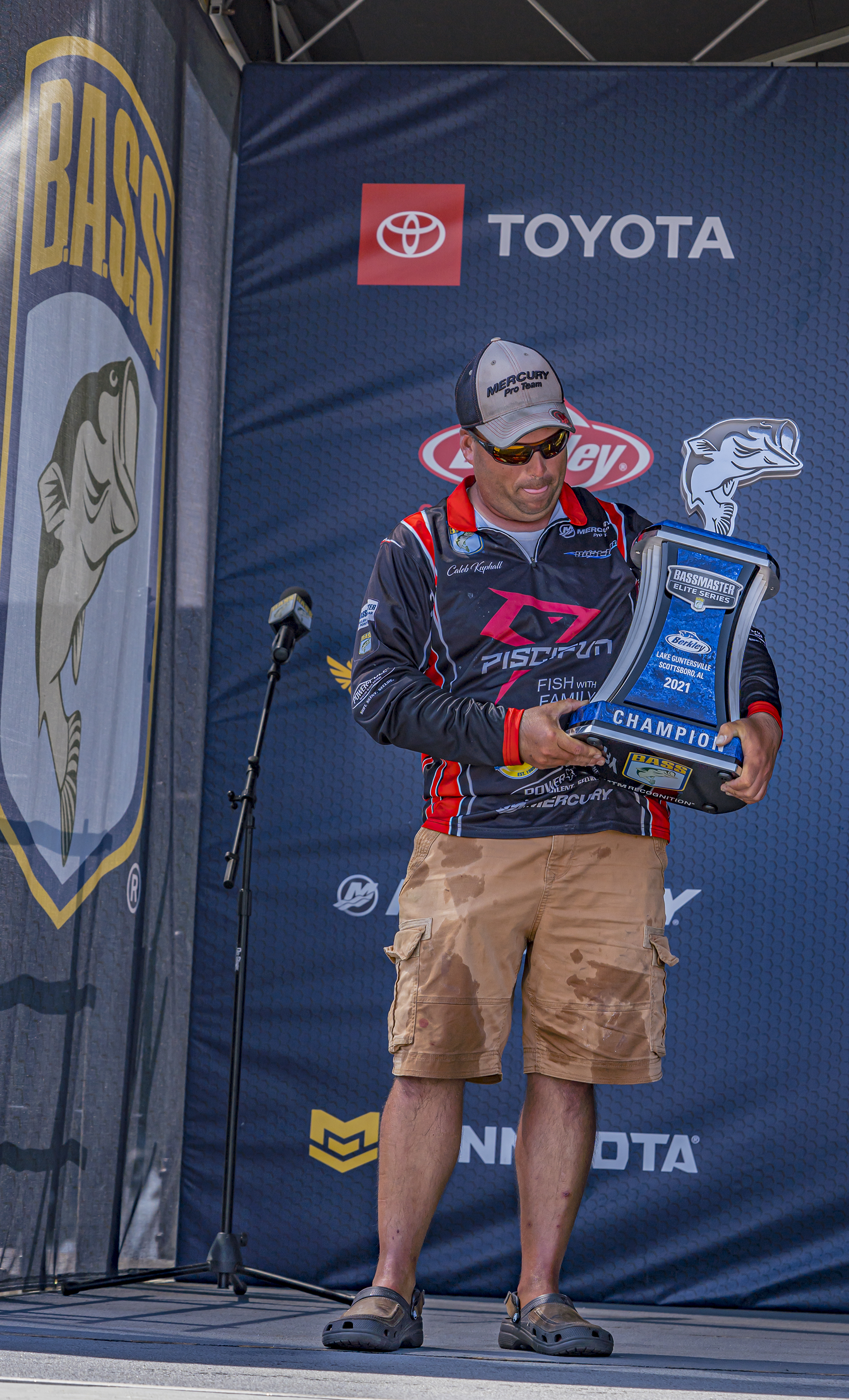 Reflecting on his first career Elite Series victory, the 38-year-old Kuphall said winning against a field peppered with anglers he has admired for years made the victory especially rewarding.
"It's absolutely amazing," he said. "To beat this caliber of anglers is unreal. I've looked up to a lot of those guys like Jason Christie and Greg Hackney (also top-10 finishers) over the years, and to fish against those guys is crazy to begin with. To hold a blue trophy — I never thought it would happen this early in my career.
"After fishing the Elites for a year and a half now, I kind of had an idea that a win may happen eventually if I could stay in it long enough," Kuphall reflected. "Your game plan has to be absolutely perfect; you have to be on just the right stuff, catch all your bites and have a little luck to go with it."
Maybe there was some luck involved here or there, but with a margin of victory of nearly 18 pounds, Kuphall showed the bass fishing world he has the skills and the makeup to win at this level.
The $100,000 prize comes at just the right time. Get to know Caleb a little more in this video. 
Mercury Pros Strong in Angler of the Year Standings
Mercury Pro Team angler Seth Feider, of New Market, Minnesota, came into the event with a big lead in the Bassmaster Angler of the Year standings. He finished 24th at Guntersville and now holds a 48-point lead with two regular-season events remaining. The Angler of the Year title would be the first of his career if he can finish out the season atop the standings.
With his win at Guntersville, Kuphall moved up to 33rd in the Bassmaster Angler of the Year standings, which puts him inside the qualification line for the 2022 Bassmaster Classic to be held on South Carolina's Lake Hartwell.
Mercury-powered pro Bryan New, of Belmont, North Carolina, leads the Rookie of the Year standings with 457 points. Mercury-powered pros KJ Queen (449), Josh Stracner (421), Matt Robertson (413), Justin Hamner (389) and Marc Frazier (384) are within striking distance of the title.
The next event for the Bassmaster pros is the 51st Bassmaster Classic in Fort Worth, Texas, June 11-13. The tournament was rescheduled from March to June. Mercury pro Hank Cherry will attempt to defend his title on Lake Ray Roberts.
Fans can check out the new Mercury 7.6L V12 600hp Verado® outboard at the Bassmaster Classic Expo each day at the Will Rogers Memorial Center and cheer on Team Mercury at the Dickies Arena weigh-ins. All events are free to the public.