Unbeatable Savings on the 3.5 to 150hp FourStroke Range
Three deals on FourStrokes!
Mercury is pairing unbeatable engines with unbeatable offers
The sun is starting to break through so to help get everyone back on the water for a stunning summer, Mercury is – for the first time – offering a trio of great deals across its amazing FourStroke range from 3.5-150hp.
Deal 1 - Save up to $900 on 3.5-60hp FourStroke engines.
Deal 2 - Free SmartCraft rigging on 75-150hp FourStroke engines.
Deal 3 - No Deposit 4.99% Mercury Finance on 40-150hp FourStroke repower.
Even better, the mighty 150hp ProXS is included in Mercury's summer deals for the first time, as are all SeaPro and ProXS models in the relevant horsepower categories.
When repowering with 40-150hp FourStroke during the program, customers can pair the fantastic saving with a first class No Deposit 4.99% Mercury Finance rate.
All three deals only run until 18th November 2019, so move fast if you want to secure your saving.
Purchase a new Mercury FourStroke from 3.5hp to 150hp and get incredible savings! Also get fantastic financing with low weekly payments.

Free SmartCraft Rigging on 75-150hp FourStroke engines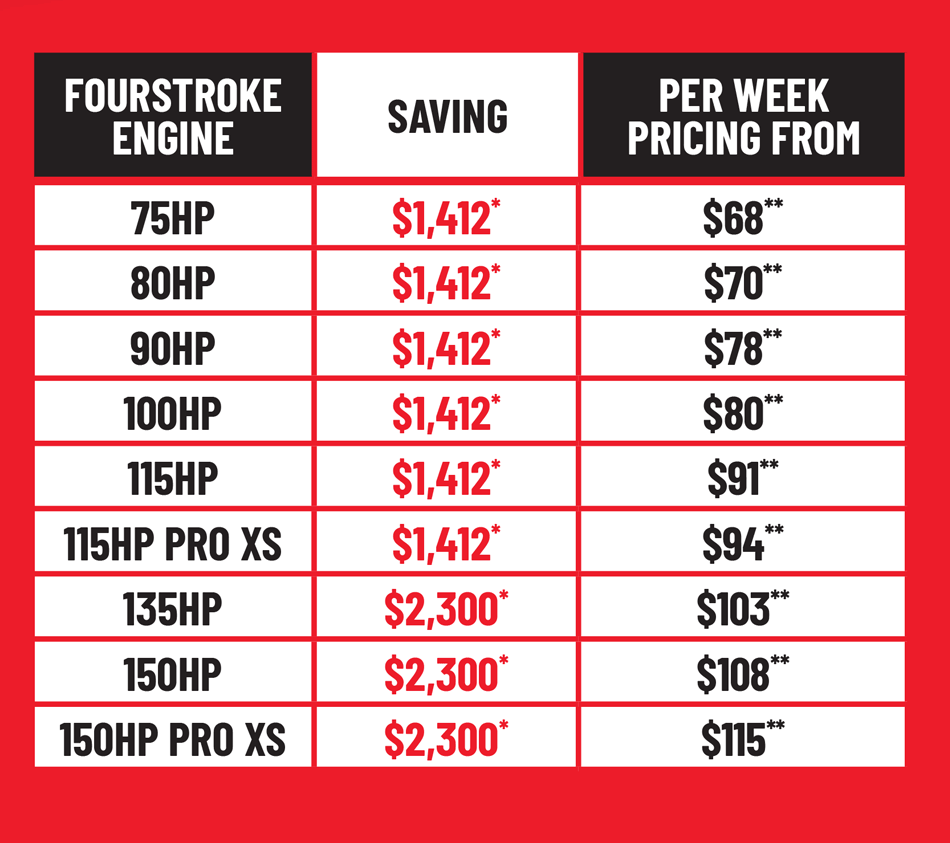 Find a participating dealer
Eligible Models