Mercury News
Oct. 11, 2021
Bold Move Pays Dividends For Melbourne Marine Centre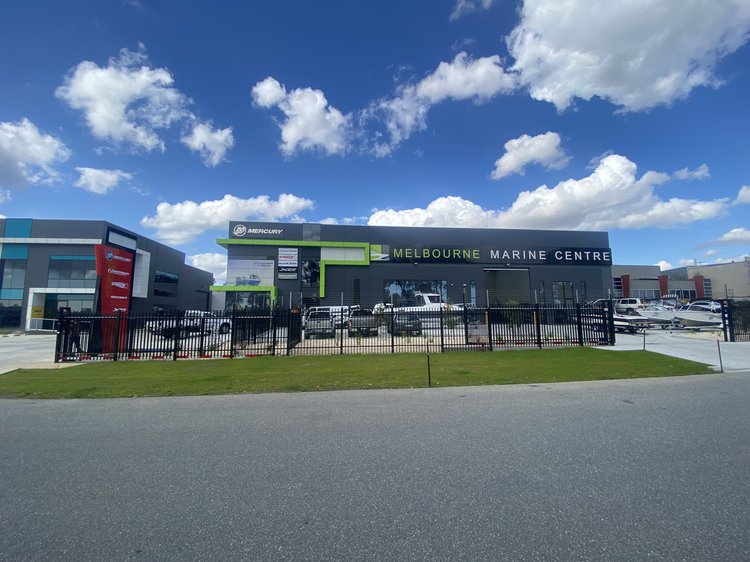 A decision to move to bigger and brighter premises for Melbourne Marine Centre is paying off - with demand for product almost three times higher than in their last location.
When Andrew Stephen and Robert Cuming opened the Melbourne Marine Centre dealership in January 2015, it was in a 650sqm space in Dandenong South.
Just five years later, Melbourne Marine has now moved into a bigger, purpose-built facility - 5kms down the road. Their showroom alone is the size of their entire previous facility.
It's a story of success, and high demand, that Andrew credits to his passionate staff, the quality of the boats and the Mercury engines.
"All of our staff are passionate fishers and boaters - from the sales consultants up front, the team out the back in the workshop or the staff upstairs who sell fishing tackle and boating accessories," Andrew said.
"I think you have to be in this industry. We can confidently talk about the products that we're selling or servicing and speak to the quality."
According to Andrew, his breadth of knowledge and experience in the marine industry meant that he was set on selling Mercury engines before he even opened Melbourne Marine.
"I had many experiences using Mercury engines for throughout my boating life. The brand has been around for a long time and has a strong reputation of reliability and innovation," Andrew said.
"I've always been impressed by the amount of investment that is put into research and developing new product – the engines really are market leading.
"There's a Mercury engine to fit any type of boat that we sell. And the engines tick every box for fuel economy, reliability and quietness.
"But, probably the most exciting thing for customers is the instant power they experience when testing and using the Mercury engines."
According to Mercury's Director of Sales, David Meehan, the relationship with Melbourne Marine is one that Mercury is proud to have.
"Melbourne Marine have raised the bar from both a sales and service perspective," David said.
"They serve a critical growth area for us in Melbourne's southeast. They act as a one stop shop for boaters in Port Phillip and Westernport with a huge chandlery and tackle centre.
"They offer a large range of big-name boat brands like Northbank, Stacer and Skicraft, and they're all powered by Mercury engines."
The crew at Melbourne Marine has been working flat out since the move, to make sure they meet demand, but they're confident that demand will only get higher as they move into the summer season.
"With Australians spending less on overseas holidays, they're coming to realise that there's enormous potential for adventure just on their doorstep. We're seeing this reflected in the boating market and the demand for product here – particularly with more people looking to buy family style boats," Andrew said.
"Being out with your family and friends on the water is one of the most immersive ways you can spend time together without the distractions of modern life. It's nice to know that we're providing our customers with reliable, fun and safe boats and engines so they can make the most out of their adventures."