Mercury News
Aug. 30, 2021
An Exciting New Era for Lewis Boats and MerCruiser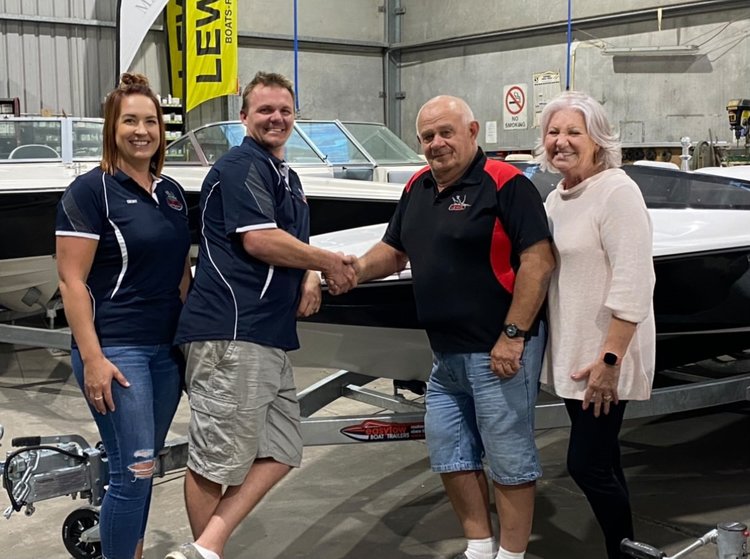 Late last year, Nathan and Ebony Dark went to buy a new water pump from Steve Parker at Lewis Boats on the NSW Central Coast.
They ended up buying the whole business.
According to Nathan, working for himself was always a dream – but he never expected to own Lewis Boats.
"My parents owned a Lewis Boats dealership, which started my passion for boating early in life. I married Ebony who, similarly, had a hobby for all things boats and we ended up selling second-hand Lewis Boats for the last fifteen years" Nathan said.
"So, when Steve mentioned that after 55 years of owning the business that he was ready to hand over the reins, it ended up being a no brainer for us."
Lewis Boats is Australia's oldest ski boat manufacturer, established in the early 1930s. The company prides itself on quality designs and 'sports car handling' in their boats.
Having taken ownership in April, Nathan and Ebony face the daunting task of continuing the legacy that Lewis Boats has built as a leader in ski and wakeboard boats.
But one thing they don't have to worry about is the quality of the engines they use in all their boats, with Mercury's muscular 6.2 litre V8 MerCruiser inboard providing the power in both 320hp and 370hp outputs for their centre and rear-mounted installations.
"These engines are unreal," Nathan said.
"We exclusively use MerCruiser engines in our boats because they're an incredibly strong piece of machinery with huge torque and acceleration to get you on plane quickly and smoothly.
"Mercury is a company that is as well-known in the boating community as Lewis Boats. They build reliable, fast and fuel-efficient engines – there's a reason they're so well known.
"Our favourite thing about Mercury is that they have tonnes of dealerships around Australia. It means people can come from around Australia and buy our boats and go home, confident that their engine is in good hands no matter where they are."
The unstoppable combination of the Lewis Boat designs and MerCruiser power proved to be too good to refuse for one recent customer.
"We took someone out for a test drive; he was looking to upgrade from an older version to our new family style bowrider," Ebony said.
"He had brought all of his ski equipment, ready to get behind the boat and have a go. But just by sitting in the passenger seat he was so impressed by how fast and smooth the boat was. He ended up being sold on the boat before he even got into the water.
"He went home completely dry that day!"
Mercury MerCruiser
Mercury MerCruiser is the undisputed leader in marine power and technology. Robust manufacturing, gruelling lab, endurance and open-water testing means durability and performance that others can only dream about. Combining ultra-responsive acceleration, impressive manoeuvrability and superior durability you can do it all, and never look back. Other notable features:
Systems designed, tested and built exclusively for the marine environment
Best-in-class reliability, dependability and long-lasting performance
Patented metallurgy technology and state-of-the-art electronics
Emissions Control Technology that helps you run cleaner with less environmental impact
Three-year corrosion warranty and two-year limited warranty
Nathan and Ebony are now working to modernise their boats, over the next few years they'll be redesigning the boat moulds, creating new colour schemes and adding new technology too.
"We are immensely proud to be able to continue Steve's work of creating quality boats that are 100% Australian owned and built," Ebony said.
"To build these boats entirely from our warehouse from scratch - interiors, seat bases, stickers and all - means that we have a fast turnaround for our products. It's something that's really important to us."
Owning Lewis Boats has been a big task so far. So, to unwind, you'll usually find Nathan and Ebony out on the water with their three kids, skiing and test driving their newest builds and enjoying the water.
To learn more about Lewis Boats, click through to their website here. To find out more about the Mercury MerCruiser, head to your nearest Mercury dealer or click here.