Engineered for Commercial Duty
Season after season, these durable, easy-to-maintain SeaPro two-stroke commercial motors deliver reliable starts, improved fuel efficiency, and protection against fuel-quality problems. Calibrated to reach maximum torque at lower rpms, they provide more power with less stress on the motor. Get on plane faster – and stay there longer at lower speeds.
Engine Information and Specifications
Engine Details

Validated to three times the engine life of a recreational engine. For commercial fishing vessels, commercial workboats and law-enforcement boats.

Specifications - 60

HP / kW
Engine type
MidSection
Displacement (CID/CC)
Displacement (L)
Cylinder Configuration
Full throttle RPM
Air induction
Fuel induction system
Alternator amp / Watt
Recommended fuel

87 octane / up to 10% ethanol
Pre-Mix 50:1

Recommended oil

Mercury Premium 2 Stroke Outboard oil

Engine protection operator warning system
Compatible with SmartCraft digital technology
Starting
Controls
Steering
Shaft length

20" / 508 mm
22.5" / 572 mm

Gearcase ratio
Dry weight *Lightest model available
CARB star rating
Emissions Star Rating
Bore and stroke
Ignition
Fuel system
Propane Tolerance
Cooling system
Gear shift
Gearcase options
Trim system
Trim positions
Exhaust system
Shallow water drive
Shallow water trim range (degrees)
Integrated fuel tank (gal / L)
Remote fuel tank (optional)
Optional fuel tank (gal / L)
Remote fuel tank standard (gal / L)
Counter Rotation
Color
Flush system
Pump type
Impeller diameter
Impeller type
Lubrication system
Oil Capacity
Oil Injection
Maximum Trim Range
Maximum Tilt Range

Specifications - 25

HP / kW
Engine type
Displacement (CID/CC)
Full throttle RPM
Fuel induction system
Alternator amp / Watt
Starting
Steering
Shaft length

15" / 381 mm
20" / 508 mm

Gearcase ratio
Dry weight *Lightest model available
Bore and stroke
Cooling system

Water-cooled with thermostat & pressure-controlled

Gear shift
Trim positions
Exhaust system
Color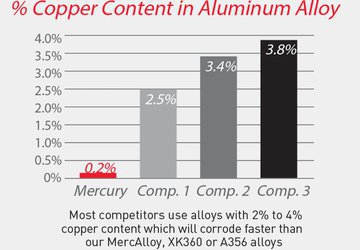 Corrosion Resistance
Mercury's proprietary formula – XK360, is an extremely low copper content aluminium alloy, which leads the industry in corrosion resistance. This makes costly corrosion failures and high labour bills a thing of the past. Most competitors use alloys with 2% to 4% copper content which will corrode faster than our MercAlloy, XK360 or A356 alloys.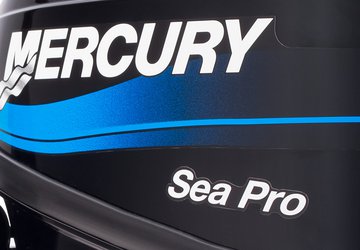 The Power You Need.
25hp SeaPro two-stroke motors come with capacitor discharge electrics for increased charging output, more durability and reliability.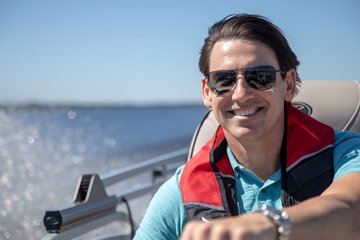 Request a Quote
Your local Mercury Marine dealer can help you find the right engine for your needs.

Documents
Brochures
Take a deeper dive into what makes Mercury outboards stand apart with detailed information on each motor and the features that make them unique.