Mercury® MerCruiser®
4.3L
Fly Out of the Gate
Power and acceleration that gets you to top speed in no time.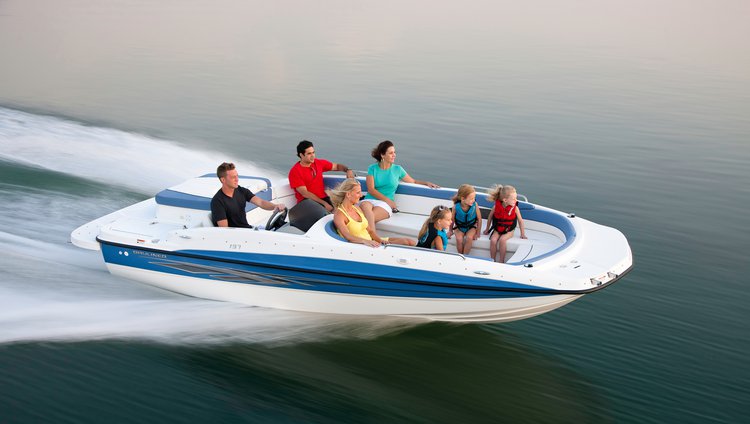 Total Versatility.
Alpha® or Bravo® drive? Single or twins? MPI or carb? Whether your vessel is a bowrider, cuddy, pontoon or houseboat, it's easy to configure the perfect 4.3L sterndrive power package for long-range, reliable fun.
Smooth Running.
The MPI system fine-tunes the fuel-to-air mixture in the combustion chamber, delivering ultra-smooth operation from idle to wide-open throttle. Mercury's engineers achieved outstanding Noise / Vibration / Harshness (NVH) levels in the 4.3L. Power steering is standard, providing you complete and effortless control.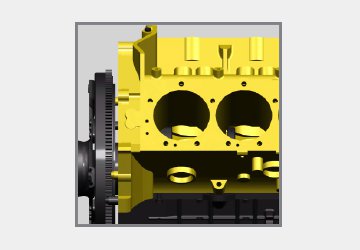 Durable.
Longevity is built in, from the cast-iron block and closed freshwater cooling system to the MercFusion-process electro-deposition paint. MerCathode®, an active cathodic anti-corrosion system, is standard with Bravo® drives. SeaCore®, which protects core components with hardcoat anodizing, also is available with Bravo.
Specifications
Mercury® MerCruiser®: 4.3L
HP / kW
Maximum RPM (WOT)
Engine type
Displacement (L)
Bore and stroke

4.00 x 3.48 / 101 x 88 mm

Compression ratio
Fuel requirement
Fuel delivery system

Multi-point Electronic Fuel Injection (MPI)

Air induction

Two-piece long runner intake with 75 mm throttle body (80 mm w/DTS)

Ignition

Crank fired high voltage switch with knock control

Alternator amp / Watt
Water drain system

Single point manual drain (Alpha)
Three-point manual (Bravo)

Exhaust system

Iron manifolds with electro-deposition paint coated dry joint exhaust elbow

Cooling system

Raw water
Thermostatically controlled

Accessory drive system
Recommended oil

NMMA Certified FCW 25W-40 Synthetic Blend

Engine guardian system

High coolant temperature
Knock control
Low drive lubricant
Low oil pressure
Low voltage
Over-rev

Dimensions (L x W x H)

28 x 30 x 22" / 696 x 740 x 559 mm

Weight (engine only)
Compatible drives

Alpha
Bravo One
Bravo Three
Bravo Two

Print Compare With Other Products Request a Quote

HP / kW
Maximum RPM (WOT)
Engine type
Displacement (L)
Displacement (CID/L)
Recommended fuel

Unleaded Regular 87 Octane Minimum (R+M/2) or 90 RON 10% Ethanol Maximum

Fuel ethanol tolerance
Fuel delivery system

2V carb with turn-key start and electric fuel pump

Water drain system
Cooling system

Thermostatically Controlled Raw Water - 143F

Accessory drive system
Recommended oil

NMMA Certified FCW 25W-40 Synthetic Blend

Engine guardian system

High coolant temperature
Low drive lubricant
Low oil pressure
SmartCraft Engine Guardian

Weight (engine only)
Compatible drives

Alpha
Bravo One
Bravo Three
Bravo Two

Print Compare With Other Products Request a Quote

HP / kW
Maximum RPM (WOT)
Engine type
Displacement (L)
Bore and stroke

4.00 x 3.48 / 101 x 88 mm

Compression ratio
Fuel requirement
Fuel delivery system

Multi-point Electronic Fuel Injection (MPI)

Air induction

Two-piece long runner intake with 75 mm throttle body

Ignition

Crank fired high voltage switch with knock control

Alternator amp / Watt
Water drain system

Single point manual drain

Exhaust system

Iron manifolds with electro-deposition paint coated dry joint exhaust elbow

Cooling system
Accessory drive system
Recommended oil

NMMA Certified FCW 25W-40 Synthetic Blend

Engine guardian system

High coolant temperature
Knock control
Low drive lubricant
Low oil pressure
Low voltage
Over-rev

Dimensions (L x W x H)

28 x 30 x 22" / 696 x 740 x 559 mm

Weight (engine only)
Compatible drives

Print Compare With Other Products Request a Quote