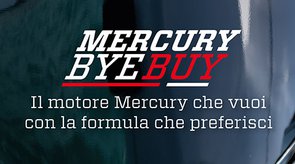 The Engine you want with the formula you prefer
Mercury ByeBuy
Best: pay an advance and repay your engine in convenient monthly installments, after three years choose the best formula for you: you can replace it, keep it by paying the remaining amount or return it.
Young: you can have an engine always "Young - Young" and updated with the latest Mercury technologies.
Easy: Mercury ByeBuy is the simplest formula ever to enter the Mercury world.
Advertising message for promotional purposes. For pre-contractual information, at the point of sale, ask for the document "Informazioni europee di base sul credito ai consumatori" (SECCI) and a copy of the contractual text. Except for Agos Ducato S.p.A. The MERCURY dealer network operates as a non-exclusive credit intermediary. The reimbursement will take place in an initial period in installments and subsequently with the payment of a Maxirata. At the end of the first period you can decide whether to pay off the Maxirata (Maxirata Option) or pay the installments, making a request to Agos within 45 days of the expiration of the same period . An advance payment is required. In the event of a Maxirata Option, the participating Dealer offers you the possibility of returning the engine or replacing it under the conditions and within the limits specified in the documentation regulating the MERCURY "Valore Futuro Garantito" initiative, providing, in this case, for the payment of the Maxirata ( coinciding with the so-called "Guaranteed Future Value"). Program available for 40 horsepower outboard engines.
Offer valid from 1 October 2019 to 31 July 2020.
Finanziamento erogato da AGOS.