Gauges & Displays
VesselView Mobile
Connect with your engine like never before
VesselView Mobile wirelessly connects your engine to your mobile device, giving you unique insights and details into your Mercury engine*.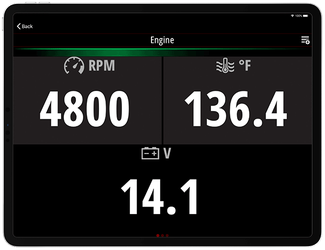 Digital Gauges on Your Device.
The VesselView Mobile app displays key data for one to four engines on your smartphone (Android® or Apple® iPhone®). Keep track of your fuel usage, engine temperature, battery life, rpm – or any other data points you want to see. There are dozens of data points to choose from, and you can customize up to three screens to fit your style. The information provided via VesselView Mobile is much more accurate than most analog gauges. You'll have a much better sense of your true rpm, your fuel burn, your speed, your fluid-pressure levels – anything that can be measured on analog gauges will be more accurate with VesselView Mobile.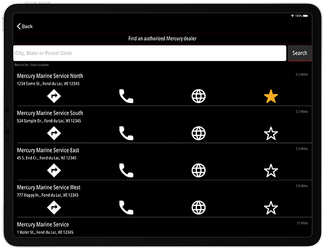 Easy to Install and Set Up.
The VesselView Mobile module connects to any Mercury SmartCraft-capable engine – outboards and sterndrives, 2004 and newer, 40hp and up. Install the module in just a few minutes, connect with the app and you're ready to get on the water! You can even select your preferred Mercury Dealer in the app and share your engine data with them for quick troubleshooting. An optional ROKK® Mini Mount System holds your phone on a secure surface for easy access to data and safe boating. 
Download from the App Store® for iOS 
Download from Google Play® for Android 
Purchase the module or the ROKK mount from your local Mercury Marine dealer.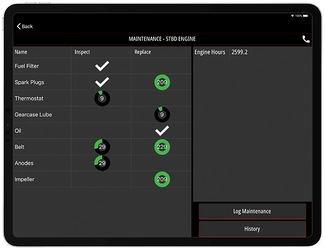 Know What's Going On.
With the VesselView Mobile module connected to your engine you can easily keep track of true engine running hours and know ahead of time when you're due for a regular maintenance interval. In addition to providing information on your engine's performance, VesselView Mobile can even notify you if something isn't right. More than just a series of beeps or a numeric code, VesselView Mobile will tell you in clear language what is going on with your engine. When you select your Preferred Dealer within the app, you can share your data with your dealer, who can then review those alerts and help you keep your engine in top condition.
Have Fun on the Water.
You can enjoy your time on the water with the peace of mind that VesselView Mobile is monitoring the engine. The VesselView Mobile module uses Bluetooth® Low Energy technology to connect with your mobile device, so you can still connect your phone to other Bluetooth devices, such as speakers. The VesselView Mobile app has a map feature that includes local points of interest such as marinas, restaurants, or local bait shops – so you don't need to switch between apps or search manually for them. It also comes with handy checklists, so you don't forget any important items on shore.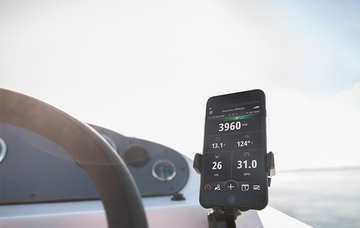 Compatible Engines
*VesselView Mobile is compatible with all SmartCraft-compatible Mercury outboards and sterndrive engines (2004 and newer, 40hp and up). For engine information, including gauge functionality, alerts and maintenance reminders, the module must be installed on the engine(s). The VesselView Mobile module connects to smartphones using Bluetooth technology.