Mercury News
May 1, 2019
Mercury Marine selected as 2019 Top Product by Boating Industry Magazine for its all-new 400hp Verado outboard engine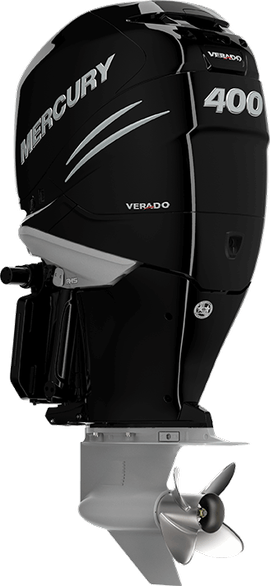 Fond du Lac, Wisc. – Mercury Marine's all-new 400hp Verado outboard engine has been selected as a 2019 Top Product by Boating Industry. The award, which was officially announced today, honors Mercury for its commitment to innovation.
"After testing the new 400hp Verado ahead of its launch, it was very clear to us at Boating Industry that Mercury Marine continues to set new benchmarks not only in the outboard engine segment, but in the marine industry, and the 400hp Verado is no exception," said Adam Quandt, Managing Editor of Boating Industry. "To pack that amount of power in a quiet and lightweight package, the new Verado hits on all marks and is sure to satisfy customers across the board."
The engine, which was officially launched at the 2019 Miami International Boat Show, is the company's highest horsepower Verado-branded outboard engine in its portfolio. Since the launch of the 350hp Verado and the Mercury Racing 400R four years ago, consumers have been requesting a higher horsepower Verado engine, and the response for the engine since its launch in Miami has exceeded expectations.
"We want to thank Boating Industry for selecting our 400hp Verado as a Top Product," said Chris Drees, Mercury Marine president. "We were honored to win for our V6 last year and thrilled to win in 2019 for our 400hp outboard. I've heard fantastic feedback over the past few months, starting with Miami taking us all the way through boating season. Consumers have been looking for an extension of our Verado platform, and our engineers developed another product that will set a new benchmark in the marine industry."
The 400hp Verado is suitable for a wide range of applications, including center consoles, pontoons, bay boats, and larger sport boats. Consumers of these boats will appreciate the added power over and above the 350hp Verado while maintaining the standard for smooth and quiet operation for which Verado outboards are widely known. Weighing just 668 pounds, same as the 350hp Verado, the 400hp Verado is also the lightest outboard in the 400+ horsepowercategory by nearly 300 pounds.