Mercury News
Aug. 1, 2018
Mercury Marine unveils new line of diesel engines that improve performance in the mid-range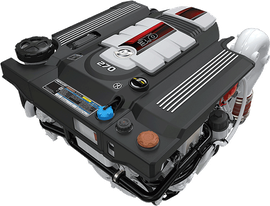 Sydney, Australia — Mercury Marine, the world leader in marine propulsion and technology, today introduced at the Sydney Boat Show, a new line of 3.0-liter diesel engines for sterndrive, inboard and water-jet applications, available in 150hp, 230hp and 270hp. Engineered, developed and tested over the past three years, these new engines will lead their class in several key attributes: acceleration; reliability; ease of installation and maintenance; and mitigation of noise, vibration and harshness (NVH). (In Europe, the 150hp engine node and ratings were specifically designed for Venice taxis and will be available at a later date.)
"We are excited to offer our customers a product line that they can use to satisfy the market demand for diesel power in these key horsepower categories," said Kris Neff, Mercury Marine, vice president of global category management and strategic planning. "There is an active segment of the boating market that require the impressive low-end torque and exceptional durability of our diesel engines, and these new engines enhance our already class-leading portfolio of diesel propulsion systems."
This new line of engines continues Mercury's development of diesel power complying with Tier 3 emissions standards, which aim to reduce diesel engines' effects on the environment.
Significantly, these engines are fully compatible with Mercury SmartCraft technologies, giving users instant access to a broad array of engine-related information and measurements, as well as maintenance alerts and troubleshooting guidance. They also integrate with Mercury's Joystick Piloting for Inboards (JPI) and Joystick Piloting for Sterndrives (JPS), giving the boater enhanced maneuvering control.
"We took an all-new approach to our diesel-engine design for these horsepower categories, focusing on consumer priorities in the global marketplace," said Reinhard Burk, senior director of global sterndrive and inboard categories. "These new FCA-based engines satisfy consumer demand for diesel power that is easy to install, configure, and control; making boating easy and intuitive."
The engine uses a new water-cooled, variable-geometry turbocharger and common-rail fuel delivery to provide exceptional performance and substantial improvements in acceleration and top speeds.
Mercury subjected these engines to intensive testing including "accelerated life" tests that exposed the engines to greater rigors than those that any customer would experience under normal operation. "They're extremely reliable and durable," Burk said. "And because they're integrated into Mercury's global service network, consumers will be able to easily arrange service and repairs."
Mercury's all-new 3.0-lieter diesel engine will be on display at the following boat shows in 2018:
August: Sydney, Australia
September: Genoa, Italy
October: IBEX (Tampa, Florida)
November: Ft. Lauderdale, METS (Amsterdam)
December: Paris, France