Engineered for Commercial Duty
Season after season, these durable, easy-to-maintain SeaPro™ commercial outboards deliver reliable starts and improved fuel efficiency. By generating serious torque at low rpm, they provide more power with less stress on the engine. Get on plane faster – and stay there longer at lower speeds.
Engine Information and Specifications
Engine Details

Pound for pound, it's hard to beat the capabilities of the 25hp SeaPro outboard. Light and efficient, it does more with less, delivering the power, speed and acceleration you need to keep operations running on time with exceptional fuel efficiency. For commercial fishing vessels and commercial workboats.

Specifications - 25

HP / kW
Engine type
Displacement (CID/CC)
Full throttle RPM
Fuel induction system

2 valve single overhead cam (SOHC)

Recommended fuel

87 octane / up to 10% ethanol

Recommended oil

25W-40 Synthetic Blend
Mercury FC-W 10W-30 4-Stroke Marine Oil

Engine protection operator warning system

Low oil pressure
Over-rev
Overheat

Compatible with SmartCraft digital technology
Starting
Steering
Shaft length
Gearcase ratio
Dry weight *Lightest model available
CARB star rating
Bore and stroke

2.40 x 2.24" / 61 x 57 mm

Ignition

CDI w/electronic spark advance

Fuel system

Electronic Fuel Injection (EFI)

Cooling system

Water-cooled with thermostat

Gear shift
Gearcase options
Trim system
Exhaust system
Shallow water drive
Shallow water trim range (degrees)
Color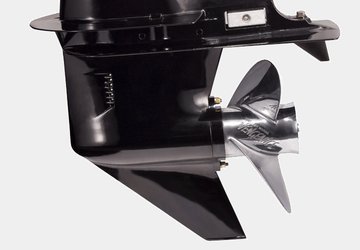 Command Thrust Gearcase
The 60 and 40hp SeaPro engines come standard with the Command Thrust gearcase.  Its larger torpedo, combined with a bigger-diameter prop, can lift a heavy boat onto plane more easily and hold it there at lower speeds without impacting top speed.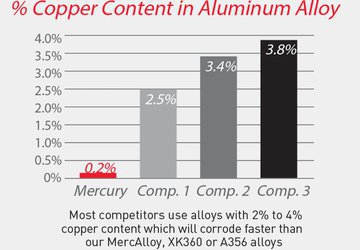 Corrosion Resistance
Mercury's proprietary formula – XK360, is an extremely low copper content aluminium alloy, which leads the industry in corrosion resistance. This makes costly corrosion failures and high labor bills a thing of the past. Most competitors use alloys with 2% to 4% copper content which will corrode faster than our MercAlloy, XK360 or A356 alloys.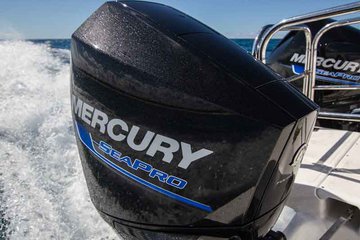 Calculate your fuel savings
The Mercury Fuel Savings Calculator will allow you to easily calculate the possible fuel savings of a Mercury FourStroke SeaPro over a TwoStroke!
Choose how you use your boat, select the TwoStroke and FourStroke horsepower - and our tool will show your potential fuel savings. If you're looking to upgrade or add more power, you can even choose different FourStroke and TwoStroke horsepower options!
Mercury SmartCraft®
SmartCraft compatibility for 25hp and higher SeaPro outboards makes every job easier thanks to intelligent digital gauges, touchscreen VesselView® displays and advanced technologies such as Troll Control and Active Trim, which help you maintain engine speed and optimize performance.