FourStroke
40-60 hp
Held to a Higher Standard
Enhanced fuel injection for boosted efficiency
Engine type Inline 4
Full throttle RPM 5500-6000
Steering Big Tiller Compatible, Remote, Tiller Kit
Dry weight *Lightest model available 247 lbs / 112 kg
Smooth and Strong Performance.
A compact, single-overhead-cam design and long piston stroke give Mercury 40 - 60hp FourStroke outboards more low-end torque for excellent acceleration, even when pushing a heavy load.
The high-displacement, long-stroke, four-cylinder, single-overhead cam design provides optimum power and a smooth ride with Command Thrust models.
Calculate your fuel savings
The Mercury Fuel Savings Calculator will allow you to easily calculate the possible fuel savings of a Mercury FourStroke outboard!
Choose how you use your boat, select the TwoStroke and FourStroke horsepower - and our tool will show your potential fuel savings. If you're looking to upgrade or add more power, you can even choose different FourStroke and TwoStroke horsepower options!
The Big Tiller.
The optional center-mounted Big Tiller offers optimal control. A longer tiller grip incorporates a convenient power trim switch, the shift lever is close at hand, and an optional digital troll control adjusts engine speed as low as 700 rpm in 10-rpm increments.
Turnkey starts / fuel efficiency.
Mercury Electronic Fuel Injection (EFI) delivers reliable turnkey starts, improved fuel efficiency, instant throttle response and protection against low-quality-fuel problems.
Electrical support.
An 18-amp high-output alternator keeps batteries charged and fishing electronics humming.
More Control, Hole Shot and Mid-Range Power.
Increased thrust is delivered by a 2.33:1 gear ratio with 44% larger gears. The desmodromic shifting is ultra-smooth.
A gearcase that sits deeper in the water, a bigger prop with 20% more blade surface, and lower gear ratio provide unmatched thrust, maneuverability and boat lift.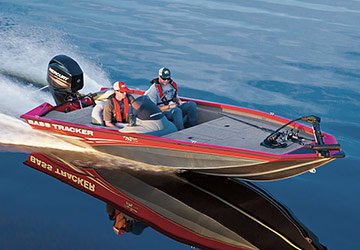 Value
The 60 hp Command Thrust matches the acceleration and fuel efficiency of our competitor's more expensive 70 hp outboard model.
Specifications
FourStroke: 40-60 hp