FourStroke
150 hp
Stronger. Lighter. More Durable.
Massive displacement and the lightest 150 hp four-stroke in its class
Engine type 8-valve single overhead cam (SOHC), Inline 4
Displacement (L) 3.0
Full throttle RPM 5000-5800
Steering Big Tiller Compatible, Dual cable mechanical, Electro-hydraulic power steering optional, Hydraulic power steering
Dry weight *Lightest model available 455 lbs / 206 kg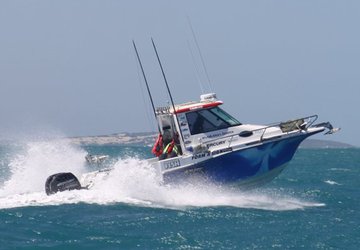 Circumnavigating Australia with Mercury 150 FourStrokes.
Mark Ratchford is calling it his 'huge adventure' which might be an understatement - considering he spent four months on a solo 16,500 km (10,000-mile) circumnavigation of Australia in a 6.5 metre (21-foot) fishing boat powered by twin Mercury 150 FourStroke outboards.
Performance, Durability, Efficiency.
Making 150 horsepower is easy for this 3.0-liter, four-cylinder, single-overhead-cam engine. Its generous displacement lets it churn out power without breaking a sweat. You get exceptional durability and long-term peace of mind.
Compact and Versatile.
It's the lightest 150hp four-stroke outboard on the market. Smart design makes the 150hp Mercury FourStroke nearly 20 pounds lighter than its closest four-stroke competitor, and less than a battery weight heavier than a two-stroke. Potential uses for this engine are endless, including bay boats, boats with poling platforms and pontoons with swim platforms.
Calculate your fuel savings
The Mercury Fuel Savings Calculator will allow you to easily calculate the possible fuel savings of a Mercury FourStroke outboard!
Choose how you use your boat, select the TwoStroke and FourStroke horsepower - and our tool will show your potential fuel savings. If you're looking to upgrade or add more power, you can even choose different FourStroke and TwoStroke horsepower options!
Propped to Perform.
The Mercury Enertia® propeller is the perfect complement to the 150 FourStroke. Designed specifically for large four-stroke outboards with a revolutionary low-diameter/high-blade-area design and cast with the Mercury proprietary X7® propeller alloy, Enertia delivers phenomenal acceleration, top speed and durability.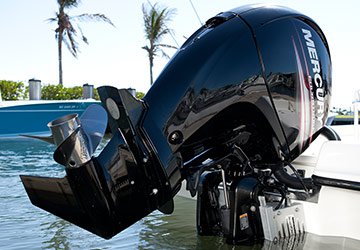 Easy to Maintain.
Rather do it yourself? The no-spill oil-change system, an easy-access fuel filter and a lifetime maintenance-free valve train make the Mercury 150 FourStroke the easiest-to-maintain 150hp four-stroke on the market. Scan a QR code under the cowl to link with step-by-step video demonstrations.
Perfect for Repower.
The compact, lightweight design of the Mercury® 150hp FourStroke engine fits most transoms, including those with narrow engine wells and tight motor spacing. Rig it with mechanical or hydraulic steering, mechanical control and cable systems, and a full complement of analog or SmartCraft® gauges.
Specifications
FourStroke: 150 hp
HP / kW
Engine type

8-valve single overhead cam (SOHC)
Inline 4

Displacement (L)
Full throttle RPM
Fuel induction system

Computer Controlled Multi-Port Electronic Fuel Injection (EFI)

Alternator amp / Watt

60 amp / 756 watt (Belt-Driven)

Recommended fuel

Unleaded Regular 87 Octane Minimum (R+M/2)

Recommended oil

Mercury FourStroke Oil 10W-30

Engine protection operator warning system

SmartCraft Engine Guardian

Compatible with SmartCraft digital technology
Starting

Electric (turn-key)
Smart Start Electric

Controls

Mechanical throttle & shift

Steering

Big Tiller Compatible
Dual cable mechanical
Electro-hydraulic power steering optional
Hydraulic power steering

Shaft length

20" / 508 mm
25" / 635 mm

Gearcase ratio
Dry weight *Lightest model available
Bore and stroke
Ignition

SmartCraft ECM 70 Digital Inductive

Fuel system

Electronic Fuel Injection (EFI)

Cooling system

Water-cooled with thermostat

Gear shift
Gearcase options
Trim system
Exhaust system
Counter Rotation
Color
Lubrication system
Oil Capacity
Maximum Trim Range
Maximum Tilt Range

Print Compare With Other Products