Mercury® MerCruiser®
TowSport Inboards
The Perfect Choice for Towsports
A flawless blend of torque, pulling power, and launch propulsion.
HP / kW 370 / 276
Maximum RPM (WOT) 5000-5400
Engine type V8, 2-valve/cylinder pushrod
Displacement (L) 6.2
Fuel delivery system Computer controlled Multi-Port Electronic Fuel Injection (MPI)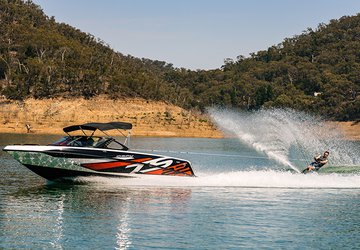 Durable & Reliable.
Electronic MPI technology delivers smooth, quiet and steady idling; instant throttle response; and increased fuel efficiency to help reduce operating and maintenance costs. Engine Guardian, which monitors engine functions and nips potential problems in the bud, is standard.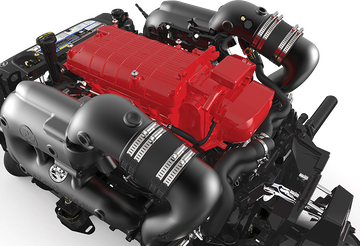 Maximum Torque.
The Mercury MerCruiser 6.2L features a compact, lightweight scroll intake manifold - which improves air flow at low- and mid-rpm ranges. Enhanced air flow optimizes boat acceleration and time to plane, so you can get up to cruising speed more quickly and easily.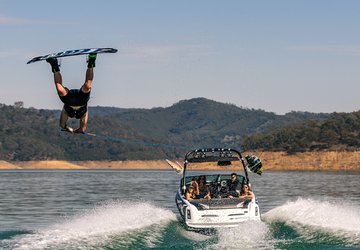 Intuitive Design.
Pair these engines with Smart Tow® and choose from an array of profiles to dial in your ideal launch and cruising speeds. Five pre-set launch controls – from gradual to aggressive acceleration – can be customized to suit the whole family.
Specifications
Mercury® MerCruiser®: TowSport Inboards
HP / kW
Maximum RPM (WOT)
Engine type

V8, 2-valve/cylinder pushrod

Displacement (L)
Bore and stroke

4.0 x 3.75" / 101.6 x 95.25 mm

Fuel requirement

Unleaded Regular 87 Octane Minimum (R+M/2)

Engine control system

SmartCraft PCM 112
Standard SmartCraft with DTS

Fuel delivery system

Computer controlled Multi-Port Electronic Fuel Injection (MPI)

Starting

Electric (turn-key)
Smart Start Electric

Air induction

Performance-Tuned Scroll Intake Manifold

Ignition

SmartCraft PCM 112 Digital Inductive

Alternator amp / Watt

Fully regulated belt-driven 70 amp (882 watt)

Water drain system

Air actuated + two-plug manual drain "Season Extender"

Exhaust system
Cooling system

Optional: Fresh Water Cooling (Closed Cooling)
Water-cooled with thermostat

Lubrication system
Recommended oil

NMMA Certified FCW 25W-40 Synthetic Blend

Engine guardian system

SmartCraft Engine Guardian

Gear shift
Transmission and Ratio

45 C: 1.0:1
45 IV: 1.46:1

Dimensions (L x W x H)

28 x 30 x 22" / 696 x 740 x 559 mm

Weight (engine only)

Print Compare With Other Products

HP / kW
Maximum RPM (WOT)
Engine type

V8, 2-valve/cylinder pushrod

Displacement (L)
Bore and stroke

4.0 x 3.75" / 101.6 x 95.25 mm

Fuel requirement

90 RON 10% Ethanol Maximum
Unleaded Regular 87 Octane Minimum (R+M/2)

Engine control system

SmartCraft PCM 112
Standard SmartCraft with DTS

Fuel delivery system

Computer controlled Multi-Port Electronic Fuel Injection (MPI)

Starting

Electric (turn-key)
Smart Start Electric

Air induction

Performance-Tuned Scroll Intake Manifold

Ignition

SmartCraft PCM 112 Digital Inductive

Alternator amp / Watt

Fully regulated belt-driven 70 amp (882 watt)

Water drain system

Air actuated + two-plug manual drain "Season Extender"

Exhaust system
Cooling system

Optional: Fresh Water Cooling (Closed Cooling)
Water-cooled with thermostat

Lubrication system
Recommended oil

NMMA Certified FCW 25W-40 Synthetic Blend

Engine guardian system

SmartCraft Engine Guardian

Gear shift
Transmission and Ratio

45 C: 1.0:1
45 IV: 1.46:1

Dimensions (L x W x H)

28 x 30 x 22" / 696 x 740 x 559 mm

Weight (engine only)

Print Compare With Other Products

HP / kW
Maximum RPM (WOT)
Engine type
Displacement (L)
Bore and stroke

4.00 x 3.48 / 101 x 88 mm

Compression ratio
Recommended fuel

Unleaded Regular 87 Octane Minimum (R+M/2)

Engine control system

ECM 555 with SmartCraft CAN capability

Fuel delivery system

Multi-point Electronic Fuel Injection (MPI)

Air induction

Two-piece long runner intake with 75 mm throttle body

Ignition

Crank fired high voltage switch with knock control

Alternator amp / Watt
Water drain system

Single point air actuated

Exhaust system

Electro-deposition paint coated exhaust manifolds with dry joint design through prop

Cooling system

Brass sea water pump
Closed cooling
Long life 5-year antifreeze

Accessory drive system
Recommended oil

NMMA Certified FCW 25W-40 Synthetic Blend

Engine guardian system

High coolant temperature
Knock control
Low oil pressure
Low voltage
Low water pressure
Over-rev

Dimensions (L x W x H)

43 x 30 x 22" / 1092 x 740 x 559 mm

Weight (engine only)
Compatible drives

71 C
Walter V-Drive
ZF 45 C

Print Compare With Other Products