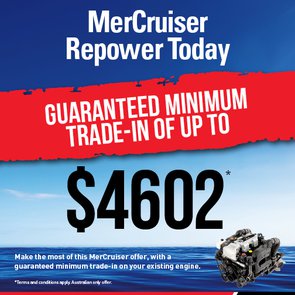 Guaranteed Minimum Trade-in of up to $4,602
MerCruiser Repower Promotion
Make the most of this MerCruiser offer with a guaranteed minimum trade-in on your existing engine. See your local participating Mercury MerCruiser dealer today. 
Why Repower with MerCruiser?
Proven power from the market leading sterndrive brand
Unbeatable combination of performance and fuel efficiency
Offer available from participating Australian MerCruiser Dealers from 24th May till 28th Sept 2018. *Example given is based on the purchase of the 8.2L Mag HO Bravo SeaCore DTS Package. Program excludes installation. Alpha, Bravo 1 & 2 complete packages include Aluminium Prop, Bravo 3 complete packages include Stainless Steel Prop. No controls, cables and gauges are included in the offer. Prices are correct at the time of printing and are subject to change. Applies to 4.5L, 6.2L & 8.2L models only. Not to be used in conjunction with any other offer.
Checkout the deals