Mercury News
Aug. 13, 2015
Mandurah gets most modern rescue boat in W.A.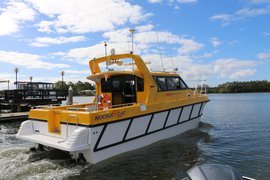 With Mandurah widely regarded as the boating capital of Western Australia, it's fitting it's also home to the State's best rescue vessel.
The Mandurah Volunteer Marine Rescue Group is the proud new owner of a Noosa Cat 3500 Rescue Patrol, a 10.5 metre fibreglass catamaran powered by two 335hp, Mercury Diesel TDi V8 engines.
The Group's Commander, Ian Warman, can't fault the newest addition to the Mandurah fleet.
"When I first drove it, I was with my predecessor Barry Walton, and we just looked at each other and the common word we said was 'awesome'.
"It was that good," Ian said. "It's lovely and stable, it rides high and handled the swell off Noosa Heads very well.
"And the engines were truly impressive, delivering huge amounts of power with no lag which is exactly what you need in an emergency situation."
This is the first time Noosa Cat has used the light-weight and super reliable Mercury Diesel TDI V8s in one of its boats, and it's turned out to be an excellent decision.
Weighing in at 6.8 tonnes, the Noosa Cat 3500 is no lightweight but during sea trials the Mercury Diesels moved it with ease.
From a standing start the new rescue craft hit 20 knots in just 6.5 seconds and reached a top speed of 36 knots (66.6km/h) at 4200 rpm (WOT).
Weighing in at 379kgs (engine only), the 335hp Mercury Diesel TDi V8 has an unmatched power-to-weight ratio which, along with its variable geometry turbo (VGT), means less time to plane and great acceleration.
But speed and power aren't the only things – the TDI's brilliant fuel economy provides the Mandurah Volunteer Marine Rescue Group with a fantastic 'blue water' operating range of 650 kilometres at an optimal cursing speed of 20.7 knots (38.4 km/h).
Replacing another catamaran which had put in 23 years hard service, the new Noosa Cat will significantly extend the Group's search and rescue capability as it joins a fleet consisting of a 13 meter mono-hull vessel, a 6.8 metre centre-console and a 'rubber duck'.
"This boat is certainly the best, the most modern, search and rescue boat on the W.A. coast," Ian said. "And it will be kept busy."
Established in 1961, the Mandurah Volunteer Marine Rescue Group was the first of its kind in W.A.  Averaging about 10 rescues a year in the early days, the Group now performs about 300 a season.
Not only does it monitor a large chunk of coastline, it also has to protect boat lovers who use the Mandurah and Harvey estuaries, the Serpentine and Murray rivers, and the Peel Inlet.
"That means our rescue craft also have to be able to operate in much tighter conditions," Ian said.
The Noosa Cat is more than able to handle that because all Mercury Diesel TDi engines are fully compatible with Mercury's SmartCraft and Digital Throttle & Shift (DTS) technologies. DTS delivers precise, smooth throttle and shift control, while SmartCraft monitors engine performance parameters and can identify an issue before it becomes serious.
"This boat, with these engines, it's exactly what we wanted," Ian said.